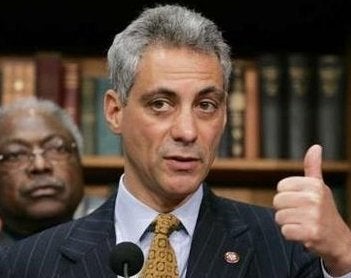 Jubilation was heard in Tel Aviv as Haaretz, the Israeli daily, boasted November 6th: "Obama kick-starts transition, picks Israeli Rahm Emanuel as chief of staff."
Best known for his fundraising prowess among wealthy Jewish Democrats, the naming of Emanuel as the first presidential appointment echoes Sarah Palin's famous one-liner, "I love Israel." That claim was voiced in her vice-presidential debate with Joe Biden who is featured on a YouTube video famously proclaiming, "I am a Zionist."
In sharp contrast to Obama's claim that the invasion of Iraq was a mistake, Emanuel claims he would do it again today. As chair of the Democratic Congressional Campaign Committee, he directed party funds to pro-invasion candidates and recruited candidates to oppose anti-war Democrats.
Known in Washington as an outspoken pro-Israel hardliner, he joins Speaker Nancy Pelosi in bringing to the Middle East peace process a record of support for Tel Aviv's targeted assassinations of Palestinian political leaders. ("Pelosi supports Israel's attacks on Hamas group," San Francisco Chronicle, June 14, 2003).
Those who sought a break with pro-Israel policies can look forward to an "assistant president" who is the son of a Jerusalem-born member of the Irgun, a Zionist-terrorist group active in Palestine from 1931-1948. Born an Israeli due to his father's dual Israeli-U.S. citizenship, Emanuel relinquished his Israeli citizenship when he turned 18 but not his fierce allegiance to the Zionist state.
As chair of the Democratic Caucus and fourth ranking in the House leadership, Rahm Israel Emanuel escorted Barack Obama to a June 2008 board meeting of the American Israel Public Affairs Committee (AIPAC) just after the candidate proclaimed Israel's security "sacrosanct."
In 1984, Emanuel and David Axelrod (Obama's senior campaign strategist in 2008) worked alongside AIPAC on a campaign to unseat Illinois Senator Charles Percy who was then chairman of the Foreign Relations Committee. That electoral success followed a victorious AIPAC-directed campaign in 1982 when Springfield attorney Richard Durbin was recruited to oppose Paul Findley, an 11-term Congressman. Findley learned too late the political costs visited on U.S. policy-makers who challenge the Israeli-fication of U.S. foreign policy.
Durbin was just elected to his third term in the Senate where he serves as assistant majority leader. He shares a house in Washington with New York's Charles Schumer, third in the Senate leadership and one of 13 Jewish Senators (up from 11). Durbin and Schumer are junior to Senate Majority Leader Harry Reid of Nevada. A Zionist-inclined Mormon (also known as "the Lost Tribe of Israel"), Reid concedes his admiration for the Israel lobby: "I can't think of a policy organization in the country as well-organized and respected."
Emanuel's rapport with AIPAC's extensive campaign-financing network enabled Bill Clinton to amass a record-breaking $72 million in 1992. Those funds helped his fledgling presidential candidacy weather the media storm over the Jennifer Flowers sex scandal and a controversy over his Vietnam-era draft status. Emanuel's aggressive pro-Israel fundraising strategy also drained funds from rival Paul Tsongas who soon withdrew, citing a shortage of funds. Emanuel then served for five years as a senior strategist for the Clinton White House before joining investment bankers Wasserstein Perella where he became managing director of the Chicago office.
Of the nine Democratic members of the Illinois delegation elected in 2002, Emanuel was the only one to support the October 2002 Congressional resolution authorizing war in Iraq. In the course of winning his 2008 race with 74% of the vote, Emanuel was the topmost House recipient of campaign contributions from hedge funds, private equity firms and the securities industry.
Known since childhood as a "convinced Zionist," Emanuel and his brothers attended summer camp in Israel. During the 1991 Gulf War, he joined the Israel Defense Forces as a civilian volunteer (akin to a reservist) where he worked in a motor pool repairing trucks. Operating as an adjunct to the Israel lobby as both a fundraiser and a member of Congress, Emanuel has long served as a loyal sayanim (Hebrew for "volunteer") in support of policies pursued by Tel Aviv.
Those who voted for the candidate of change may be surprised to see a change in party but not in policy. Their candidate may also be induced to make decisions that undermine his presidency and discredit his commitment to change. Emanuel served as senior White House adviser on strategy for Clinton-era health care reform. The spectacular failure of that first-term initiative brought a speedy end to the legislative momentum of the last administration that sought change.
In parsing the message signaled by this first selection, is this high-profile appointment a hopeful sign of change in U.S. foreign policy? Or is it meant to appease Israel? Is Rahm Israel Emanuel a harbinger of change Americans can believe in? Or is his appointment a sign the fix is in?
REAL LIFE. REAL NEWS. REAL VOICES.
Help us tell more of the stories that matter from voices that too often remain unheard.