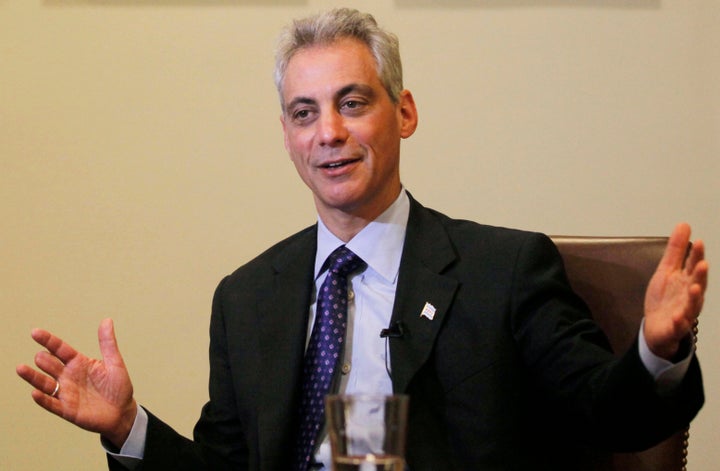 The country's largest organization of mayors last week endorsed an infrastructure investment plan that its most vocal advocate brands a defiance of the federal government.
In a Friday news release, Michael Nutter, president of the U.S. Conference of Mayors and mayor of Philadelphia, applauded the Chicago Infrastructure Trust for "looking outside the box" for ways to finance transportation improvements. The trust, passed in April by the Chicago City Council, seeks to secure $1.7 billion from private investors to modernize what Mayor Rahm Emanuel has deemed the city's "crumbling infrastructure."
The conference's backing illustrates just how desperate U.S. mayors are for innovative solutions to what they see as dwindling federal attention on local roads and highways.
Emanuel put it bluntly during an infrastructure investment discussion at the Center for American Progress on Friday. "We have to take our destiny into our own hands as best as we can," he said. "And we can't leave our destiny to Washington's dysfunction or Springfield's budget-cutting exercise," he added, referring to the capital of Illinois.
"I'm not going to let Chicago become hostage to this dysfunction," Emanuel declared.
An economic report released by the conference last week did little to stem mayors' concern that federal funding for transportation upgrades is drying up. The United States ranks 24th among nations in infrastructure quality and spends less than 2.5 percent of its gross domestic product on transportation and water infrastructure, according to the report. In countries ranked above the United States in infrastructure quality, up to 9 percent of GDP is allocated for infrastructure investment.
"Let's get back off our butts and start getting this country back to its great capacity. Many, many countries that are not as superior as this great country are investing in infrastructure way, way ahead of us -- years ahead of us," said Pembroke Pines, Fla., Mayor Frank Ortis. "That is terrible. That is ludicrous. That should not happen."
Ortis said firetrucks in his town have hit untreated potholes while rushing to emergencies, delaying response times by dangerous margins. Under Pembroke Pines, which lies half an hour north of Miami, some wastewater pipes are older than the sewage workers who service them, he added.
Dissatisfied with Congress' efforts, the mayors say they are ready for the unorthodox.
"Our new reality is that the traditional sources of infrastructure funding are not there anymore," said Mesa, Ariz., Mayor Scott Smith, the conference's vice president. "But the real need for infrastructure investment continues to be there, so we've got to get creative."
In Emanuel's blueprint for a public-private partnership, the mayors also see a promising antidote to the political gridlock that has tied up federal funds. Last month, Congress passed a $105 billion transportation bill, the first of its kind since 2005. At Friday's event, Emanuel called it "crazy" that the legislation provides for only an 18-month infusion of cash for local transportation improvements.
Niagara Falls, N.Y., Mayor Paul Dyster said the federal government's sluggish action makes "you just wonder" how long cities can wait before turning to alternative options like the Chicago Infrastructure Trust. "All of us are going to be watching very closely and seeing what pieces of this we can pick up and use in our own circumstances in our cities," he predicted.
Yet the Chicago Infrastructure Trust is not without its hometown critics, some of whom warn that it could be a risky endeavor.
"It is a possibility of a more creative way to finance infrastructure projects in a tough economy," said 5th Ward Alderman Leslie Hairston. "But there are questions that have to be answered. The transparency issues are critical."
Hairston added that she supports the "spirit" of the trust but worries about the lack of oversight when the trust does business with sister agencies like the Chicago Transit Authority or the Chicago Parks District. In those cases, city aldermen have no power to approve or deny projects, she said.
Emily Miller, policy and government affairs coordinator for the Chicago-based Better Government Association, said she remains skeptical that the trust will operate as a public entity and thus be subject to established transparency checks like the federal Freedom of Information Act and Illinois' Open Meetings Act.
"The process is where it can fall apart," Miller said. "So do I think it's a model? Probably not."
"They could've gotten it right, but they didn't," she added, referring to the city council.
Regardless of such concerns, the Chicago City Council's finance committee on Monday completed approval of five members for the trust's board of directors. The full council will vote Wednesday on the five appointees.
The trust's appointed chairman, former Boeing executive vice president James Bell, told the Chicago Tribune in March that the public-private financing strategy will have to be "proved out" to determine whether it's an effective approach.
For some mayors, Chicago's initiative raises another question: Why not cut Washington out of the infrastructure investment conversation altogether?
"I wish I could," Ortis said. "Wish. I. Could. Wish I could."
Popular in the Community