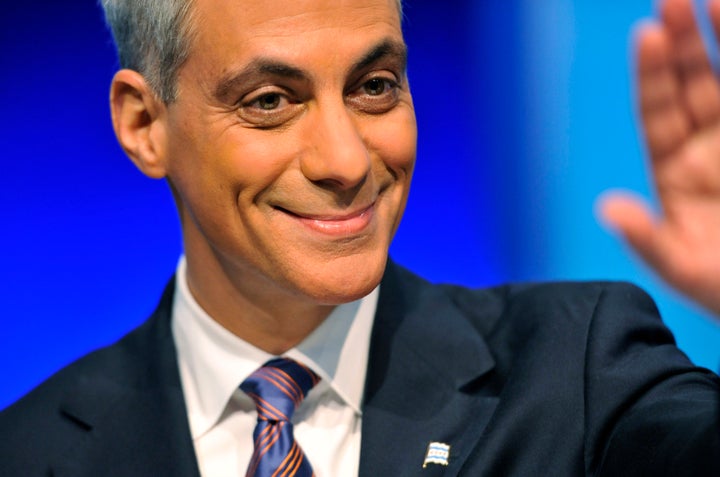 According to the New York Times, the State Senate on Thursday unanimously approved a public school reform bill that may fulfill one of Emanuel's long-time goals: a longer school day. While campaigning, Emanuel lobbied for longer school days and curtailing teachers' right to strike, both of which are addressed in the bill. How teachers will be compensated for the extra time -- and where the money to compensate them will come from in a district that says it's facing an $820 million deficit remains to be seen.
The current teacher contract runs through June 2012, but the Chicago Sun-Times reports that the mayor-elect hopes to get the school day lengthened for this coming school year. At five hours and 45 minutes for elementary schools and six hours for high schools, the Chicago school day is one of the shortest in the country. According to the New York Times, Chicago students spend 270 hours less in the classroom every year than students in New York City schools -- about 41 fewer days. The plan is to add an extra hour or hour and a half to each day.
The bill, which supporters expect to pass the house by early May, will allow the CPS administration to determine the length of the school day and year. But they'll need to work with the Chicago Teachers Union to figure out how to implement the changes. And while the union supports the legislation, there may be disagreements when it comes time for contract negotiation. The Chicago Tribune reports that after the legislature passed, union president Karen Lewis stated, "Mr. Emanuel came to Springfield looking to tack on two hours to the school day and two weeks to the school year without pay. But all he got was language."
The bill also calls for changes in the way a union could call a strike, requiring a third party "fact-finding" process in the event of a bargaining impasse and authorization to strike from 75 percent of its membership, rather than just the majority currently needed. The bill additionally links teacher tenure to performance rather than seniority.
Emanuel also made headlines Monday when he announced that Jean-Claude Brizard, Rochester's schools superintendent, would serve as the next CEO of CPS. The appointment met with a mixed response; Brizard's history as an educator and administrator garnered support, but his advocacy for teacher merit-pay and charter schools and the "no-confidence" vote he received from Rochester teachers have many wary.
But the changes don't stop there -- Emanuel also announced that he's replacing the entire seven-member Board of Education and other top CPS administrators. His appointments include new Chief Education Officer, Noemi Donoso, and Chief Operating Officer, Tim Cawley; board newcomers include a mix of business leaders, educators and philanthropists.
Tim Knowles, director of the University of Chicago's Urban Education Institute, and a member of Emanuel's transition team, told the Chicago Tribune that Noemi Donoso's appointment to the second-highest position at CPS may indicate a shift, as that position is usually occupied by someone with a traditional public school background. Donoso is the director of the Denver Public Schools' Office of School Reform and Innovation, which oversees the district's charter schools.
"I foresee they're going to have a strong charter infrastructure within CPS," Knowles said. "This is not someone who has come out of traditional public schools. This is someone who is about innovation, how do you teach kids differently and let's be sure the right stuff is going on in schools and let's bring in some new stuff."
Emanuel says he expects the new school board to be seated in early May, when he takes office.