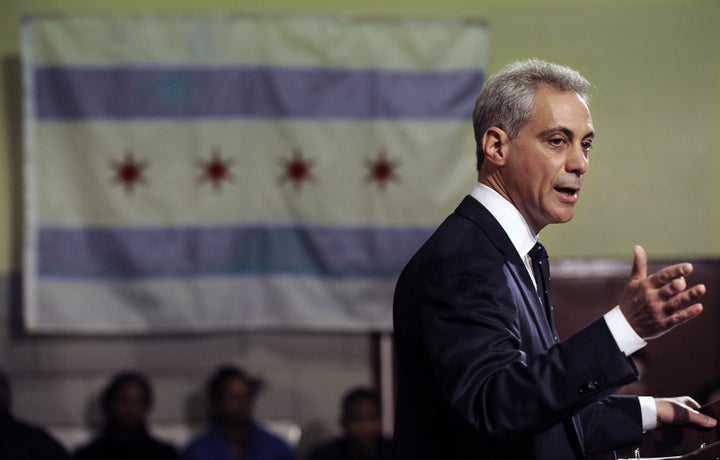 The fears of many city workers were realized Friday as Chicago Mayor Rahm Emanuel announced 625 layoffs after the Chicago Federation of Labor reportedly failed to meet a deadline on agreeing to work rule changes.
Emanuel said Friday that he would begin the layoff process by sending out notices, which inform workers of layoff plans 30 days in advance, according to the Chicago Sun-Times.
Until last month, city workers were forced to take 24 furlough days without pay. The furlough policy, which former Mayor Richard M. Daley put in place, saved the city an estimated $60 million a year. Emanuel scrapped the furlough and wage freeze program, saying that it killed morale and was not a solution to the city's budget crisis. Instead, he asked that the Chicago Federation of Labor agree to work rule changes--and gave them until this Friday to let him know how they plan to save the city $11 million.
Without an answer from the union, Emanuel said he was forced to make a move. NBC Chicago reports that Emanuel will privatize benefits management, the water management department call center and custodial services at city buildings, including libraries. He will also outsource custodial services at O'Hare and Midway airports. The plan is expected to save $10 to $12 million.
"My duty as mayor is to protect our city's taxpayers, not the city payroll," Mayor Emanuel said in a statement. "I pledged to close this shortfall and offer the city a balanced, realistic budget. Despite ongoing talks between union leaders and members of my administration, they have not embraced any of the needed changes. And no amount of smoke and mirrors can put off the tough decisions any longer."
Union leaders, however, say there was little to no negotiating involved.
"We are surprised and disappointed at Mayor Emanuel's scattershot approach to the city's budget shortfall," Henry Bayer, executive director of the American Federation of State, County and Municipal Employees Council 31, said in a statement. "If the mayor were serious about attempting to change any work rule, he would have taken the appropriate measures to engage in such discussions. The fact that he has never done so is clear evidence that his attempt to blame union work rules for the city's massive deficit is mere public relations gimmickry."
Bayer also said that Emanuel has not made "any attempt to meet with our union to negotiate changes to work rules affecting AFSCME members."
After the mayor called current public employee practices "archaic," the Emanuel administration released the full list of "commonplace" work-rule change options given to the unions:
* Instead of double overtime, the city would pay employees time-and-a-half
* For prep time, city employees would receive their regular pay, not overtime pay
* Workers would be expected to work a 40-hour week, not a 35-hour week
* Workers doing the same job would receive the same pay, no matter what union they belong to
* Salaried employees will receive the same number of sick days and holidays as hourly employees
* The city would eliminate rate differences for driving different vehicles
* Rate differences for operating different non-vehicle equipment would be eliminated
* A worker who works alone on a truck will not receive more pay than if he or she works as part of a crew
* Union apprenticeship programs would be enhanced to achieve cost savings.
Despite the very public threat, the Sun-Times reports that the battle between Emanuel and the unions is far from over:
The layoff notices still give union leaders 30 days to come around.

If they agree to those three reforms and select $6.8 million more from the mayor's $19 million list — or pinpoint an equivalent amount of savings elsewhere in the budget — then the immediate crisis would be averted. At least until Round Two.
Round Two, as the paper explains, will come as Emanuel tries erasing a $700 million operating shortfall in the 2012 budget. He will likely look for even more concessions from unions, or layoff workers.
Labor leaders told NBC Chicago they just began negotiating with the Emanuel administration this week, and that the city had not "given them key information on what exactly they want in concessions."
Chicago Federation of Labor President Jorge Ramirez told ABC Chicago Thursday that they are still looking for ways to save the $11 million without laying off workers--and said the mayor never gave them a deadline.
"I have deep gratitude and respect for the thousands of men and women who work for our city, and my door will always be open to their representatives," Emanuel said in a Friday statement. "But the goal of city government cannot be to employ as many people as possible. Our job is to provide essential services to the taxpayers of Chicago as efficiently and economically as we can. That is what I promised Chicagoans I would do as Mayor, and that is why I am acting today."
WATCH Emanuel discuss the layoff plan here:
Popular in the Community