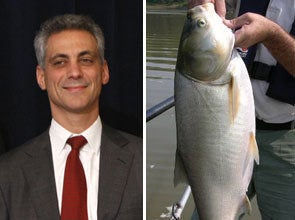 Rahm Emanuel gave a teary goodbye to his staff Friday morning in the Roosevelt Room, and in return received a dead asian carp.
"I know that I pushed you all very hard," Emanuel told his staff, NBC Chicago reports. "But I did it in service to the president and I believe that our whole country is better off for it."
This was an allusion to the Emanuel legend of his sending a dead fish to a pollster for whom he didn't care, replicating the scene from The Godfather when the Corleones were alerted of Luca Brasi's death with a dead fish wrapped in Brasi's bullet-proof vest.
Goolsbee told Emanuel that it "wasn't easy" to find the dead fish, and White House press secretary Robert Gibbs told ABC News it was all in good fun.
"In Chicago, this is how friends say goodbye," Gibbs said.
Calling all HuffPost superfans!
Sign up for membership to become a founding member and help shape HuffPost's next chapter