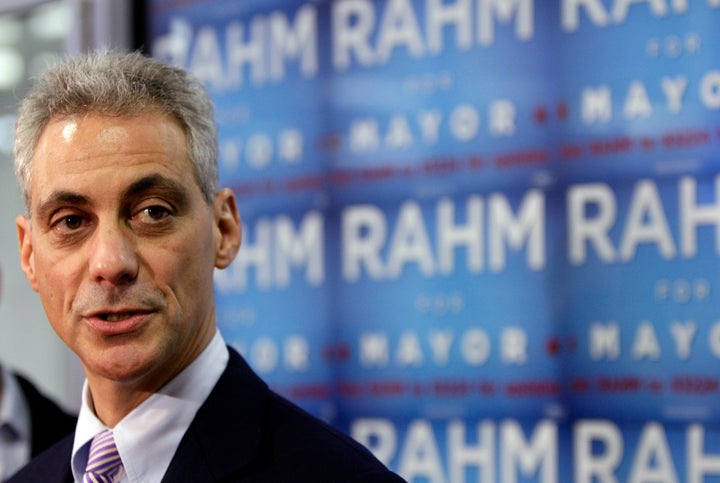 Jodi Kantor's new book on the burdens placed on President Barack Obama and his marriage during his first years in office is replete with colorful anecdotes featuring White House Chief of Staff Rahm Emanuel. Few are more remarkable than events leading up to the 2010 congressional elections, when it was becoming clear that Democrats were going to get their clocks cleaned and the administration was figuring out how best to limit the damage.
Tensions within the Democratic Party were rising dramatically. White House Press Secretary Robert Gibbs incurred the wrath of congressional leadership by suggesting the House could be lost. With complaints mounting that the president wasn't doing enough to help House members, his political director, Patrick Gaspard, put together a memo outlining all the leadership that Obama had provided. In her new book, "The Obamas," Kantor lays out the subsequent scene:
Bill Burton, the deputy press secretary, suggested they leak it to Jonathan Martin, a reporter at Politico.com. Gibbs signed off on the decision, according to several aides. The ploy backfired: Nancy Pelosi, the Speaker of the House, and Harry Reid, the Senate majority leader, grew angry that the White House had leaked and tried to spin the situation.

Emanuel was in a rage about the leak. He berated the staff, not once but twice, at his 7:30 am meeting for top aides and at another close-of-business meeting. "Just because someone wants to put their dick on the table, we have to deal with this!" he yelled, eyeing Gaspard, who he clearly thought was the culprit. Gibbs, who had approved the leak, said nothing. Emanuel was still screaming at his morning meeting the next day, alternating between subjects: the Politico leak, all the races Democrats were going to lose. "We don't know what we're doing. We're not using resources well," he fumed.

In his slight Haitian accent, Gaspard talked back. "Respectfully, we're not the DCCC, there's but so much we can do," he said. "We don't want to own this." Rahm became volcanic again, screaming about the memo. Gaspard said he had written the memo but not leaked it; Emanuel told him he didn't believe him, and launched into another round of swearing. Again, Gibbs did not acknowledge his role.
The Huffington Post reached out to Gibbs, Gaspard and Emanuel's office (Emanuel is now mayor of Chicago). None immediately responded. But a former administration official said that the line involving anatomy being placed on the table was accurate, "verbatim ... word for word."
The official did question whether Emanuel had been directing his ire squarely at Gaspard. But that doesn't take away from the broader point of the story. The Obama team has publicly projected an aura of sturdy calm. But that calmness is basically a product of the president's demeanor and doesn't extend to his staff.
As Kantor goes on to report, the president held a senior staff meeting after the devastating midterm elections in which he "calmly propelled his staff forward, acknowledging defeat but quickly looking past it. The White House felt surprisingly like business as usual, aides said, with the president's signals the same as they had been a week, month, or year before."
Obama also held lunches with groups of reporters, columnists and even soon-to-be out-of-office lawmakers.
One encounter was more bittersweet than the others. On a late fall morning, the president hosted a breakfast for a handful of members of Congress who had lost their seats: Kathy Dahlkemper, from Pennsylvania; John Spratt, the House budget chairman, from South Carolina; Jim Oberstar, the House Transportation Committee chairman, from Minnesota; and Melissa Bean, from Illinois. All were from moderate middle America districts. Over breakfast in the Roosevelt Room, they told Obama that unless he acted quickly, he was going to end up like them in 2012 -- out.

...

This group, too, was struck by Obama's lack of regret. "In retrospect, we can look back and say we could have done things differently, but I had a very ambitious agenda," Oberstar recalled Obama saying. "In the end, this is for the greater good of the country." He seemed entirely sure he knew what was best for the country; he seemed to think that he was a better judge than the public.