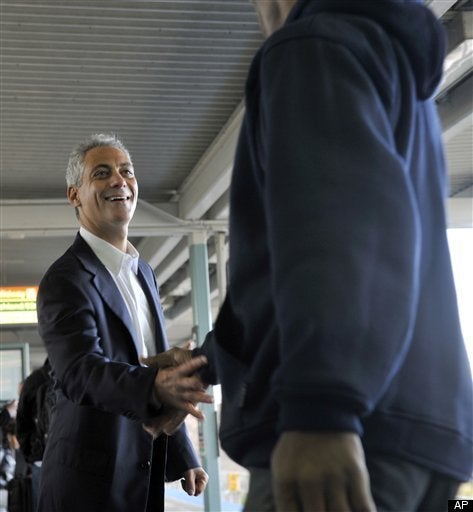 Rahm Emanuel is in Hollywood today, where his agent brother has helped organize a fundraiser with some big Democratic donors and West Coast powerhouses.
According to Lynn Sweet of the Chicago Sun-Times, "super agent" Ari Emanuel is co-hosting the fundraiser along with David Geffen, Walt Disney CEO Bob Iger, producer Peter Chernin and Univision co-owner Haim Saban. The event will be held in Saban's Beverly Hills home, where guests will make donations of $1,000 to $5,000. Fox Chicago reports that Tom Hanks and his wife, Rita are also expected.
Deadline Hollywood reports that Geffen and Saban are "among the party's biggest single donors" and will now shell out cash to help Emanuel fund his mayoral bid.
While the event will surely bring in serious cash for Emanuel, his Chicago opponents are criticizing the move.
"On this day when President Obama and Illinois Democrats are still recovering from the painful political debacle that he was the architect of, Rahm Emanuel is off in Hollywood hanging out with bankers and billionaires," former U.S. Senator and mayoral hopeful Carol Moseley Braun said in a statement. ". . . Rahm Emanuel cut and ran after pushing policies that lead to the biggest Democratic Party political loss in 27 years. He left the President holding the bag. If Rahm abandoned the President of the United States, what makes anybody think he'll stick by regular Chicagoans?"
Gery Chico, the City Colleges chief who is also running for mayor, also blasted the move.
To prove that, Chico is holding a campaign party Thursday at a Wicker Park diner...that happens to be called the Hollywood Grill.
Related
Popular in the Community