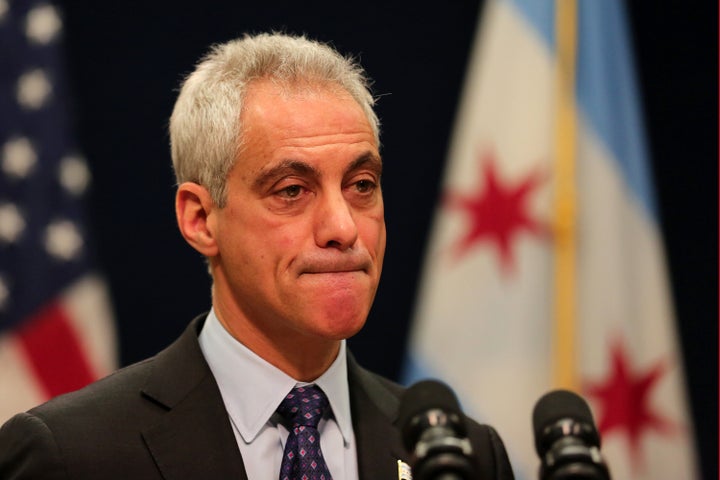 Chicago Mayor Rahm Emanuel strongly denied accusations that he covered up the police shooting death of Laquan McDonald and reiterated his commitment to reforming police practices in an op-ed in the Chicago Tribune on Friday.
Emanuel rebutted charges that he suppressed the police dashcam video from October 2014 showing a white officer firing 16 rounds into McDonald, a 17-year-old African American, so as not to harm his chances in a tough re-election a few months later. 
"What I strongly reject is the suggestion that the videotape of the McDonald shooting was withheld from the public because of the election," Emanuel wrote.
A Cook County judge ordered the release of the controversial video on Nov. 19. The city released it to the public on Nov. 24, the same day prosecutors announced first-degree murder charges against Jason Van Dyke, the officer who killed McDonald --more than a year after the incident.
Emanuel said it's the city's "longstanding practice" to keep evidence of that kind private until an investigation is complete lest it bias any witnesses. The mayor said he didn't personally watch the video for a similar reason: he does not want his "emotions" to "interfere with criminal investigations."
But Emanuel said that if he had seen the video, he might have made an exception.
"The release of this type of evidence is one of many issues we need to rethink moving forward," he wrote. "How do we balance concerns against prematurely releasing evidence and jeopardizing prosecutions with the community's right to see such material in a timely way?"
Emanuel also denied that the city's quick $5 million legal settlement with McDonald's family in April was intended to conceal police wrongdoing. Instead, he said that the city had merely obliged a request  for a speedy settlement from McDonald's family in February.
Nonetheless, Emanuel acknowledged that the onus is on him to regain the confidence of city residents and soothe public anger prompted by the city's management of the case. 
"At the end of the day, I am the mayor and I own it. I take responsibility for what happened and I will fix it," he wrote. "Nothing less than complete and total reform of the system and the culture will meet the standards we have to set for ourselves."
"If any good comes from this tragedy, it should be a historic set of reforms that prevents abuses, promotes transparency and rebuilds the confidence of all Chicagoans that they will be treated fairly," Emanuel concluded.
PHOTO GALLERY
Police Brutality
Calling all HuffPost superfans!
Sign up for membership to become a founding member and help shape HuffPost's next chapter