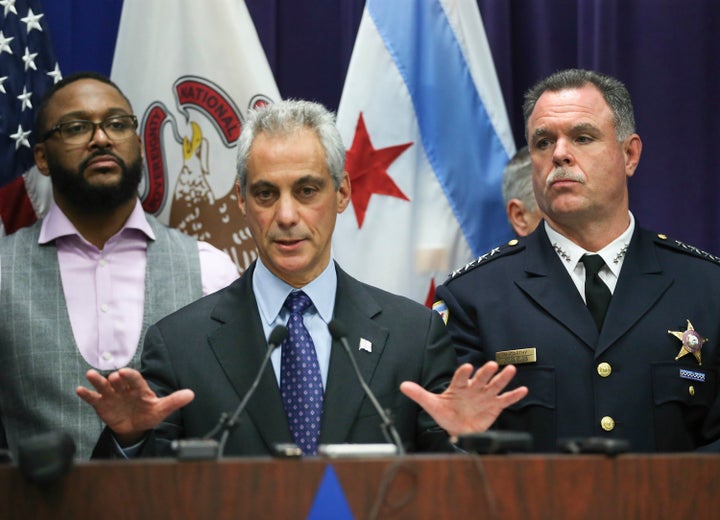 Chicago mayor Rahm Emanuel is facing mounting criticism from activists and allies of the black community who say he should be held accountable for delaying justice in the case of Laquan McDonald, a teenager who died 13 months ago after being shot 16 times by a Chicago police officer.
A court order forced Chicago city officials to release squad car video of the gruesome death, which they did on Tuesday, hours after the Cook County State's Attorney's office charged Officer Jason Van Dyke with first-degree murder in the teen's killing. Viewers were outraged by how much the footage conflicted with the police department's initial account of the shooting, which claimed that McDonald was acting strangely and lunged at police before shots were fired.
The video, which Emanuel's administration and the state's attorney's office have long fought to keep from being publicly released, instead shows 17-year-old McDonald carrying a small knife and walking away from officers before Van Dyke opens fire from about 10 feet away. After McDonald falls, Van Dyke continues to shoot for at least 15 seconds.
The Rev. Jesse Jackson told The Huffington Post that he met with a cross-section of leaders Wednesday who want Chicago Police Superintendent Garry McCarthy ousted and Cook County State's Attorney Anita Alvarez, whose office knew of the video two weeks after the shooting, off the case. In addition, he believes Emanuel must answer for the video's delayed release and the troubled state of police-civilian relations in Chicago.
"He must be [held accountable]," Jackson said. "Clearly the mayor and the police chief … saw the tape and determined they should not release it."
Emanuel holds he did not see the video until it was released publicly, but critics point out that he called the video "hideous" the day before. The mayor's office did not immediately respond to a HuffPost request for comment on when he first saw the video or on other concerns raised by activists in this article.
The shooting, Jackson noted, took place just a month before Emanuel was up for re-election. Chicago Tribune reporter John Kass also raised the coincidence of that timing in a column Tuesday calling on people to hold the mayor accountable.
Jackson doesn't entirely buy arguments that releasing the tape would have unfairly prejudiced the case against police.
"Their argument is that it might incite the public," he said. "But one might argue that it's also covering up valuable information in this day of cameras on police cars. ... The whole idea of the cameras is to protect the public."
While many Chicagoans began using the hashtag #RecallRahm after the video's release, Veronica Morris Moore, a member of the organization Fearless Leading by the Youth, told HuffPost that she's seen the black community's "growing frustration" with him for some time.
"Mayor Rahm Emanuel needs to step down and hang up his political belt," she said. "It's obscene that he would act like he's happy about punishing this officer when he waited to punish him for so long. And I know the only thing that motivated him to punish this officer is that it now became a very public issue and case. ... He is insulting people, and nobody's buying it."
Emanuel also drew ire last month for lending credence to "the Ferguson effect," a statistically unsupported idea that the Black Lives Matter movement's demands for more police accountability has scared cops away from proactive policing, leading to a surge in crime.
"That was a miscalculation," Jackson said of Emanuel's comments. "Police are not being suppressed."
Moore said the mayor's suggestion the "Ferguson effect" is at play is an insult to the "very alive and well-organized community" that's been rallying around police issues in Chicago for years.
Ultimately, both Jackson and Moore argue, the root of the problem is the mayor's high police spending.
"All the focus is on police and containment. There's no focus on development," Jackson said. "The amount of money spent on police is money that could be spent on sustaining teachers and schools without libraries and schools without books."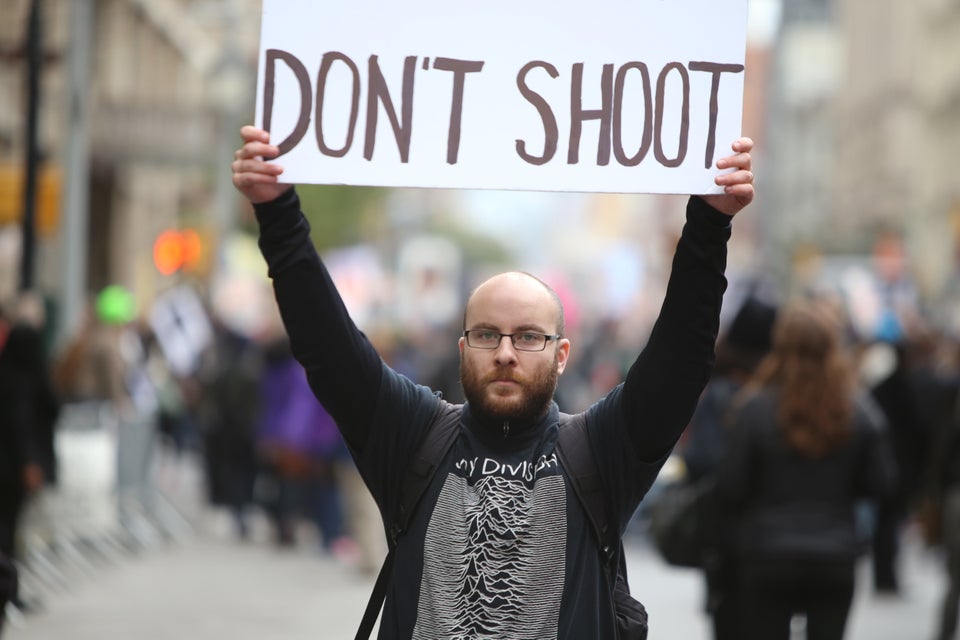 Police Brutality
Popular in the Community