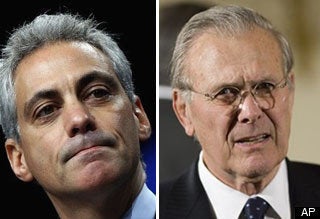 New Trier Township High School has a very impressive list of graduates. From politicians and actors to dancers and scientists--their alums have certainly made names for themselves. But apparently, not even the former White House Chief of Staff has what it takes to win an "alumni Hall of Honor award."
The Chicago Sun-Times reports that the school, located in the affluent Chicago suburb of Winnetka, chose their hall of honor members based on a commitment to "inquiry, compassion and service."
U.S. Secretary of Defense Donald Rumsfeld (Class of 1950) and Rainn Wilson of "The Office" (Class of '84) were among the honorees--but Rahm Emanuel was left out.
"These extraordinary alumni truly are a testament to the quality and character of New Trier's graduates," New Trier District 203 Superintendent Linda Yonke told the Pioneer Press. "It was difficult to narrow the field of nominees, but ultimately, these first inductees were chosen for lives and careers spent upholding the New Trier values of inquiry, compassion, and service."
Perhaps Emanuel will win the race for Chicago mayor, and be honored next year with an extra accomplishment under his belt.
Other high-profile honorees include Playboy executive Christie Hefner ('70), Nobel Prize-winning physicist Jack Steinberger ('38), former U.S. Ambassador Richard Williamson ('67), President of the Holocaust Memorial Foundation of Illinois Sam Harris ('54) and several others.
Emanuel wasn't the only New Trier grad left out of the hall of honor. Actress Ann-Margret, U.S. Sen. Mark Kirk, Boeing CEO James McNerney and actor Bruce Dern didn't make the cut either, according to POLITICO. School administrators, however, say the hall of honor will grow next year.
"Our honorees embody New Trier's mission to commit minds to inquiry, hearts to compassion and lives to the service of humanity," Susan Noyes, a former New Trier Board of Education member told the Pioneer Press. "Because not all the well-qualified nominees could be included in this first group, we are assured of outstanding honorees in future years, too."