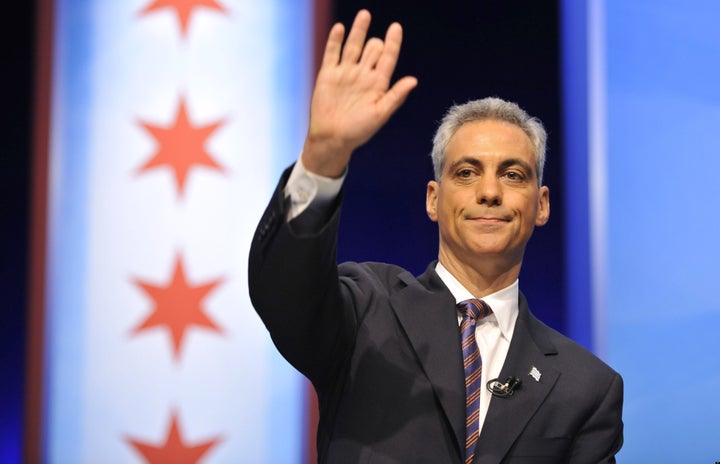 Monday morning, Chicago Mayor Rahm Emanuel announced the appointment of Jean-Claude Brizard, currently the superintendent of the Rochester, N.Y. school system, as Chicago Public Schools chief.
Brizard is set to lead the third-largest public school system in the country, one that, like many other urban school districts, is struggling with budget woes and labor problems.
Superintendent appointments in cities across the country are slowly shaping the face of the next generation of education reformers. Providence, Detroit, Newark, Atlanta, Broward Country, FL and Montgomery, MD are next in line to hire new school leaders.
Brizard, a native of Haiti, embodies two types of urban superintendents. On the one hand, he's a former principal with masters' degrees in school administration and science education. He's a product of the classroom who went on to follow a traditional path of school management, serving as a regional superintendent of New York City schools.
On the other hand, he's a graduate of the Broad Foundation's Superintendents Academy -- a program that stresses the corporate-tinged, charter-school championing policies emphasized by the Obama administration -- that is much maligned by teachers unions.
David Bloomfield, chair of the education department at CUNY's College of Staten Island, said Brizard's appointment shows the impact of the Broad Superintendent Academy on urban education.
"In that respect, I am discouraged, because it is a one-size fits all ideology," he said. But he also addressed Brizard's background as an educator: "To the extent that [the appointment] shows the resurrection of educational leaders, it should be commended."
"His style in New York City was one of outreach and responsiveness," said Bloomfield, who worked with Brizard when Bloomfield led the High School Parents Council and Brizard served as New York City's Executive Director of Secondary Education. "He would regularly meet with parent and school leaders for feedback to find out what was really going on in the schools," he said.
Chicago's teachers union is approaching Brizard with caution. "Obviously, I appreciate the teacher and the administrator in him," said Chicago Teachers Union president Karen Lewis.
But she is skeptical of the Broad Foundation's approach at large. "What the Broad people want to do is to shortcut through running a system," she said. "I think it's dangerous to think that this is about management. There are so many different moving parts here. There are people who have no educational background who have a chance, because they're wealthy, to dictate educational policy in this country. This leads to a lack of democracy."
Brizard's fitness for the job "depends on which part he cares most about and which one means more to him," Lewis said.
The announcement of Brizard's appointment comes less than two weeks after magazine maven Cathie Black departed from her post as New York City Schools chancellor, and was replaced by Dennis Walcott, whose experience in the classroom has been lauded.
That about-face in New York, Bloomfield suggested, could signal other school districts looking for leaders to change their approach. "It appears, perhaps, that there's been a shift in political thinking away from one size fits all management to instructional leadership and outreach," Bloomfield said.
Yet Chicago might be the more potent harbinger of superintendent searches to come. U.S. Secretary of Education Arne Duncan had previously led Chicago's schools, and Emanuel collaborated with Duncan during his time in the White House.
Emanuel called Brizard an "experienced educator and proven manager," according to the Chicago Sun-Times. At the press conference, Emanuel said he had interviewed six or seven candidates. Brizard won Emanuel over in an interview by saying, "it will take a generation to save a generation."
Emanuel added that Brizard's candidacy prevented him from having to choose between an education and a manager, calling a decision between the two "a false choice."
Brizard is the first schools chief pulled from outside the Windy City since 1995, when the mayor received control over that appointment, the Wall Street Journal noted.
While some education experts heralded Brizard's reception of and openness to parental concerns, leaders of Rochester parents' groups and the local union said it was insufficient.
In Rochester, Brizard championed a management-like style, closing failing schools and quickly opening new ones in their place. Still, a recent study by the New York Board of Regents found that only 5 percent of the low-performing district's graduates are prepared for college, based on state test scores, the Wall Street Journal noted.
Adam Urbanski, president of Rochester's teachers union, said Brizard had a tin ear. "Whenever someone complained against him, he would dismiss it as noise," he said, noting that 94.6 percent of teachers gave him a no-confidence vote in a secret ballot survey. "I am puzzled why Chicago would select him. His only chance of doing better in Chicago than he does in Rochester is if he applies the lessons learned here."
Brizard signed a contract in January that would have kept him in troubled Rochester for three more years, but in a letter to Rochester Board of Education president Malik Evans he announced his intention to resign. A spokesman for Rochester's schools said Brizard was unavailable for comment.
Correction: An earlier version of this article misstated David Bloomfield's name. He is David, not Douglas.
Popular in the Community