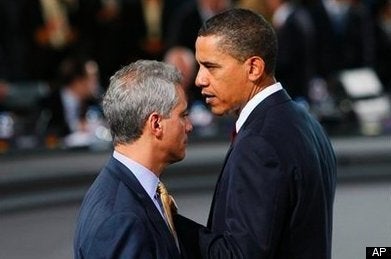 ***SCROLL DOWN FOR VIDEO***
By ROBERT BURNS, Associated Press
WASHINGTON — President Barack Obama does not intend to decide about sending additional troops to Afghanistan until he is satisfied that the Kabul government can work effectively with the U.S., a top White House aide said Sunday.
"It would be reckless to make a decision on U.S. troop levels if in fact you haven't done a thorough analysis of whether in fact there's an Afghan partner ready to fill that space that U.S. troops would create and become a true partner in governing," said the president's chief of staff, Rahm Emanuel.
Emanuel gave no timetable for a presidential decision in Afghanistan. He said the White House plans to have additional strategy sessions this week and next, extending a review process that began after the top U.S. commander in Afghanistan, Gen. Stanley McChrystal, reported that more U.S. troops are required.
The central question, Emanuel said, "is not how much troops you have but whether in fact there's an Afghan partner."
Sen. John Kerry, the Senate Foreign Relations Committee chairman, made a similar point during a visit to Kabul.
"It would be entirely irresponsible for the president of the United States to commit more troops to this country when we don't even have an election finished and know who the president is and what kind of government we're working with," said Kerry, D-Mass.
The outcome of Afghanistan's Aug. 20 presidential election is in doubt because of ballot fraud that puts in question whether the current president, Hamid Karzai, will remain in office. A runoff election with his closest challenger is a possibility.
Kerry said there also should be a clear commitment in Afghanistan to eliminating government corruption before Obama agrees to send more U.S. troops.
"I believe it is critical for us to be satisfied that the reform efforts that are absolutely mandatory within the government here are in fact going to take place and be fully implemented," he said.
There are now nearly 68,000 U.S. troops in Afghanistan.
Defense Secretary Robert Gates was beginning a trip Sunday with a delicate mission: trying to persuade allies to remain committed to the war as the U.S. decides whether to send in more troops.
Gates, who is undecided, at least publicly, on that question, was departing Washington on Sunday on a weeklong trip to Japan, Korea and Slovakia – in part to ask NATO partners and Asian allies for continued contributions to a war now in its ninth year.
Japan is withdrawing two naval ships out of the Indian Ocean that have been used as refueling stops for allies en route to Afghanistan. Britain said this past week it will deploy a small but symbolic force of 500 additional troops – but only if NATO and the Afghanistan government do more to fight the Taliban.
Emanuel appeared on CNN's "State of the Union." Kerry was on CNN and CBS' "Face the Nation."
Popular in the Community