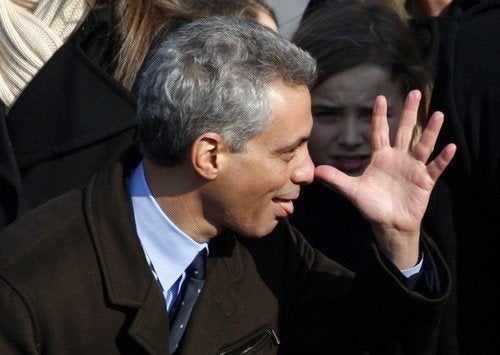 Almost immediately after Rahm Emanuel left the White House, the Twitter handle @MayorEmanuel was created. Many followed the account thinking it was the former chief of staff himself--but it turned out to be a foul-mouthed (and hilarious) imposter.
The account has more than 25,500 followers and is updated regularly. Emanuel himself has admitted to being amused by the account, which is run by someone with knowledge of his campaign schedule and politics in general. On Tuesday, Emanuel announced on the "Roe & Roeper" show that he will offer money for the identity of MayorEmanuel.
"After the election, I am offering a donation to the charity of that gentleman or woman's choice if they would come forward and identify themselves," Emanuel said on the show. (Listen to the full interview here.)
Emanuel said he would offer a $2,500 or $5,000 "personal contribution" to the charity of that individual's choice if they identify themselves publicly. He also said the tweets always make him smile.


@MayorEmanuel 's take on the real Rahm's "50 Wards in 50 Hours" tour.

"A lot of people say, 'I just read your tweet,' and I say, 'Huh?'" he told the WLS hosts.
Emanuel said he was impressed with the huge following the faux account has. His real Twitter account only has 7,380 followers.
Check out our roundup of some of MayorEmanuel's funniest tweets here.
Related
Popular in the Community