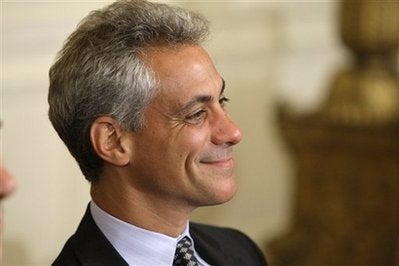 Rahm Emanuel visited Senate Majority Leader Harry Reid in his Capitol office on Sunday evening and personally urged him to cut a deal with recalcitrant Sen. Joe Lieberman, two Democratic sources familiar with the situation told the Huffington Post.
Emanuel, President Obama's chief of staff, has long been identified as leading a faction of White House advisers who have been pushing the Senate simply to pass any health care bill, no matter how weak.
His direct message to Reid (D-Nev.), according to a source close to the negotiations: "Get it done. Just get it done."
Politico reported Monday morning that the White House had pressed Reid to cut the deal after Lieberman (I-Conn) insisted the Senate drop a provision, which Lieberman himself has long favored, to allow those 55-64 to buy in to Medicare. Lieberman is threatening to join a Republican filibuster of the bill if the provision isn't dropped.
The White House denied the report. "The report is inaccurate. The White House is not pushing Senator Reid in any direction. We are working hand in hand with the Senate Leadership to work through the various issues and pass health reform as soon as possible," White House spokesman Dan Pfeiffer wrote in an e-mail to the Plum Line.
The report, however, according to the two sources, was entirely accurate. "We're long past time for these kinds of games," one source said. White House spokesman Reid Cherlin stuck to the denial: "Our statement is true," he said.
Senate Democrats plan to meet Monday evening to see if it is still possible to hash out their differences.
This story was updated to make clear that the sources spoke to the Huffington Post. They may or may not have been the same sources who spoke to Politico.
Popular in the Community