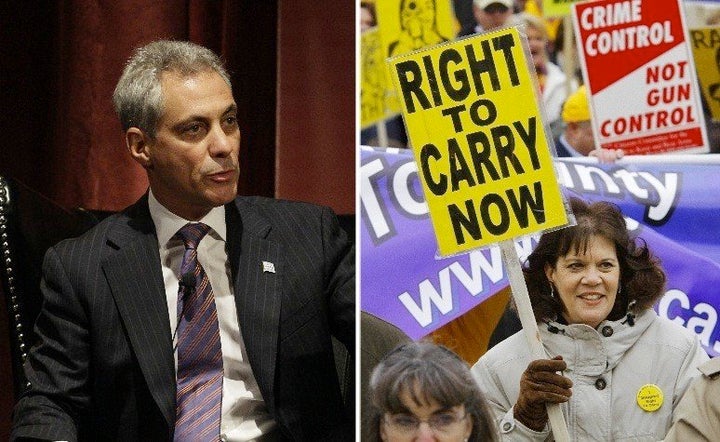 Chicago Mayor Rahm Emanuel is expected Thursday to introduce a proposal he hopes Illinois lawmakers will take up: a new, statewide handgun registry.
Gun owners and dealers would need to get in touch with Illinois State Police if a gun changes hands or is lost or stolen -- or else they would risk a misdemeanor charge. Those caught with an unregistered gun could face a felony charge, WBEZ reports.
U.S. Judge Sue Myerscough ruled Friday that the Second Amendment gives citizens the right to have guns in their home, but not to carry them in public. Illinois and the District of Columbia stand alone in prohibiting the carrying of concealed weapons.
The Second Amendment Foundation on Tuesday also touted a $399,950 check it received from the City of Chicago, complete with the signature of Emanuel, to cover the legal fees the group incurred during McDonald v. Chicago -- the case in which the U.S. Supreme Court struck down the city's 28-year-old handgun ban as unconstitutional.
With roughly 1.4 million FOID-carrying gun owners in Illinois, as of the end of last year, a statewide registry would represent a significant revenue generator for the cash-strapped state. Even if each FOID holder registered just one gun, the state would take in an estimated $91 million under Emanuel's proposal.