Currently, there is no city ordinance or state law that provides for a mayoral recall. As noted by the Better Government Association, "the state constitution does not address the issue of recalling locally elected officials."
Among the proposal's several provisions is one stating that a recall petition would need to collect valid signatures totaling at least 15 percent of the number of votes cast in the most recent mayoral election. In the event of a successful recall, a separate election would choose a successor.
Following Emanuel's Tuesday morning address to the Chicago City Council, thousands of protesters calling for his removal poured into the streets and marched from downtown around City Hall to the tony Gold Coast neighborhood about a mile north (where, incidentally, Emanuel had many supporters in the last mayoral election).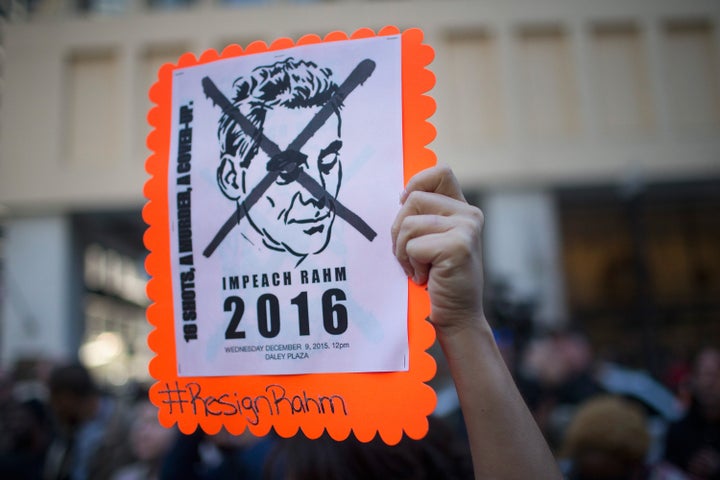 Calls for Emanuel's resignation have cropped up before, most notably in the wake of his handpicked school board's unpopular 2013 decision to close 50 public schools in mostly poor black and Latino neighborhoods.
But the push to remove Emanuel -- who earlier this year was embarrassingly forced into a runoff election -- grew stronger after the city lost its battle to keep dash cam footage of the McDonald shooting under wraps.
Scrutiny continued to grow after the release of two more controversial videos -- one showing the shooting death of 25-year-old Ronald Johnson III, and another showing the Tasing of Philip Coleman, who later died in police custody -- and a Justice Department probe into the city's police department.
City Hall, Ford's office and Flowers' office did not immediately responded to requests for comment.
#ResignRahm Calls For Mayor Rahm Emanuel's Ouster
Popular in the Community