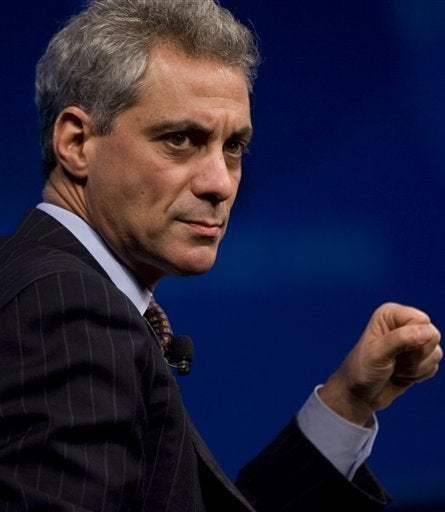 The ruling that (at least temporarily) kicked Rahm Emanuel off the Chicago mayoral ballot was decided by two judges on an Illinois appellate court bench.
Turns out, both of those judges are politically beholden to a backer of Rahm Emanuel's main rival.
The Chicago Tribune reported last night that Judges Thomas E. Hoffman and Shelvin Louise Marie Hall were both slated on the judicial ballot by Edward Burke, the powerful 14th Ward alderman who is also the chairman of the Cook County Democratic Party's judicial slating committee.
Unlike most states, where judges are appointed by the governor, Illinois judges are chosen by election. Many observers worry that this could lead to partisan politics weighing on judges' decisions, and the ruling against Emanuel only gave them more ammunition for their claim.
"There is this political link within our judicial system that makes these kinds of problems impossible to avoid," said Malcolm Rich, executive director of the Chicago Council of Lawyers, to the Tribune. The CCL works for judicial reform on just such issues, and evaluates judges currently serving on the bench.
Of course, the judges deny that politics -- or Burke -- had any impact on their ruling. But as the case heads to the state's Supreme Court, there is some talk of another justice falling under Burke's sway: his wife.
"The real question now is whether Anne Burke must recuse herself," Rich said. And his answer to the real question: "Yes, there is an inherent conflict."
Lynn Sweet at the Chicago Sun-Times has a tart analysis of Justice Burke's position:
She may want to argue that she is a judge in her own right, has her own career and what her husband does is his business. But if that were so, Burke would not be on the Supreme Court today.

Still, there is no indication that she will recuse herself from the case thus far, and a lawyer for Emanuel on Monday said they would not be asking her to.
Calling all HuffPost superfans!
Sign up for membership to become a founding member and help shape HuffPost's next chapter