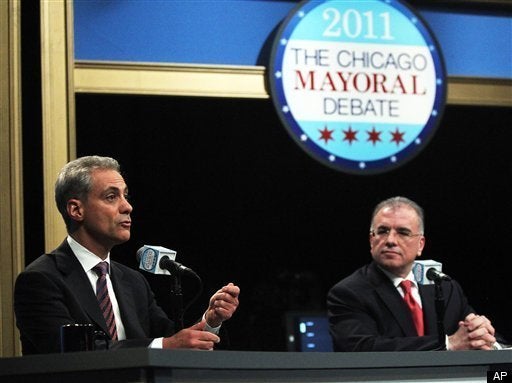 On January 19, Emanuel proposed a sales tax-swap that would reduce the city's rate by a quarter percentage point. His plan would close tax loopholes that currently allow luxury services to go untaxed. During Thursday's debate, Emanuel explained that there is no reason single mothers who are buying school supplies for their children should have to pay Chicago's steep sales tax while people who go to tanning salons, get plastic surgery or rent limousines go untaxed.
"We're talking about imposing a sales tax on barbers, child care, car wash -- you name it," Chico said, according to the Chicago Sun-Times. "Nine percent for people right now who are struggling with a tax they just got from the Illinois General Assembly."
In the days following Thursday's debate, Chico has taken this message all around town--telling a crowd at a Hyde Park barbershop that "The Rahm Tax" "could be a nine percent increase on everyday services."
Emanuel's campaign insisted that the broader tax would not involve barber shops and child care, but since Emanuel has yet to release a complete list of the services that would be taxed--Chico decided to invent one.
"Chico says he's entitled to take this approach because of the lack of detail in Emanuel's plan and because previous attempts by the Illinois Legislature to tax 'luxury services' have veered off into everything from nail salons to weight reduction services," Mark Brown of the Chicago Sun-Times wrote in his Sunday column. "...While I'm not sure Chico's tactic is entirely fair, I am rather perplexed how Emanuel waded into a very serious issue without seeming to have worked through more of the details."
As Chico slams the "Rahm Tax" all over town, Emanuel's campaign wants voters to know that Chico has already changed his tune once on the issue.
During a January 17 debate on WTTW, Chico said he agreed with Emanuel that "there are more goods that you can apply [a tax] to and not let as many goods out of the tax so we can bring the tax down." He also said his campaign had a similar proposal, but the details were not available.
Just ten days later, Chico referred to Emanuel's plan as the "single largest sales tax that we've ever seen."
The flip flop was not lost on the Emanuel campaign, which released a video titled "Did You Ever Have To Make Up Your Mind?" over the weekend.
REAL LIFE. REAL NEWS. REAL VOICES.
Help us tell more of the stories that matter from voices that too often remain unheard.