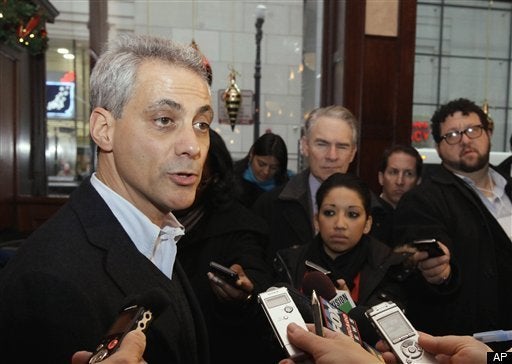 Mayor-elect Rahm Emanuel has repeatedly said that when he takes over, nothing is off limits when it comes to budget and ethics reform in Chicago. But one thing could be off the table: slashing the city council in half.
The Chicago Sun-Times reported Friday that Emanuel had suggested cutting Chicago's City Council in half to fix the city's growing budget gap in private meetings with aldermen this week.
"He's challenging the status quo and challenging us to think outside the box. He's saying, 'Think of the boldest thing you can think of and let's talk about it,' " an anonymous alderman told the paper.
But Friday morning, an Emanuel representative denied the Sun-Times report, calling it a reporter's "creation" and saying Emanuel has not suggested reducing the size of the city council. CBS 2 Chicago reports:
WBBM Newsradio 780's Bernie Tafoya reports while Emanuel may not be proposing the change, the idea has been discussed with aldermen who were asked to come up with ways to cut the city's budget.

An Emanuel representative confirms that the mayor-elect has had discussions with aldermen about reforming the City Council.
Chicago's 50-person City Council is one of the largest in the country. The Sun-Times reports that taxpayers spend $19.5 million a year to maintain 50 aldermen, and spend an additional $4.7 million on the council's various committees.
Powerful alderman Ed Burke has suggested slashing the council in the past, according to the Sun-Times, saying it is "unwieldy, unproductive and unnecessary."
Though Emanuel appears unwilling to get behind slashing the council at this time, he would have outside support as well. Civic Federation President Laurence Msall told the paper the "shared sacrifice" needed to mend the city's broken budget should be shared by all--even aldermen.

Calling all HuffPost superfans!
Sign up for membership to become a founding member and help shape HuffPost's next chapter