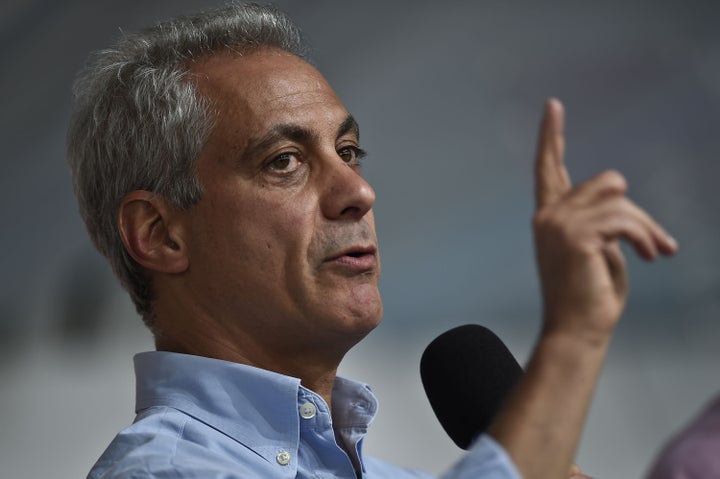 Chicago Mayor Rahm Emanuel, one of the country's more prominent Jewish Democrats, said Wednesday that he supports President Barack Obama's deal on Iran's nuclear program.
Emanuel, who served as Obama's chief of staff during the first two years of his presidency, during which time the administration began exploring diplomatic entreaties with Iran, said that the resulting agreement met the thresholds initially envisioned. With no other credible path available for curbing Iran's nuclear ambitions, he urged lawmakers to recognize the deal's merits.
"I would say to you this agreement is a good agreement and it is far superior to either sustained bombing that would never actually get you what you have today or sanctions that would exist on paper but with no international support," Emanuel said in a phone interview with The Huffington Post.
"Having been there at the beginning, seeing what the president built, everything gets measured not against itself or the perfect. It gets measured against the alternatives," he added. "The alternatives are bombing. The alternatives are being the only country standing with a set of sanctions when every international partner that you built painstakingly walks away."
Removed from Washington, D.C., Emanuel's involvement in the debate over the nuclear deal is limited. "I'm totally focused on what I need to do here," he said. "We are not starting any sister city programs [with Tehran]."
But he remains an influential national Democrat with ties to the House, where he previously ran the party's campaign arm. More than that, he is seen as an unbending supporter of Israel, giving his defense of the deal added heft. One of the main criticisms of the deal is that providing Iran with sanctions relief will place Israel under an existential terrorist threat.
"Look, I've been to Israel 14 times. My middle name is Israel," Emanuel said. "I believe this agreement is in America's interest. I think there is a reason a number of national security voices in Israel are supportive of this agreement, and there are ways to also ensure Israel's deterrence and security apparatus that the United States can play a role in." The United States, he predicted, would enhance its military and national security assistance to Israel following the deal's passage.
Emanuel gave no indication as to whether he plans to call his former House colleagues to encourage them to back the president's initiative. He ended the conversation before HuffPost could press him on that point.
But the White House would undoubtedly welcome the help. The administration is all but certain to lose a vote in the lower chamber on affirming the deal. When the president vetoes that House bill, he will need the support of one-third of the chamber to sustain that veto.
Emanuel said that he wouldn't sell the deal as something designed to bring Iran into the world community, and that he recognized that there were inherent downsides to the sanctions relief. But he stressed that critics were misrepresenting the deal when they argued that the administration had dramatically moved away from its initial goals.
He praised the president for putting in place a sanctions regime that gave the international community "leverage," and noted that he was present when Obama was "painstakingly and systematically building an international coalition to apply economic pressure that had never existed before."
"Having been there, this is the execution of that strategy," he said.
Popular in the Community