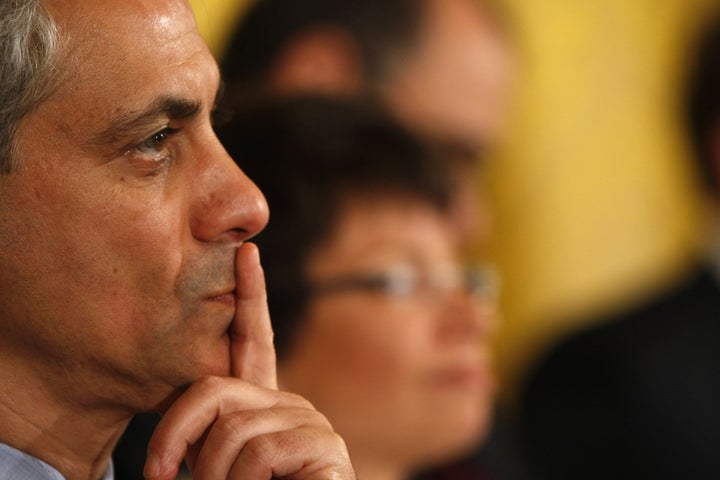 Emanuel, who was born in Chicago and represented Illinois' 5th congressional district until he joined the Obama administration, has been open about his desire to become mayor of Chicago since early this year. His connections to the position held by Daley for 21 years also run deep--he served as finance chairman of Daley's first mayoral campaign in 1989.
Despite the close relationship, Emanuel said he was "surprised" by Daley's announcement on Tuesday.
"While Mayor Daley surprised me today with his decision to not run for reelection, I have never been surprised by his leadership, dedication and tireless work on behalf of the city and the people of Chicago," Emanuel said in a statement, according to the Washington Post.
Speculation first arose about Emanuel's possible mayoral run in January, when Sally Quinn of the Post made a passing mention of the possibility. Emanuel then publicly said he would not be running for mayor in 2011--especially against Daley.
"I hope Mayor Daley seeks reelection," Emanuel said on Charlie Rose's PBS talk show in April. "I will work and support him if he seeks reelection...But if Mayor Daley doesn't, one day I would like to run for mayor of the city of Chicago...That's always been an aspiration of mine even when I was in the House of Representatives."
Even with the Chicago elections just months away, sources told the Post that Emanuel will probably enter the race. From the Post:
A senior Obama Administration official said Emanuel is likely to run for the post. "I'd be shocked if he doesn't run," the official said.

An Emanuel friend said that "I can't imagine this is something he would pass on," adding: "It's always been a dream job for him [but] he was convinced it would be further down the road."
Politico reports that Emanuel's departure from the White House also may "coincide nicely with the demands for blood after a bad cycle," with some predicting big losses for democrats in the midterm elections.
"Emanuel has told Chicago associates, a source tells me, who he believes will likely succeed him: senior Obama adviser Valerie Jarrett," Politico reporter Ben Smith wrote Tuesday.
If Emanuel does decide to run, the Post predicts that he will be the frontrunner, though Chicago Rep. Mike Quigley told the Chicago News Cooperative that there will be "a lot of different people" vying for the office.
Some other names that have been floated include Cook County Sheriff Tom Dart, Attorney General Lisa Madigan, Cook County Commissioner Forrest Claypool, Cook County Assessor Jim Houlihan, 2004 Senate candidate Gery Chico, Aldermen Scott Waguespack and Robert Fioretti, Reps. Mike Quigley, Luis Gutierrez, John Fritchey and Jesse Jackson Jr. and David Hoffman--who unsuccessfully ran against Alexi Giannoulias in the U.S. Senate primary.

Calling all HuffPost superfans!
Sign up for membership to become a founding member and help shape HuffPost's next chapter