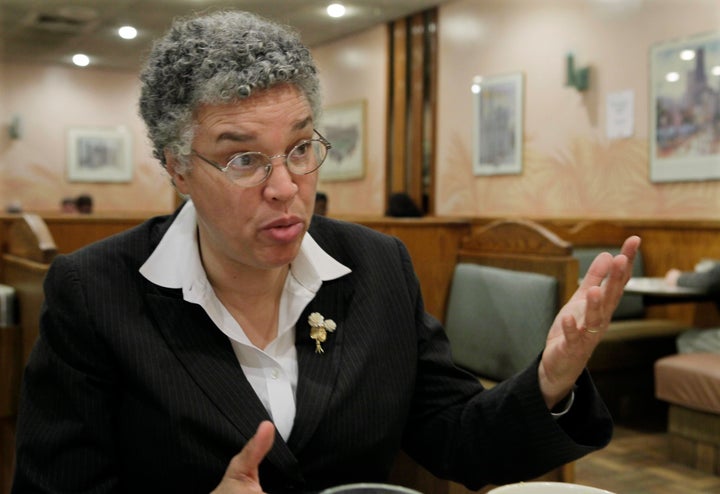 Sometimes when you see two people out on the dance floor, it is clear that they are partners. They move in sync, with energy and an unspoken discipline. Well-rehearsed steps are made to look natural and spontaneous. But this is not always the case. Sometimes -- especially on a crowded dance floor -- there is ambiguity. It is unclear who is dancing together, and it may even seem as if all of the participants are bopping alone.
Frequently this is an illusion, and it turns out that two seemingly separate dancers are actually moving in harmony. Such is the case now in Chicago with Mayor Rahm Emanuel and Cook County Board President Toni Preckwinkle. Each of their predecessors -- Richard M. Daley and Todd Stroger, respectively -- left a fiscal mess and Emanuel and Preckwinkle are systematically working to clean it up.
In introducing his second budget as mayor, Emanuel spoke honestly this week about the fiscal hardships facing the city. "The residents of Chicago elected us to tell the hard truths so that we can make the tough decisions," said Emanuel. "We need to be honest with everyone about the challenges we face and the difficult choices we must make to solve them." On taking office in May 2011, Emanuel inherited a $635 million budget deficit and massively underfunded pensions from his predecessor. Since that time, the energetic mayor has accomplished much, including negotiating better contracts with the city's unions, proposing two disciplined budgets, modernizing the provision of city services (by, for example, moving trash collection away from ward-by-ward routes) and insisting on the reform of the city's disastrously expensive pension programs. Emanuel described his second budget proposal as a "clear break with the past" and expressed the view that Illinois lawmakers "need to get in gear" to help him reform the pension system. A strong performance all-in-all, and one which dances to a different tune than his predecessor.
Cook County Board President Toni Preckwinkle has similarly distinguished herself on fiscal issues from her predecessor. Speaking Wednesday at Dick Simpson's "Future of Chicago Lecture Series" at University of Illinois at Chicago, Preckwinkle said of Todd Stroger, "It is a mixed blessing succeeding somebody who is inept. On one hand, the bar is low, and on the other hand, things are a mess." On taking office in December 2010, Preckwinkle inherited a bloated and mismanaged county government with a $487 million budget deficit. Since that time, she has laid off 1,000 unnecessary employees, refinanced debt obligations and introduced management efficiencies into Cook County government. Preckwinkle accomplished this while also lowering the sales tax -- a very, very, very rare accomplishment by a Chicago politician. Finally, Preckwinkle has shown that she is not afraid to take on Chicago's old-school Machine politicians. This week she criticized county Assessor Joseph Berrios for violating the anti-nepotism provisions in the county's ethics rules.
Preckwinkle and Emanuel have also worked together on governmental reform. In March 2011, they launched a joint committee on city-county collaboration, promising to cut costs and improve services by eliminating operational redundancies, such as duplicative administrative and regulatory functions. "This report is a blueprint for reform. It paves the way for a first-of-its-kind collaboration between the City and County in order to more efficiently deliver our residents with the best services for the best price," said Emanuel. "This is only the beginning; President Preckwinkle and I are committed to this unprecedented partnership and we want to be held accountable as we implement these recommendations." To date, the partnership has identified $21 million in annual savings.
So far, so good. Emanuel and Preckwinkle look beautiful together out on the dance floor. Unlike Illinois Governor Pat Quinn, they have demonstrated not only leadership, but also savvy political moves, in bringing about fiscal reform. The dance might not last forever -- it is "even money" that one of them will move on to higher political office -- but the judges will likely give them high scores for their current performance.
Calling all HuffPost superfans!
Sign up for membership to become a founding member and help shape HuffPost's next chapter