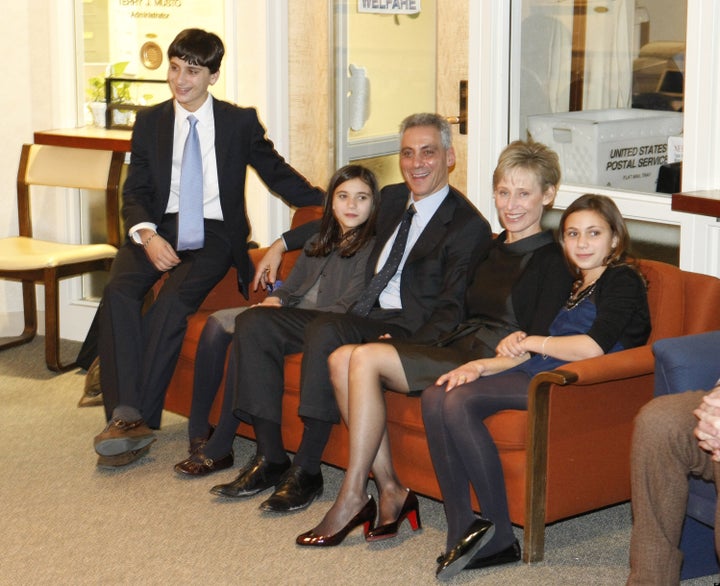 CHICAGO -- Former White House chief of staff Rahm Emanuel was elected mayor of Chicago on Tuesday, easily overwhelming five rivals to take the helm of the nation's third-largest city as it prepares to chart a new course without the retiring Richard M. Daley.
Emanuel trounced all opponents with 55 percent of the vote - a margin that allowed him to avoid an April runoff. He needed more than 50 percent to win outright.
It was the city's first mayoral race in more than 60 years without an incumbent on the ballot and the first in more than two decades without Daley among the candidates. Daley and his father have led Chicago for more than 43 out of the last 56 years.
Emanuel called the victory "humbling" and said the outgoing mayor had "earned a special place in our hearts and our history."
But he added: "We have not won anything until a kid can go to school thinking of their studies and not their safety. Until the parent of that child is thinking about their work and not where they are going to find work, we have not won anything."
Reginald Bachus, the 51-year-old pastor of a West Side church who voted for Emanuel, said the next four years will be "a very critical time for Chicago.
"We really need a mayor who has vision. It's my personal opinion everyone else would have been a manager, and I think Rahm has vision," Bachus said.
The other major candidates - former Chicago schools president Gery Chico, former Sen. Carol Moseley Braun and City Clerk Miguel del Valle - had hoped to force a runoff that would have extended the campaign for six more weeks. But they were no match for Emanuel's momentum and money.
Chico had 25 percent of the vote compared with 9 percent for both del Valle and Braun. Two other lesser-known candidates each got about 1 percent.
Emanuel will replace outgoing Mayor Richard M. Daley, who has held the office for over twenty years. Daley up-ended the Chicago political universe on September 7 of last year by announcing that he wouldn't run for re-election. At the time, he described it as "a personal decision, no more, no less" -- his wife Maggie has been battling cancer for years, and at age 68, he's no spring chicken himself.
Meanwhile, Emanuel had turned heads earlier in the year by suggesting that he'd some day be interested in running for mayor of Chicago, though he clarified that he'd never run against his good friend Daley. Almost immediately after the mayor's announced retirement, speculation began to swirl around Emanuel, overshadowing almost every local development in the race even before he declared his candidacy.
When he finally did announce, with a supportive send-off from President Obama, he had to surmount a legal challenge to his claims of residency in Chicago while working in D.C. for the White House. Objectors to his candidacy argued that he didn't meet the legal requirement to reside in the city for a year prior to running for mayor; his campaign argued that residency covers service to the president, and that he clearly planned to move back to the city. After several lower court rulings in his favor, Emanuel lost a split decision in the Appellate Court, prompting national speculation that he'd be removed from the ballot. But the Illinois Supreme Court promptly reversed that ruling, issuing a scathing opinion that called the Appellate Court's decision "fundamentally flawed."
After the ruling in his favor, Emanuel also faced a crowded field: Gery Chico, a Daley associate with powerful backers in business and among unions; Carol Moseley Braun, the "consensus" black candidate as chosen by a group of political and religious leaders in the African-American community; and Miguel del Valle, the white-knight city clerk backed by a grassroots progressive movement.
Still, none could overcome Emanuel's massive fundraising advantage (accrued largely before January 1st, when campaign-finance limits took effect, and largely from out-of-town sources), his superior media campaign, and his star power, which many Chicagoans saw as a way to help put the city in the national and international spotlight. He had been polling significantly ahead of all challengers throughout the race; the only unanswered question was whether he would break the 50 percent threshold on Election Day. He did.
The outright win for Emanuel is meaningful for a number of reasons. Aside from his ability to claim a mandate and start making plans for the beginning of his term, he can also start lobbying in the many aldermanic races that are headed to run-offs, to craft a City Council more amenable to his agenda.
"Thank you, Chicago, for this humbling victory," Emanuel said Tuesday night. "You sure know how to make a guy feel at home."
Popular in the Community