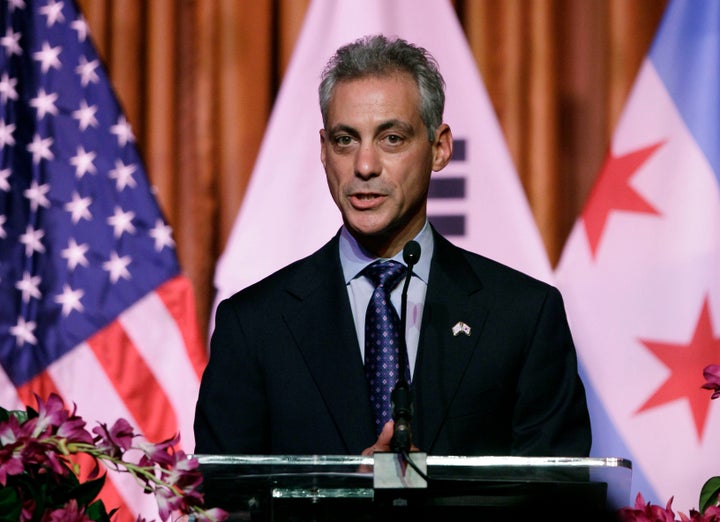 Though an influential group of 200 lesbian, gay, bisexual and transgender Chicagoans stood up behind Mayor Rahm Emanuel and endorsed his candidacy earlier this year, many LGBT activists in the Windy City expressed alarmed at the new mayor's latest move: a proposed budget that eviscerates their community's city-sponsored advisory council.
At the latest meeting of the city's Advisory Council on LGBT Issues, the Windy City Times reports that many council members are hoping to "go down fighting" against their council being combined with the city's Women's Issues Advisory Council under a new name: the advisory council on Gender and Sexuality.
Some council members object both that the words "lesbian," "gay," "bisexual" and "transgender" have been removed from the council's title and that they were not consulted with concerning the change.
In a previous story addressing the cuts, the Windy City Times reported that the council's director, Bill Greaves, will lose his job as of January 1. The council's chair Beth Kelly said the change "sends a message that Chicago does not care about this community." Kit Duffy, the first-ever LGBT liaison to the mayor, added that the change "signals a lack of recognition, and I think it signals an ignorance of impact."
The Civil Rights Agenda, a statewide Illinois LGBT advocacy group, said the cuts, part of deep budgetary reductions for the city's Commission on Human Relations, were "of concern, as their ability to handle the number of discrimination cases that are consistently filed will be minimized."
Lowell Jaffe, the group's political director, also noted that it was "concerning" that none of the agency's commissioners or members had input into the process.
"Where is the transparency? Who is making these decisions? Why is City Hall silent with regards to process? These are all questions that deserve an answer," Jaffe said in a statement.
Other advisory councils were also impacted in Emanuel's proposed budget, which the Civil Rights Agenda says cut 19 percent of the "community services" budget category's funding. Formerly separate entities, the city's councils on African, Arab, Asian and Latino affairs will now be combined into an "Equity" council, the Windy City Times noted. The city's only advisory council that is proposed to proceed unfazed is the advisory council on veterans' affairs.
In July, the new mayor pulled all city funding from the Chicago Gay and Lesbian Hall of Fame, previously recognized as the world's only municipally-sponsored hall of fame honoring LGBT people, Gay Chicago reports. The cut left the council in a temporary standstill as they needed to find a new location for its annual induction ceremony, formerly held each year at the Chicago Cultural Center. The 2011 edition is now slated to be held next month at the Chicago History Museum.
Related
Popular in the Community