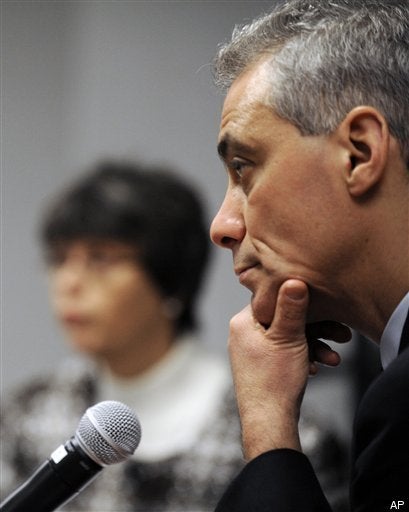 Yesterday, Rahm Emanuel was basking in the glow of Bill Clinton, as the former president rolled into Chicago and gave Rahm a glowing endorsement in his bid for mayor.
But it's an appointment that Clinton gave to Emanuel 11 years ago that's surfacing as one of the candidate's biggest vulnerabilities.
In February of 2000, then-President Clinton appointed Emanuel, his former senior advisor, to a position on the board of Freddie Mac. Officially the Federal Home Loan Mortgage Corporation, Freddie Mac is a so-called "government sponsored enterprise" that was created to sell mortgage-backed securities, the financial instruments that were responsible for the recent economic collapse.
During Emanuel's tenure on Freddie Mac's board, a massive scandal broke at the company. It was revealed that the company had understated its earnings by around $5 billion, one of the largest such misstatements in corporate history, according to Forbes.
According to an investigation in the Tribune in 2006, the company "manipulated bookkeeping to smooth out volatility, perpetuating Freddie Mac's industry reputation as 'Steady Freddie,' a reliable producer of earnings growth. Wall Street liked what it saw, Freddie Mac's stock value soared and top executives collected their bonuses."
Also during Emanuel's time at the company, it began a program of supporting political candidates by using company resources to hold fundraisers for candidates. That plan raised $1.7 million for federal candidates, including the chairman of the House Financial Services Committee -- and $7,000 for Emanuel himself, in his later run for Congressman -- and earned Freddie a $3.8 million fine from the FEC.
The fundraising plan, laid out during a meeting while Emanuel was on the board in September 2000, was designed to keep Congress from regulating Freddie, the Tribune reported; lax regulation of mortgage-backed securities is seen as one of the principal causes of the recession.
Now, Emanuel's mayoral rivals are beginning to remind voters of the front-runner's ties to the troubled mortgage company.
Gery Chico, widely viewed as the leading contender to Emanuel, sent out a press release blasting his opponent over the issue yesterday.
"When Rahm Emanuel had the chance to blow the whistle on corrupt activity taking place on the Freddie Mac board, he sat on his hands, looked the other way and took the cash," Gery Chico said in the release. "It was a character test and Rahm Emanuel failed."
An Emanuel spokesman told WLS AM that Emanuel was on the Freddie Mac board years before Freddie Mac expanded into subprime lending, and years before the housing crisis. Mark Brown of the Chicago Sun-Times also pointed out Wednesday that Emanuel "isn't mentioned by name in the report [on the Freddie Mac scandal] at all."
Chico also released a video on the subject -- one clearly shot in his campaign office, and apparently in one take.
Watch Chico on Rahm and Freddie here:
Also weighing in was Chicago City Clerk Miguel del Valle, who has portrayed himself as the grassroots underdog candidate in the race. Del Valle's optics were a bit better: he delivered his remarks toward Emanuel at a foreclosed home in South Austin, littered with empty bottles and crumbling walls.
"Rahm Emanuel, who wants to be mayor of Chicago, needs to visit a home like this and explain what his role with Freddie Mac was," he said on Tuesday.
Watch a clip from del Valle's press conference:
So far, Emanuel has stayed relatively mum on his Freddie days -- and with a massive fundraising advantage and polling lead over his rivals, it doesn't seem likely that he'll enter the fray any time soon. The only question is whether his opponents have enough collective might to make the issue stick.
REAL LIFE. REAL NEWS. REAL VOICES.
Help us tell more of the stories that matter from voices that too often remain unheard.