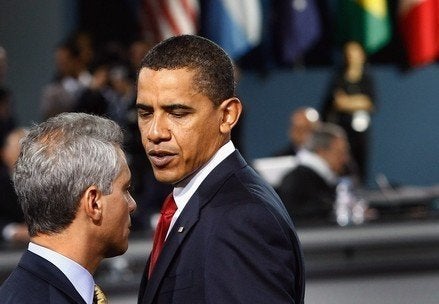 It's been a pretty good week for Rahm Emanuel. First, ABC-7 Chicago released a poll that gave him 54 percent of the vote--quadrupling the numbers of second place candidate Gery Chico. He was also endorsed by N'DIGO, one of Chicago's leading newspapers for the African-American community. Then, he released a new ad that features kind words from a man that remains very popular in Chicago--President Barack Obama.
Emanuel released his ad, "Leadership" Thursday. The ad is similar to one the Emanuel campaign ran on Chicago radio stations last month. It features Obama praising Emanuel during his White House send off on October 1.
"When I first started assembling this administration, I knew we were about to face some of the most difficult years this country has seen in generations," Obama says in the spot. "I needed somebody at my side who I could count on to help get the job done."
The ad certainly sounds like a Presidential endorsement for Emanuel, even though the Obamas have yet to vote for a new Chicago mayor.
Some of his opponents say the ad is misleading.
"I don't think it's right for him to use the president in an ad to mislead people to believe President Obama is making an endorsement," candidate Miguel del Valle told the Chicago Sun-Times. "Either you have an endorsement or you don't. Don't run an ad with his voice which has the purpose of misleading people."
Chico's campaign agreed, and said that someone should ask Obama directly is he is supporting Emanuel.
President Obama has previously said that Emanuel would be a "terrific" mayor, but has stayed out of the mayor's race in Chicago. First Lady Michelle Obama told Lynn Sweet of the Chicago Sun-Times that she and the president have not voted yet--and wasn't willing to talk about who she would vote for.
"I haven't voted yet," the First Lady said. "But my vote is mine, too."
Do you think Emanuel's ad featuring Obama's comments on October 1 is misleading? Watch the ad and vote below.
Popular in the Community