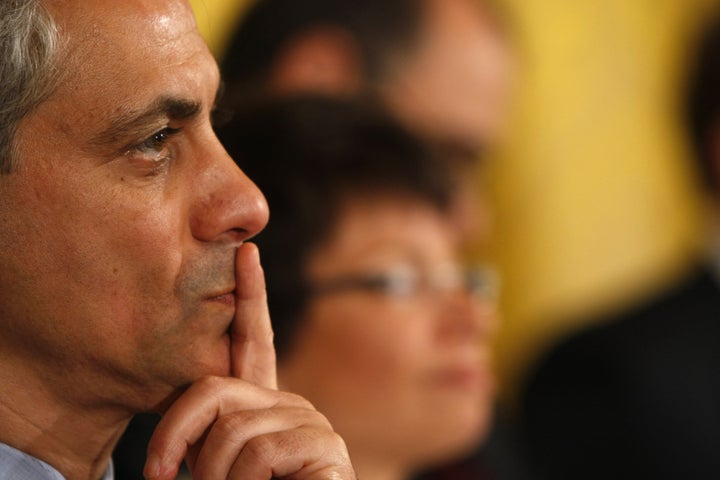 "What Rahm Emanuel did when he applies for an absentee ballot is, he says, 'Yup, I still live there.' And he rightfully gets his vote and he rightfully does vote, and end of story," Kreloff said.

Left unexplained is how Emanuel could fill out the absentee ballot application, stating he resided at the North Hermitage address though he did not.
The man who told Kass about Emanuel being purged from the voter rolls was election lawyer Burt Odelson, who Kass calls the "Rahmstopper." Odelson has been telling anyone who will listen that Emanuel does not meet the residency requirements needed to become Chicago's mayor for weeks, and has also signed on as an advisor to Sen. James Meeks' mayoral campaign--and plans to make a legal attempt to knock Emanuel off the ballot next week.
"Unlike many residency cases, this is an easy one," Odelson told Kass. "We usually have to take a lot of time proving factually that the person does not live where he says he lives. This one is easy. Rahm admits he lived in Washington with his family. His children were in school there. The bottom line is that Mr. Emanuel has not lived in Chicago."
Odelson maintains that because Emanuel rented out his Chicago home while serving as White House Chief of Staff, he was saying goodbye to his Chicago resident status.
Kass wrote Wednesday that he believes the residency requirement is unfortunate--and the "talented and driven Emanuel should be allowed to run for mayor," but continued to hammer the issue in his Thursday column--comparing Emanuel's ballot tactics to President Obama's.
"In the 1996 Democratic primary campaign for the Illinois Senate, Obama used every trick in the book before the election board to get rid of his four opponents," Kass wrote. "He didn't challenge their residency. Instead, Obama challenged their petitions of candidacy. And years later, as he campaigned for the presidency, he was billed as a reformer, not some old-school Chicago pol."
Emanuel's campaign said during a Wednesday conference call that the residency issue should not be an issue at all--and that one does not lose their residency when taking a job with the federal government.
"I don't know what the opponents will come up with next," Kreloff said, according to NBC Chicago. "These are just political games to infringe on someone's right to run."
"The issue is not that he left town -- it's that he rented out the house," Adam Lasker, who chairs the Chicago Bar Association's Election Law Committee, told the Sun-Times. Unlike Odelson, Lasker has nothing invested in the mayoral race. Also, the paper points out that nearly half of Chicago's election bar consider Emanuel to be vulnerable.
"It's the sense of the election board that if you keep ownership of the property, keep your registration there, you've voted absentee, as far as we know he hasn't registered anywhere else, it's just like members of the military who serve overseas in Iraq -- we don't deny them the right to vote; people who take corporate assignments overseas, and lease out their home as a fact of life, it doesn't mean they've left permanently."
What do you think of Emanuel's residency drama? For reference, this is the what the current state law reads: "A person is not eligible for an elected municipal office unless that person is a qualified elector of the municipality and has resided in the municipality at least one year next preceding the election or appointment."
Calling all HuffPost superfans!
Sign up for membership to become a founding member and help shape HuffPost's next chapter