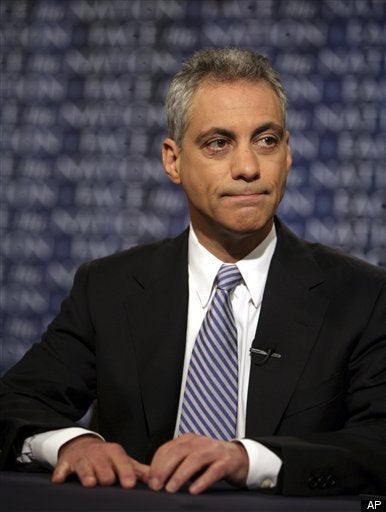 The fairly unprecedented pomp of Friday's White House farewell ceremony for Rahm Emanuel speaks to his power and ubiquitousness in insular Washington, as he prepares to run for Mayor of Chicago. Emanuel's cult status and his intimate closeness to President Obama has led to the pervasive early view that Emanuel is a healthy favorite to win, but these attributes, which have made Rahm so influential in the capital, constitute considerable liabilities that will make his election difficult.
In heading back to Chicago, there is no question that Emanuel brings incredible fund-raising skills and will easily out-pace all of his opponents. As a former congressman, adviser to Bill Clinton, and the most successful head of the DCCC over the last generation, it is no stretch to say that Emanuel has the deepest rolodex in all of Democratic politics and he'll raise and spend a mint. Emanuel is also a hardened, able campaigner, and all indications are that he is meticulously working to assemble sturdy local support.
Emanuel's greatest obstacle in winning won't come down to finances or studiousness, but rather his lack of a large, natural, concrete base necessary to win an entirely urban election. For all of Rahm's money, fame, and out-sized reputation, where will his votes come from? While Rahm still enjoys a good level of popularity in the city, most of the city's racial and ethnic groups do not identify with him to any great extent and owe him no personal fealty. Therefore, how he breaks out from his small pockets of support in wealthy, white-heavy areas is an open question.
Despite immense gentrification and the blurring of once-clear ethnic and socioeconomic lines, divisions still exist in Chicago as voting blocs remain intact. At the time of the last census, the city was nearly 40% black and more than a quarter Latino, and neighborhoods heavily composed of Irish, Italians, Polish, and other groups still exist with their ancestral backgrounds playing a role in their voting behaviors. This isn't to say that Chicago voters reflexively won't vote for a Jewish North Sider, but that after over 20 years of uninterrupted Daley rule, numerous groups view the wide-open race as their turn to elect one of their own.
The wild card, of course, is what role Emanuel's old boss will play. Sensibly, the casual view of the race suggests that President Obama, who has already endorsed Emanuel, is Rahm's biggest asset and as Chicago's favorite son he will bring controlling sway among Democratic primary voters. But it is highly unlikely that the President will take any overt actions beyond closed-door fund-raising.
Providing anything more than the perfunctory endorsement Obama has already tendered would expose the President to a lot of grief from liberal leaders in Illinois, especially African Americans who have long-eyed Emanuel wearily. The White House knows the race is a local contest far beneath any robust exertion by the President such as stump speeches or neighborhood visits. Should Rahm win, Obama would gain little hard benefit, but if he lost it would be an immeasurable embarrassment, particularly on the heals of what will painful midterm losses. It would thus be wrong to expect Obama to do much on behalf of Emanuel. City politics are simply too sticky and tribal.
Besides, Emanuel's administration record could carry liabilities. On numerous occasions, Rahm has seemingly gone out of his way to disparage and antagonize progressives. Emanuel has also long had an uneasy relationship with black leaders, both nationally and in Illinois, and the administration's early abandonment of the Employee Free Choice Act could cost Rahm critical union backing. Emanuel could even bear the brunt of any lingering resentment over Obama's failure to deliver the 2016 Olympics to Chicago.
Regardless of what moves Obama makes, Rahm will not gain a decisive advantage. Emanuel's last two years entirely in Washington have further solidified his reputation as a creature of the Beltway, the chief impediment to Emanuel's run for Congress eight years ago. His swooping back into Chicago will rub many people the wrong way and bring into greater focus the recriminations he faced in 2002.
Emanuel's victory in that race is already being used as evidence that he can skillfully navigate the carpetbagging issue, but that contest has little positive relevancy now. While garnering some attention, the 2002 race largely fell under the radar and took place in a heavily white district. This time around, coming a few months after the midterms the contest will command enormous national attention and cover a much more diverse and heterogeneous citywide swath, potentially allowing the carpetbagger theme to assert greater control on the narrative.
Ultimately, Rahm's probability of success will depend greatly on how the field shakes out. It is crucial for him that multiple credible black and Latino candidates enter, thereby splitting their respective core constituencies. With 50% required to win outright, it is almost certain there will be a runoff, and it will be important for minority leaders to get behind single candidacies to have a chance. As it stands, a wide field will help Rahm because of his likely money advantage.
His toughest competition will come from Cook County Sheriff Tom Dart, who is expected to throw his hat in soon. Dart has deep local backing and carries no perceivable personal baggage. Perhaps most salient, he has good relationships with the city's black communities -- certainly a rarity for law enforcement figures in any big city -- a strength that could prove critical if he and Emanuel meet in a runoff and one that blunts Obama's involvement a bit. Possessing diverse appeal to Chicago's disparate populace and interests, Dart is a major contender.
Taken together, Rahm has a good opportunity to attain the job he's always wanted, but like the Bears' chances of remaining a serious Super Bowl contender, it is no lock. In fact, he's probably the underdog.
Calling all HuffPost superfans!
Sign up for membership to become a founding member and help shape HuffPost's next chapter