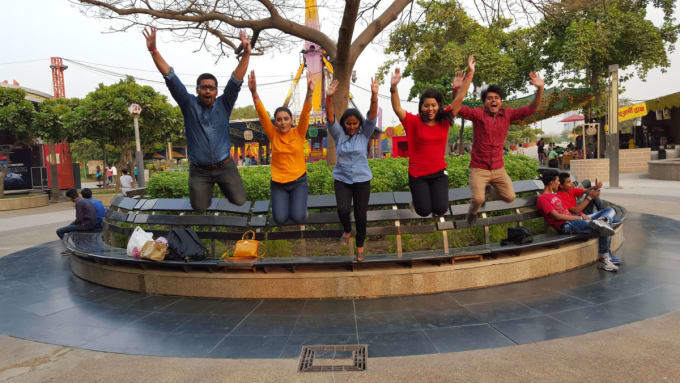 Software development is one of India's biggest economic sectors employing millions of people every year. Global brands have established subsidies in the sub-continent to take advantage of the cheap labor. Rahul Parashar is one of the hundreds of thousands of fresh graduates who join the sector every year.
But unlike many others, the 30 year-old left the lure of corporate job security to start a web design company- Credofy Solutions Pvt Ltd. Although the start-up entity struggled in its initial stages today the company is a global website solutions provider with several employees on its payroll.
He spoke to us about his struggles, success and advice to young entrepreneurs in India and across the world.
Tell us a bit about your training and background.
My first taste of programming was in ninth grade when we were taught about C++. I just loved it. Alongside my friends we could seek permission to skip the school assembly to spend time in the computer lab. I joined college after passing my qualifying exam where I fell in love with Java and multi-threading. After completing my Bachelor of Engineering in 2007 I was hired by Accenture, a software and consulting company.
I was a workaholic and in my first year I led a team of seven in automating the Assembly Testing process. The project was a huge success and I was named Employee of the Year. It's after joining Aon Hewitt Gurgaon in my hometown of New Delhi when I learnt the art of working as a one-man army. I taught myself how to work with a new tool, called Liferay, and later mentored expert vendors. Although I was a hard worker but I disagreed with my employer after he turned down my pay hike request. I quit the job and vowed never to work for anybody again, although I wasn't sure of what exactly I wanted to do.
What lured you from the comforts of a stable job into the turbulent and uncertain world of freelancing?
I always wanted to be my own boss but I didn't know where I would start. I had worked in corporate companies for five years and wasn't sure what to do once I to quit. This was made even tougher by the fact that the freelance community was driven by cutthroat competition, which I wasn't used to. It was like jumping off the cliff and then trying to build a plane before you land. After six months of uncertainties, I started a free basic computer coaching center to empower under-privileged children. But I would learn the hard way that you can't empower others before you empower yourself. I ran out of funds, closed the center and decided to defer this charity endeavor until I stabilized financially.
How did you react to the failure of your first effort?
Sustained by passion and an indomitable self-believe I held my start-up team together by picking small time jobs here and there. We would do coding, web applications and small-time software just to keep the fire burning, although nothing excited the market. I had hired fresh graduate rookies to do projects in common and easy to work on programs like PHP, HTML and CSS. But the market was flooded with experts on these easy-to-code programs. Most clients want programs coded in the harder CMS. I had exhausted the resources and I had none left to train for CMS. Things became so tough that I couldn't pay my staff even after borrowing money from my retired mother. Although I thought of releasing my employees and pondered going back to employment, I never wanted to let go of my company.
What was your turning point after the string of failures?
A client of mine had asked for CMS for their website so I downloaded materials and engaged in an intensive self-learning program. To practice my new skill I built several CMS websites for some friends for free. With time, we did some CMS-coded sites for some local business owners that got them good traction with search engines.
Believing I was by then skilled enough, I developed a portal through which I intended to feature local furniture shops in New Delhi for a fee. But no shop owner was willing to pay since they were getting the same service for free in the much bigger Google and other portals with a global reach. Then I changed tact and focused on the biggest furniture outlet in Asia, Kirti Nagar.
The venture also failed because nobody would pay for the service and it turned out to be another six wasted months. It was frustrating earning Rs10,000, in a month, which was my pocket change during my corporate days. But through these struggles we discovered a certain CMS program that clients wanted on their websites.
I created an online freelance profile targeting the global market where I advertised my skills in website creation and designs. Credofy Solutions Pvt Ltd got its first serious order. We worked tirelessly with my three employees, which earned us great feedback from the client. From then on we would build 20 websites a month, working day and night.
Although we started by charging as low as $100 in 2012 today we have built sites worth $25,000. During the same time we have turned around the fortunes of many start-ups by helping them go online.
What were some of the challenges you faced when starting up your software company?
Getting clients was a major challenge. I had to personally go to shops, showrooms and events to build a professional network, promote the company's services and secure contracts. But despite these efforts, the work we secured was not enough to sustain the company. We had to think outside the box in order to reach the global audience so we joined a freelance community portal where we created a Credofy Solutions Pvt Ltd profile.
Now that your business is established what next?
I want to use my experiences in the last ten years to help start-ups avoid the pitfalls that I fell into when trying to set up my business. I plan to do this through internships and other engagements with upcoming freelancers. I believe if I had somebody to guide me I could have avoided some of the mistakes I committed along the way. Traveling through a beaten path eases the struggles of the journey. My team of five and I are ready to work with like minded upstarts.
What can you tell those planning to quit corporate jobs to join freelancing?
It's not an easy road for it requires patience, adjustments and learning to live by meager means. But with perseverance and a never-say-die attitude it eventually pays off. My team of five and I are a living testimony.
Support HuffPost
The Stakes Have Never Been Higher
Related
Popular in the Community