Barbara Peña, 45, is at the forefront of the movement working in opposition to Trump's immigration policies. "The workload can be intense," she explains. "Sixty-hour work weeks are not uncommon."
Peña is the education and outreach director for the Refugee and Immigrant Center for Education and Legal Services (RAICES), a Texas-based nonprofit that offers low-cost legal services mainly to people who fled poverty or instability in Guatemala, Honduras, El Salvador and southern Mexico.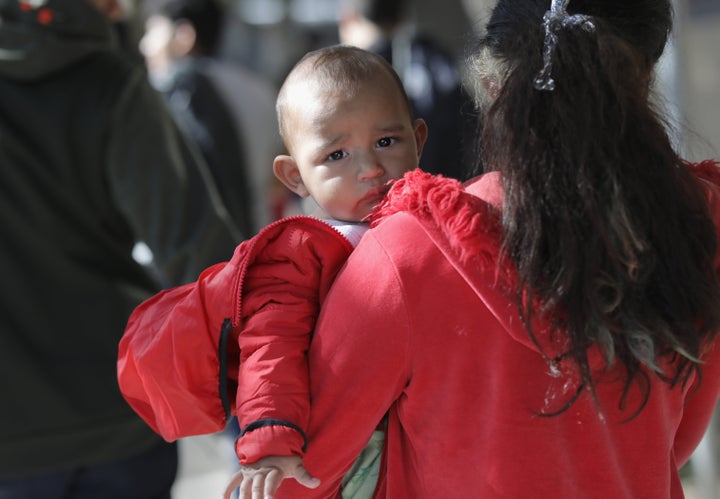 Peña, who is Mexican-American, spends much of her time helping RAICES lawyers interact with undocumented families, migrants detained crossing the U.S. border, and people trying to reconnect with relatives or children who have been placed in detention centers. She also visits communities that are vulnerable to raids by U.S. Immigration and Customs Enforcement and distributes information about undocumented people's legal rights and how to prepare a family when a relative is set to be deported.
"It can be very difficult to see the pain in people's faces and the panic," Peña said. "Unless you are facing the threat of deportation, you don't understand that kind of terror."
August saw a massive ICE presence in Sumner, Texas, where agents arrested 159 people at a trailer manufacturing company. RAICES offered legal services to 170 people as a result of the raid and helped pay bond for 20 or so detainees, according to NBC.
Peña sat down with HuffPost to explain what it's like working to connect undocumented people with legal representation and shared some of the biggest challenges she and her colleagues face.
How did you first get involved with RAICES?
I joined RAICES in March of 2017, but I volunteered the previous December when ICE released over 450 asylum-seeking families from detention, stranding them at the San Antonio bus station, many without tickets for forward travel or even the means to contact their family members or sponsors who were receiving them in the United States. The RAICES emergency shelter was overflowing. Allied shelters were beyond capacity. The entire city was overwhelmed, and ICE could not or would not say why these families were released en masse.
Seeing these families, all of whom were fleeing terror, corruption and violence in their home countries, with no way to move forward, made a huge impression on me. That was my wake-up call.
It's really powerful and moving to understand the resiliency and the courage these families have to make a trip like that, knowing that there is the possibility they may not be granted asylum, they may be returned back to their home country. They are still willing to undertake such incredible risks to keep their family safe ― it really touched me.
How did you feel when the family separations were revealed earlier this year?
My first thought was for the mental health of these children. The terror of being ripped away from their mothers and fathers is unimaginable. How is a 4-year-old child supposed to process that? How is that child ever going to feel safe again?
It's difficult for most people to understand that RAICES represents children who would otherwise appear alone in immigration court. Can you imagine a child going up against the full weight of the U.S. government without access to counsel? Yet it happens regularly. We are here to shine a light on this broken immigration system.
What is the biggest challenge you currently face in your job?
Adequately explaining to the public how dire the situation is. Every single day, we have attorneys, social workers and legal assistants going into detention centers and making sure that vulnerable immigrant populations have access to due process, legal counsel. We want to make sure our staff has access to the centers, that they are getting in, that they are able to work with these families and prepare them for their next legal steps. Unless they have access to pro-bono services, they are lost in this sea of immigration proceedings.
"We are here to shine a light on this broken immigration system."
And you have to remember that there is a language barrier. So even if they have access to an interpreter, the interpreter may not understand their accents or may speak too quickly ― there is always the possibility of miscommunication. There are a very high number of families who come from southern Mexico and Guatemala who are indigenous accent speakers, and there are very often no interpreters available for those families.
What are some other roadblocks that hinder the work you're doing in this political climate, which is so openly hostile to immigrants?
Here in the United States, we do ourselves such disservice by not having an interest in the immigration debate until it impacts us on the southern border. We fail to understand the root of the problem. There is a lack of information about the country conditions that are driving these families to come here seeking asylum in the first place.
If you look at a place like El Salvador, not much has changed in the last 30 years. There is still crushing poverty, incredible rates of intrafamilial violence. Many of the women and girls we see are fleeing homicidal domestic violence. There is third- and fourth-generation gang violence in a place where there is very little governmental infrastructure, and gangs have completely overrun some neighborhoods. Your average American doesn't really understand what that kind of violence looks like.
Any success stories that have made you glad to do what you do for a living?
The highlight of my summer was helping one of our clients board her flight to join her family in another part of the country. She and her daughter had been separated under "zero tolerance," and through the diligent work of our attorneys, they were reunited. I will never forget the look of hope on her face as she and her daughter received their boarding passes. Even something as simple as being able to sit together on the flight to their new home was very meaningful for them. It made me want to work harder on behalf of those families who have yet to be reunited.
Earlier this year, RAICES said it would help reunite migrant families separated under "zero tolerance" by using the $20 million from a viral fundraising campaign. How has your organization put that money to use so far?
That allowed us to help bond families out of immigration detention. So far, we have paid out close to $2 million to bond out moms, dads, uncles and even grandparents. The median bond price has been around $7,500, and we recently paid one of the highest bonds we've ever seen: $80,000.
Popular in the Community