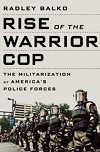 On January 3, 2001, Jerome County, Idaho sheriff's deputies James Moulson and Phillip Anderson conducted a drug raid on the Eden home of George Timothy Williams, a man described by an informant as one of the leading suppliers of marijuana in the county. Jerome County Sheriff Jim Weaver and Undersheriff Jocelyne Nunnally also went on the raid. It's unclear if they announced themselves before entering--the surviving officers say they did, Williams' neighbors said they heard no announcement. But when Anderson and Mouslon forced their way inside, Williams met them with a gun. The three men exchanged gunfire. All three of them died.
A subsequent search of the home turned up less than four grams of marijuana. Lawsuits brought by the families of the slain deputies and by Williams' family revealed that the informant whose tip led to the raid was a woman who lived with Williams, and alleged that the sheriff's department threatened to take the woman's child away from her if she didn't give them incriminating information about Williams.
The county settled with the families of the slain deputies. The lawsuit brought by Williams' family was dismissed in federal court. A subsequent investigation by the Idaho State Police found no criminal wrongdoing on the part of the sheriff's department or the deputies who conducted the raid.
Sheriff Jim Weaver's aggressive anti-drug policing later made him the subject to a recall campaign (it was unsuccessful). The shootout also become a central issue in his 2004 reelection campaign. In 2007, Moulson, Anderson, and Nunnally were awarded Idaho's Medal of Honor for their actions on the night of the raid.
(The "Raid of the Day" features accounts of police raids I've found, researched, and reported while writing my forthcoming book Rise of the Warrior Cop: The Militarization of America's Police Forces. It's due out in July, but you can pre-order it here.)
Sources: Fatal shootout at core of re-election campaign," Associated Press, March 29, 2004; "Recall effort against Weaver falls short," Associated Press, June 13, 2001; Patrick Orr, "Eden raid used most standard practices; Officers wore armor, called out, then force dentry," Idaho Statesman, March 10, 2001; "County's insurance not enough for tort claims," Associated Press, July 15, 2001; "Judge: Sheriff's department didn't act recklessly," Associated Press, February 24, 2004; "2007 Idaho Medal of Honor Recipients," Idaho Medal of Honor Commission.
REAL LIFE. REAL NEWS. REAL VOICES.
Help us tell more of the stories that matter from voices that too often remain unheard.