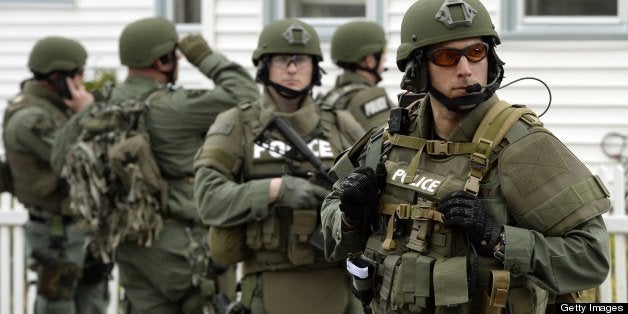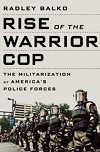 Note: The "Raid of the Day" features accounts of police raids I've found, researched, and reported while writing my forthcoming book Rise of the Warrior Cop: The Militarization of America's Police Forces. It's due out in July, but you can pre-order it here.
In March 2009, a Michigan SWAT team in full battle attire raided the apartment rented by Grand Valley State University students Derek Copp and Conor Bardallis. Copp told HuffPost that he was at home helping a fellow student with a paper. As the raid team attempted to break in by way of a rear sliding door, Copp threw open the curtains, and opened the door. As he did, Ottowa County, Michigan Dep. Ryan Huizenga shot Copp in the chest. He would later say his gun "accidentally" discharged. Copp, who was unarmed, spent nine days in the hospital, but did eventually recover from his physical injuries.
An investigation by Michigan State Police Det. Lt. Curt Schram found that Huizenga had improperly put his finger inside the trigger guard of his gun. Huizenga's attorney blamed Copp for the shooting, arguing that by opening the curtains and opening the door "aggressively" as the police were breaking into his home unannounced, Copp startled Huizenga, giving the officer no choice but to shoot the student. Huizenga later pleaded guilty to a misdemeanor charge of reckless discharge of a firearm. He was placed on probation for six months, then returned to both the police department and to the SWAT team.
The raid came after police had purchased small quantities of marijuana from Bardallis, who was the actual target of the raid. But police later alleged both roommates were selling pot. Copp pleaded guilty to delivery of marijuana. He was sentenced to 18 months of probation. Bardallis also pleaded guilty to distribution and was sentenced to 18 months of probation, a $500 fine and a six-month driver's license suspension.
In the end, the police conducted a volatile, fully armed, nighttime SWAT raid, then shot a man in the chest over consensual crimes that merited no more punishment than a couple of fines and probation. In the ensuing lawsuit, Copp's attorney asked for an investigation into "the actions of West Michigan law enforcement agencies carrying out S.W.A.T. team assaults with automatic weapons and full battle gear against college honor students and others with no prior criminal records, who are believed to be in possession of small quantities of marijuana." He added, "If they persist in pursuing marijuana users, they should do so with caution and not in a reckless, cowboy-like manner as was done in this case. This is West Michigan, not the Wild West."
In 2012, Copp accepted a $144,000 settlement. One of the conditions of the settlement was that he help work to expunge the misdemeanor charge from the criminal record of the man who shot him in the chest.
CORRECTION: An earlier version of this post stated that Copp was alone at the time of the raid. Additionally, though early reports stated that police thought Copp was reaching for a flashlight, it was later determined that he hadn't actually reached for anything, and was instead shot because he "opened the door aggressively."
Calling all HuffPost superfans!
Sign up for membership to become a founding member and help shape HuffPost's next chapter