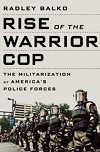 Note: The "Raid of the Day" features accounts of police raids I've found, researched, and reported while writing my forthcoming book Rise of the Warrior Cop: The Militarization of America's Police Forces. It's due out in July, but you can pre-order it here.
At about 12:30 am on October 29, 1980, a narcotics task force from the Dallas County Sheriff's Department, and the DeSoto, Duncanville, and Lancaster police departments approached the house at 4202 Falls Drive in Oak Cliff, Texas. They had an arrest warrant for David Lynn Martin, who was suspected of drug crimes. Unfortunately, their records were out of date. Martin had moved out months earlier. Doy Vanderburg, 22, and his fiance Nancy Garrett had since moved in.
When they knocked at the door, Vanderburg looked out and saw armed men in casual clothing. He retrieved his gun. Vanderburg claimed the police never identified themselves, and that when they kicked down the door and saw he had a gun, they began firing. The police claimed they knocked and announced themselves and that Vanderburg -- who had no criminal record -- just opened fire on them, for no particular reason, "knowing full-well they were police officers." (The claim is made more dubious by the fact that Vanderburg was never charged with a crime.)
One officer was struck in the legs and shoulder. Another was shot in the stomach when a backup Dallas officer showed up after the shooting had begun, mistook the undercover cop for a suspect, and shot him -- just as Vanderburg had.
Vanderburg was shot in the head and abdomen. According to a lawsuit filed by his family, the police immediately called for paramedics for themselves, but waited more than an hour before getting medical attention for Vanderburg. Seven hours passed between the time he was shot and the time he was taken into surgery.
Police later arrested Martin -- their suspect -- at his new address. He was charged with misdemeanor drug crimes and released on bond the same day.
Vanderburg would undergo more than 80 surgeries, and incur medical costs of over $2 million. The raid left him deaf and paralyzed. He ultimately died from his injuries in 1986. A grand jury reviewed the case, and declined to indict any of the police officers on criminal charges. Shortly after Vanderburg died, the Dallas County DA's Office reopened the case when the coroner ruled his death a homicide. But for a second time, the grand jury declined to issue any indictments.
By 1988, the various jurisdictions involved with the task force had settled with Vanderburg's family for a little over $3 million. But no police agency admitted any wrongdoing.
Sources: "Shot in Botched Police Drug Raid," Associated Press, March 15, 1986; "Duncanville Among Cities Named in $20 Million Suit," Duncanville Suburban, November 11, 1982; Jean Tute, "Wounded Officer Out of the Hospital," Duncanville Suburban, November 6, 1980; "DeSoto Agrees to $400,000 Out of Court Settlement," Duncanville Suburban, April 7, 1988; and "1980 Victime Dies, No Indictments," Duncanville Suburban, March 19, 1986.
Popular in the Community