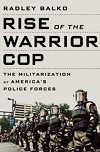 In March 1992, police in Snohomish County, Washington conducted six simultaneous raids on members of the same extended family. An informant had implicated the targets of the raids for the robbery of an armored car and the murder of its driver a year earlier.
One of the raids was on the home of Larry and Robin Pratt. The informant had implicated Larry Platt. Though police knew there were likely to be innocent people and possibly children in the house, they decided on the pre-dawn, no-knock raid instead of confronting Pratt as he was coming or going to work. The police had also obtained a key to the apartment from a landlord, but decided instead to enter the residence by slamming a 50-pound battering ram through a sliding glass door.
As they executed the raid, shards of glass flew out toward the Pratts' six-year-old daughter and five-year-old niece sleeping nearby. The police confronted 28-year-old Robin Pratt as she came out of her bedroom to see what was wrong. She immediately dropped to her knees. She briefly raised her head, looked at Dep. Anthony Aston, and said, "Please don't hurt my children." Aston then fired a single bullet into Pratt's neck. She bled out and died in front of her daughter.
The police then went to the bedroom, where they confronted Larry Pratt and put a gun to his temple. When he asked if he could move, the officer said if he did, he'd blow Pratt's head off.
Police later learned that the informant had been lying -- he admitted as much. Every one of the raids conducted that morning were waged against innocent families. The police never bothered to check the informant's statements with the accused before confronting them and their families with violence. If they had, they'd have found that every one of the people he had implicated -- including Larry Pratt -- had solid alibis disproving the informant's story.
There were other signs that should have tipped police off about the informant's credibility -- or at least made them reluctant to put enough faith in his tips to wage full blown SWAT raids. Other parts of his story -- a getaway car dumped in a lake that was never found, for example -- hadn't checked out, either. An FBI agent involved in the case had also warned local investigators that the informant's tips were often unreliable. The informant had also told police that the people involved in the robbery had simply deposited the stolen money into their bank accounts. The police never checked the accounts for any large deposits.
Det. Aston would later say he couldn't remember how or why he shot Robin Pratt. There is no dispute that she was on her knees, and posed no threat when Aston shot her. A coroner's inquest would later find the shooting "unjustified," but the jurors split on whether there was evidence Aston committed a crime. The Washington State Attorney General's Office declined to press criminal charges against him.
In 1994, the Pratt family settled with the town of Lynnwood and with Snohomish County for about $4.5 million.
(The "Raid of the Day" features accounts of police raids I've found, researched, and reported while writing my forthcoming book Rise of the Warrior Cop: The Militarization of America's Police Forces. It's due out in July, but you can pre-order it here.)
Sources: Jolayne Houtz, "Suit Filed Against City, County In Swat Death -- Officers Also Named In Everett Shooting," Seattle Times, October 16, 1992; Jolayne Houtz, "26 Case," Seattle Times, March 26, 1994; "City Settles Suit Over Woman's Deat," Associated Press, April 27, 1994; "State Will Not Charge Deputy in Fatal Shooting of Woman," Associated Press, August 8, 1992.
Popular in the Community