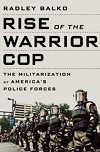 "This is war."

And with that, Los Angeles Police Chief Daryl Gates launched "Operation Hammer" in the spring of 1988. Like a lot of overly aggressive anti-crime initiatives, the plan was a response to a real problem. Gang violence had swept Los Angeles. The rising popularity of crack cocaine had created a new black market. The main thing new markets do is unsettle existing markets. With legal goods, the new order eventually gets established with innovation, customer service, efficiency, and the quality of the competing products. With illicit goods, the new order is established with violence.
Another problem was that Gates had put entire sections of Los Angeles on lockdown during the 1984 Olympics. Because the Olympics went without any real breaches in security, Gates emerged triumphant. It was quite the turnaround. Prior to the games, many had thought his job was in jeopardy after an inauspicious first few years, including some odd comments he had made after black suspects had died in the grip of a particular chokehold favored by LAPD. (Gates claimed that blacks must be particularly susceptible to the hold because their "veins and arteries do not open up as fast as they do on normal people.") But by essentially occupying the poorer parts of Los Angeles, Gates had at least projected the image of a safe city. So he kept a similar policy in place after the games were over, which of course did little to help relations between those communities and the police. Citizen complaints against LAPD jumped by a third from 1984 to 1989.
Operation Hammer was initiated by a particularly tragic drive-by gang shooting at a birthday party, but it was really just an intensification of the gang sweeps Gates had initiated during the Olympics, and that had continued since. In his autobiography, Gates credits the program with a modest decline in homicides in the city in 1988, from 812 to 736. (He also claims this was "one of the lowest rates in 20 years," a hedge that is basically deceptive. As recently as 1975, the city had only 556 homicides.) From 1985 through the early 1990s, the Los Angeles Times headlines repeated like the chorus to a maddeningly repetitive song.

September 18, 1989: "204 Arrested in Weekend Sweep"
July 17, 1989: "94 Suspected Gang Members Arrested"
September 9, 1990: "75 Arrested in Sweep by Gang Task Force"
February 24, 1991: "189 Arrested in 9-Hour Anti-Gang Unit Sweep"
August 20, 1989: "237 Held in Sweep; Violence Continues"
September 19, 199: "251 Arrested by Task Force in Gang Crackdown"
March 22, 1988: "33 Caught in Gang Sweep"
September 13, 1990: "'Operation Hammer' sweeps result in 75 arrests."
September 19, 1988: "700 Seized in Gang Sweep; 2 More Die in Shootings"
October 2, 1989: "Police Arrest 1,092 in Weekend Sweeps; Gang Killings Continue"
August 21, 1989: "LAPD Nails 352 in Operation Hammer"
The blip in 1988 aside, brute force plan wasn't working. There were 1,028 homicides in Los Angeles in 1980. The murder rate dropped (as it did in the rest of the country) until crack hit the scene in the late 1980s. By 1990, the number was back up to 982, and from 1990 to 1993, it was back over a thousand.
Gates' gang sweeps were indiscriminate. He admitted this. His strategy, he said, was to "put a lot of police officers on the streets and harass people and make arrests for inconsequential kinds of things . . . that's part of the strategy, no doubt about it." He imposed curfews in black and Hispanic neighborhoods, then swept up minors out after curfew. By one estimate, 75 percent of young black men in Los Angeles had been arrested under the program. Meanwhile, juvenile crime jumped 12 percent. By September, the Police Misconduct Lawyer's Referral Service had already registered an 80 percent increase in complaints of police abuse over all of 1987. When asked if the lockdown mentality was worth the costs, the press secretary for California State Senator Diane Watson -- who represented part of Los Angeles -- replied, "When you have a state of war, civil rights are suspended for the duration of the conflict."

One of the more notorious incidents of collateral damage in Gates' war came on Aug. 1, 1988, when a Los Angeles SWAT team raided four apartments on the corner of 39th Street and Dalton Avenue in the southwest part of the city. Again, the raid was in response to legitimate concerns. The neighborhood was infested with gang activity and drug dealing. When one family complained, gang members shot out their security lights and threatened to firebomb their home.
The problem was that the reaction, once again, was blunt, indiscriminate, and oblivious to the rights of the people the police were supposed to be serving and protecting. The police believed the apartments were serving as stash houses for the drug dealing gangbangers. They were also likely particularly angry because a man they believed to be one of the neighborhood gang members had recently called in a death threat to the local police station.
According to a report later released by LAPD internal affairs, Capt. Thomas Elfmont gathered his officers the night of the raid for a pep talk in which he urged them to "hit" the apartments "hard," to "level" them, and to leave them "uninhabitable." (He later denied saying any of this.) Elfmont didn't go on the raid itself. In fact, there was no one on the raid with a rank higher than sergeant. The lone sergeant was Charles Spicer, head of LAPD's anti-gang task force for the southwest part of the city. In subsequent interviews with internal affairs, he admitted to telling the unit to "kick ass," but said that though he was on site during the raid, he had no idea his officers were committing any sort of misconduct.
The cops certainly took their superiors' advice to heart. The internal affairs report later documented 127 separate acts of vandalism at the apartments. As the raid began, a caravan of police vehicles surrounded the building and more than 80 police officers emerged. Resident Tammy Moore was sitting on her porch holding her 7-month-old son as the police pulled up, rushed out of their vans, and ordered everyone out of the building. One of them struck Moore in the neck, causing her to drop her son to the concrete. He remained unconscious for 30 minutes. One man was struck in the face with a flashlight. A woman, lying on the ground, said an officer dropped a flashlight on her head, then responded with a nonchalant, "Oops." One admitted gang member was accosted across the street. One officer held his legs apart while another repeatedly kicked him in the crotch. They then ran a wire across his throat and choked him. Another man was struck four times by an officer wearing a weighted-knuckle sap glove. This was all before they had even entered the apartments.
Though he wasn't actually on the gang task force, rookie officer Todd Parrick, a former Navy SEAL, was permitted to go on the raid. He had heard the chatter about the raid -- that Capt. Elfmont wanted the apartments "taken off the map." So Officer Parrick brought his own ax. In the first apartment, Parrick had some trouble opening a pair of sliding wooden doors. So he used the ax. He then struggled to remove the grate from a furnace. So he used the ax. For reasons not made entirely clear, he then took the ax to a thermostat. (Perhaps he was cold?) He next put the ax in the dining room wall, the living room wall, and the side of a cupboard. When he couldn't jimmy open a drawer in the kitchen, he hit it with his ax. He also took his ax to the toilet. At one point, he nearly took his ax to a colleague, Officer Charles Wilson. Parrick would later say that as he drove home that night, he was pretty sure he'd get some sort of commendation for his ax-wielding. When he boasted of all of this to his wife, she brought him down to earth. She told him he would probably get fired. (He didn't, at least for what he did that night. Three years later, he'd be fired for head-butting a suspect, then lying about it.)
Officer Charles Wilson brought a toy of his own. When he learned about the raid, he went to a friend's welding shop to create his own customized battering ram, which he then proceeded to smash into a number of walls (not doors). When word got out that there might be an internal affairs investigation, he dumped the ram into the city sewer.
Resident Gloria Flowers was taking a bath when the police came in. She was made to stand up, naked, then lie down on the floor before an officer eventually threw a blanket over her. She asked what was going on. They told her, "You're being evicted." One officer then smashed her fish tank, for no apparent reason.
Raymond Carter, 21, had gone out to get pizza before the raid. As he tried to return home, he was pulled over. When the officer saw the address on his license, Carter claims the office said, "Oh yes, you're one of them," then detained him and put him on the ground in the front yard with the others.
Of the 37 people detained, the police arrested seven. They were again beaten, then taken to the police station, where they were made to whistle the tune to The Andy Griffith Show. Those who didn't, or couldn't, were beaten again. None of them were ever charged with a crime.
Before they left, the officers had shattered family photos, emptied refrigerators onto the floor, poured bleach on piles of laundry, and slashed through furniture upholstery. They also spray-painted "LAPD Rules" and "Gang Task Force Rules" on the walls.
They had achieved their charge for the night. The apartments were uninhabitable. The Red Cross provided housing for 10 adults and 12 children displaced by the raid. LAPD's haul: Six ounces of pot, and less than an ounce of cocaine.
By the time all the lawsuits were settled, the city paid out $4 million in damages for the 39th and Dalton raid, a record at the time. In 1991, Parrick, Spicer, and Elfmont were charged and tried for vandalism and conspiracy. The Los Angeles County Prosecutor's Office said there wasn't enough evidence to press assault or battery charges. The jury acquitted the officers of all but one charge, which was later dropped. In interviews, jurors said they thought the police witnesses were "flat-out lying" to protect one another, but said they acquitted because amid all the lying and dissembling, they had no way of knowing which officers committed what acts. The only officer to be convicted of a crime was Wilson, who took a plea bargain in exchange for his testimony against the others. Only two of the 80+ officers were fired, although a couple dozen were given suspensions and reprimands. When asked for his reaction to the acquittal of the officers involved in the raid, Gates responded that he was "pleased."
And so Operation Hammer went on. By the end of the year, two unarmed citizens were shot dead during the campaign, one of them an 81-year-old man.
In 2001, the Los Angeles Times revisited 39th and Dalton with a retrospective on the raid. "The department was preparing people as if they were going to war," LAPD Assistant Chief David Dotson told the paper. "A police officer's job is not war; it's solving complex problems on a minute-by-minute, hour-by-hour, day-by-day basis. That's a difficult job, and it doesn't require screaming at people, putting their faces down in the street like dogs." Christopher Darden, the prosecutor who handled the case (and would later prosecute O.J. Simpson), said he wanted to file more serious charges but was stonewalled by the department's code of silence.
Parrick, who by 2001 was selling recreational vehicles, told the paper, "I believed I was doing the right thing by routinely stopping people on the street, hauling them into the police station to be fingerprinted and photographed. In hindsight, that is not what this country stands for. It wasn't right."
Carl Sims, the narcotics officer whose warrant instigated the raid, told the Times that though it got the most publicity, 39th and Dalton was hardly an anomaly. "There wasn't a lot of care taken. That was the mentality. At the time, if you were selling dope, we were going to knock your house down with a battering ram. And we were sure going to dump the sugar on the counter. It was the standard method of operation of the LAPD. We weren't just searching for drugs. We were delivering a message that there was a price to pay for selling drugs and being a gang member . . . I looked at it as something of a Normandy Beach, a D-Day."
(The "Raid of the Day" features accounts of police raids I've found, researched, and reported while writing my forthcoming book Rise of the Warrior Cop: The Militarization of America's Police Forces. It's due out in July, but you can pre-order it here.)
(Sources: Marita Hernandez, "Allegations of Abuse by Police Told at Hearing," Los Angeles Times, September 11, 1988; John L. Mitchell, "The Raid That Still Haunts L.A.," Los Angeles Times, March 14, 2001; Richard Serrano, "Reports Tell of Frenzy and Zeal in Police Raid," Los Angeles Times; Dave Zirin, "Want to Understand the 1992 LA Riots? Start with the 1984 LA Olymics," The Nation, April 30, 2012; Terry Pristin and David Ferrell, "3 Officers Acquitted in 39th-Dalton Drug Raid," Los Angeles Times, June 20, 1991; Daryl Gates, Chief, pp. 339-340; Dan Baum, Smoke and Mirrors, pp. 250-253.)
Popular in the Community