An affidavit, filed by a Nevada law enforcement investigator in connection with the seizure Tuesday morning of a voter registration group's computers and files, alleges that the group contracted last summer with an agent for the Nevada Bureau of Corrections to employ work-release inmates as registration gatherers as part of a prisoner "transition" or "re-entry" program.
The affidavit (copy here), filed with a Nevada court by a joint federal-state task force in order to obtain a search warrant executed Tuesday against the Association of Community Organizations for Reform Now ("ACORN"), acknowledges that the inmates were employed as part of a State of Nevada prison-to-civilian transition program, and that they performed their work under strict guidelines, including "constant supervision and no access to telephones or internet." According to the affidavit, at least some of the inmates lived at the Casa Grande Transitional Housing Project, operated by the Nevada Department of Corrections.
I was unable to obtain a comment from ACORN by the time of posting, but in a telephone conversation with me Tuesday evening, Mike Slater, the Executive Director of Project Vote, which partnered with ACORN to register new voters in Nevada, acknowledged that ACORN had employed work-release inmates as part of the state rehabilitation program:
"Nevada ACORN participated in a program with the Nevada State Department of Corrections.... [T]heir performance was no different from any other workers'. *** The Nevada Department of Corrections actually reached out to ACORN and asked them to consider using their people for that."
Notably, the criminal investigator's affidavit does not allege that any of the work-release prisoners engaged in registration fraud. In fact, it states that one of the inmates rose to become a supervisory "team leader" who gave the investigator helpful information, including a detailed explanation of ACORN's quality-control program to identify potentially fraudulent registrations, such as telephoning every person registered to confirm their identity and checking for duplicate registrations.
Nevertheless, in an election that is becoming increasingly negative, the hiring of prisoners by what Republican National Committee communications director Danny Diaz has labeled "a Democrat-leaning group" is likely to become the focus of campaign rhetoric. Diaz suggested last week that ACORN's hiring of ex-convicts in Wisconsin who had completed their terms of probation or parole and who were once again eligible to vote exposed voters to the risk of identity theft or other harm, though he later admitted under questioning by reporters that he knew of no actual instances of identity theft.
In connection with the Wisconsin program, ACORN's national Communications Director, Charles D. Jackson, said the group tries to offer a second chance to rehabilitated criminals, saying, "As a rule, ACORN doesn't discriminate against former felons who have completed their sentence and served their debt to society. ACORN believes in second chances when earned." Project Vote's Slater offered a similar justification for the Nevada program Tuesday: "For individuals who don't really represent a risk to the public, I think that it's actually very good that ACORN gives people a second chance."
Slater also noted the "no good deed goes unpunished" irony in the situation:
"It would be interesting if our participation in a program encouraged by the Nevada Department of Corrections somehow led the Secretary of State to raid our offices."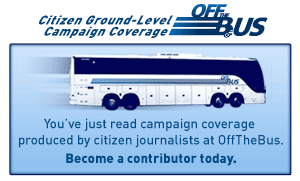 Calling all HuffPost superfans!
Sign up for membership to become a founding member and help shape HuffPost's next chapter