Las Vegas Raiders defensive lineman Carl Nassib announced Monday that he's gay, making him the first active NFL player in history to come out.
"What's up, people. I'm Carl Nassib. I'm at my house in West Chester, Pennsylvania," Nassib said in an Instagram post. "I just wanted to take a quick moment to say that I'm gay. I've been meaning to do this for a while now, but I finally feel comfortable getting it off my chest. I really have the best life, the best family, friends and job a guy can ask for."
Nassib stressed that he hopes he's not perceived as someone seeking attention and that he is "sitting in a moment of gratitude and relief" after having "agonized over this moment for the last 15 years."
"I just think that representation and visibility are so important," he said. "I actually hope that one day videos like this and the whole coming out process are not necessary, but until then I will do my best and do my part to cultivate a culture that's accepting and that's compassionate."
In his post, Nassib said he's donating $100,000 to The Trevor Project, an organization that provides crisis intervention and suicide prevention resources for LGBTQ youth.
Lesbian, gay and bisexual youth contemplate suicide at almost three times the rate of straight youth and are almost five times as likely to have attempted suicide, according to a 2016 study. In a separate national study, 40% of transgender adults reported attempting suicide, 92% of whom had done so before the age of 25.
The 28-year-old is entering his sixth NFL season, his second with the Raiders, according to SB Nation. In response to his announcement, both the Raiders and the NFL tweeted at Nassib that they were proud of him.
Nassib said he's "incredibly thankful for the NFL, my coaches and fellow players for their support," and that from the beginning he "was greeted with the utmost respect and acceptance."
The announcement will mark the first time an openly gay or bisexual player has actively plays in an NFL regular season game. According to Outsports, 15 players have come out after retiring from the sport, which has historically been tied to masculinity and heteronormativity. Dave Kopay was the first NFL player to come out, in 1975, after retiring from a nine-year career as a running back with several teams.
In 2014, former Missouri defensive lineman Michael Sam made headlines for coming out as gay. Sam, who was named a first-team All-American after the 2013 season, was eligible for the 2014 NFL draft and was expected to be the first active openly gay player in the league's history. The lineman received polarizing messages in response to his announcement.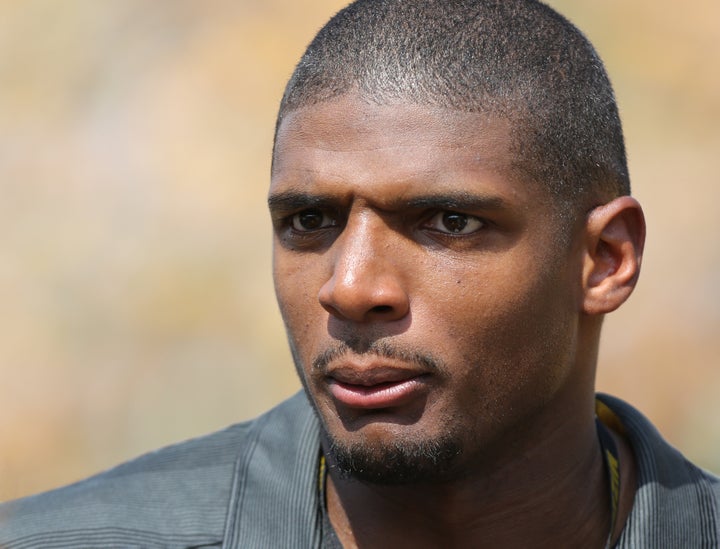 "We admire Michael Sam's honest & courage," the NFL said in a statement in response to the then-24-year-old's announcement. "Michael is a football player. Any player with ability and determination can succeed in the NFL."
But Sam never became an active NFL player. The lineman was the first openly gay player to be drafted into the league, and, despite winning one of the biggest honors in college football, Sam was picked 249th in the seventh round of the 2014 draft by the St. Louis Rams.
"For now, there is no other explanation for the collective snub of Sam: NFL team front offices are not treating Michael Sam equally simply because he's openly gay," Outsports co-founder Cyd Zeigler wrote at the time.
In his post on Monday, Nassib said he feels "especially thankful to have had so much support when many who came before — and many even now — do not."
"I stand on the shoulders of giants, incredible people who paved the way for me to have this opportunity," he said. "I do not know all the history behind our courageous LGBTQ community, but I am eager to learn and to help continue the fight for equality and acceptance."
GLAAD President Sarah Kate Ellis said on Monday that Nassib's coming out "is a historic reflection of the growing state of LGBTQ visibility and inclusion in the world of professional sports, which has been driven by a long list of brave LGBTQ athletes who came before him."
"Carl Nassib's story will not only have a profound impact on the future of LGBTQ visibility and acceptance in sports, but sends a strong message to so many LGBTQ people, especially youth, that they too can one day grow up to be and succeed as a professional athlete like him."
Popular in the Community