From the nation's capital to the global capital of gambling, advocates for the legalization of sports betting celebrated the NFL's decision this week to allow the Oakland Raiders to relocate to Las Vegas.
"We congratulate the Raiders and the National Football League on today's historic decision to place a team in Las Vegas," Geoff Freeman, the president and chief executive officer of the American Gaming Association, which supports the legalization of sports gambling, said in a statement Monday.
The Raiders' relocation, Freeman said, "demonstrates how far gaming has come."
Sports gambling has been effectively outlawed in the United States since 1992, when Congress enacted the Professional and Amateur Sports Protection Act, or PASPA, a federal law that allows sports betting in just four states, including Nevada, the only one permitted to operate full sports books.
For that reason, it seemed impossible that Las Vegas could ever be home to a professional sports franchise as recently as a decade ago, as the NBA, the NFL, the NHL and Major League Baseball ― which combined to provide the force PASPA needed to become law ― remained staunchly opposed to gambling and viewed the idea of holding sporting events next door to sports books as a threat to the integrity of their games.
Now, Sin City will be home to franchises in the other two major leagues, as the Raiders will join the National Hockey League's Vegas Golden Knights, an expansion franchise that will begin play next season.
Gambling advocates and gaming law experts see the NFL's decision to join the NHL in Vegas as a potentially significant moment for sports gambling ― one that highlights the broader acceptance of the practice and could provide momentum for the growing movement to legalize and regulate it.
"It's a pretty big symbolic breakthrough," said I. Nelson Rose, a professor at Whittier Law School and gaming law expert who has advised governments and the industry. "The sports leagues used to be unified against anything that could conceivably lead to betting on sports."
The question is whether that symbolism is powerful enough to help pave the way for legalization.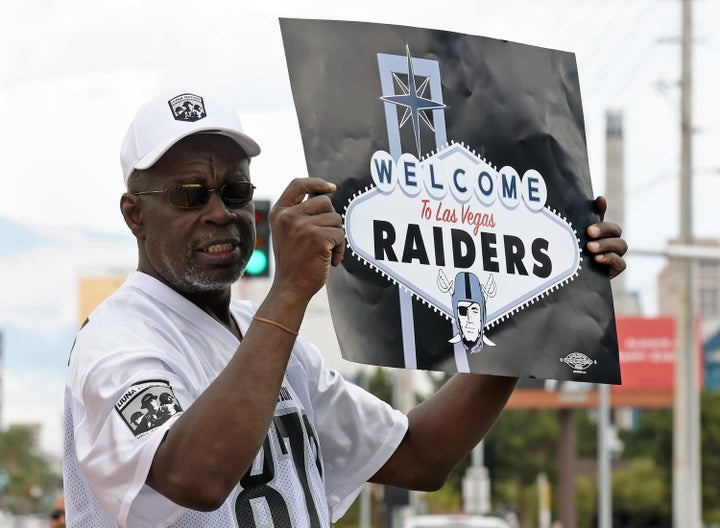 In Washington, Rep. Frank Pallone (D-N.J.) hopes it will. Pallone, the ranking Democrat on the House Energy and Commerce Committee, which oversees regulatory issues in sports, introduced legislation last year to roll back PASPA and called on the NFL to join him in the effort after Monday's vote.
"This move is a clear sign that the league owners' attitudes toward sports betting has changed," Pallone said in a statement. "I hope that following today's vote, I can count on the support of the NFL and the NFL team owners for my efforts to legalize and regulate sports betting."
He may have to wait awhile for a friendly response.
Even before NFL owners voted on the move, Commissioner Roger Goodell attempted to quash the idea that the Raiders' relocation plans marked a change in how his league sees gambling.
"We are not changing our position as it relates to legalized sports gambling," Goodell told The MMQB. "We still don't think it is a positive thing."
New Jersey state Sen. Ray Lesniak (D), though, doesn't need the NFL's help advancing legislation in Congress.
In 2012, Lesniak led the push to legalize sports gambling at New Jersey's casinos and racetracks. All four major leagues and the NCAA immediately challenged the law that he sponsored and that Republican Gov. Chris Christie signed. The leagues argued it violated PASPA, and the law was defeated in federal court.
When New Jersey took another crack at it in 2014, the leagues won in court again. The state is now appealing its case to the Supreme Court, and in January the court asked the U.S. solicitor general to weigh in on the fight, an unexpected development considering most legal observers thought justices would decline to hear the case (which they may still do).
"It's very, very, very difficult now to argue that legalized sports betting undermines the integrity of the game."
Lesniak, who is now seeking the Democratic nomination for governor, sees the Raiders' move to Las Vegas as a boost for the state's case. The government has traditionally supported the four sports leagues' position on PASPA, but Lesniak said Monday that he was preparing a letter to the solicitor general's office to argue that having a team in Las Vegas helps invalidate its core opposition to legal gambling.
"It's very, very, very difficult now to argue that legalized sports betting undermines the integrity of the game," Lesniak told The Huffington Post.
To Lesniak, the NFL's actions on gambling render its words on the subject almost meaningless. He points to other embraces of gambling that, at this point, make the NFL's public opposition border on hypocrisy. The NFL has benefited from gambling, it knows it has benefited from gambling and everyone else knows it has benefited from gambling.
The league eagerly embraced fantasy football as a way to help drive interest in its sport ― and while fantasy sports aren't considered gambling under federal law, that's because of the NFL, which lobbied Congress for a "carve out" in gaming laws that kept them separate from traditional gambling, and thus legal.
The NFL has a similarly symbiotic relationship with daily fantasy sports, which have further blurred the lines between fantasy games and actual sports gambling. At least 28 NFL teams have partnered with daily fantasy companies, and the league didn't back away from the industry even as its murky legal status came under scrutiny in states and in Congress last year (the league claims it does not view daily fantasy games as gambling).
In 2012, the NFL lifted its ban on casino advertisements in stadiums. Five years prior, it began playing annual games in London, where sports gambling is legal. It expanded its London schedule to four games last season and has invested in a stadium there to host future games. NFL owners publicly share their desires to have a franchise in London sooner rather than later.
A team in Vegas "is the final straw" in the NFL's argument that gambling poses a threat to its game, Lesniak said.
Rose believes it's "too late" to save the New Jersey case. But, the law professor said, New Jersey's fight could embolden efforts to legalize sports wagering at the state level: Pennsylvania, Maryland and Michigan are already considering such legislation.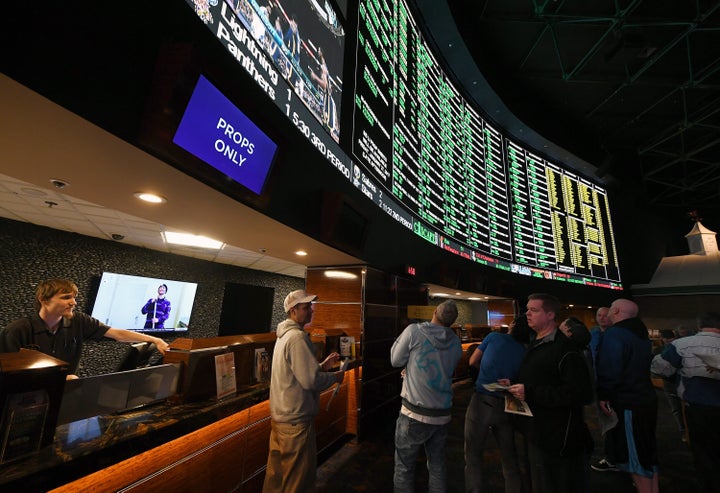 If those become law, they will likely run into challenges under PASPA, too. But added to its past moves toward gambling, the NFL's entrance into Las Vegas could make it hard for the league to clearly articulate to a court why exactly it opposes legalized sports betting, said Daniel Wallach, a Florida-based attorney and gaming law expert, especially given its earlier embraces of gaming.
"It's going to be more difficult for the leagues to continue to argue in court that sports betting undermines their games," Wallach said. "They can no longer claim that they would be irreparably harmed by betting on sporting events when they are participating in that activity and are directly involved in supporting it."
"The next time a state tries to legalize sports betting," Wallach said, it will have "an even more powerful argument concerning the leagues' hypocrisy than New Jersey ever possessed."
Aside from legal fights and legislative battles, the presence of major professional sports in Las Vegas for the first time should go a long way toward showing leagues like the NFL that legalized and regulated gambling serves them better than the alternative, said Jennifer Roberts, the associate director of the International Center for Gaming Regulation at the University of Nevada, Las Vegas.
"It will highlight how highly regulated our environment for sports wagering is, that it's able to maintain the integrity of the sport, and provide for responsible gaming and consumer protections," Roberts told HuffPost. "Sports wagering is going to happen. So it's better to happen in a regulated environment."
Goodell hinted at that in a Tuesday press conference, saying that the league likely won't try to keep Vegas sports books from taking bets on Raiders games, "in large part because you have the regulatory environment there, which actually could be beneficial in this case."
The federal prohibition on sports gambling, Roberts noted, hasn't stopped the practice from flourishing. Though exact figures are impossible to come by, Americans illegally wager an estimated $80 billion to $380 billion a year on sporting events.
That's a huge potential market ― one the league will now see up close every Sunday ― and nothing changes the NFL's opinion on any given subject like cash. The allure of money is how the NFL got in bed with daily fantasy sports companies and what ultimately landed the Raiders in Vegas. And in the end, it might be what finally convinces Goodell to complete the NFL's shift on gambling, too.
Support HuffPost
The Stakes Have Never Been Higher
Related
Before You Go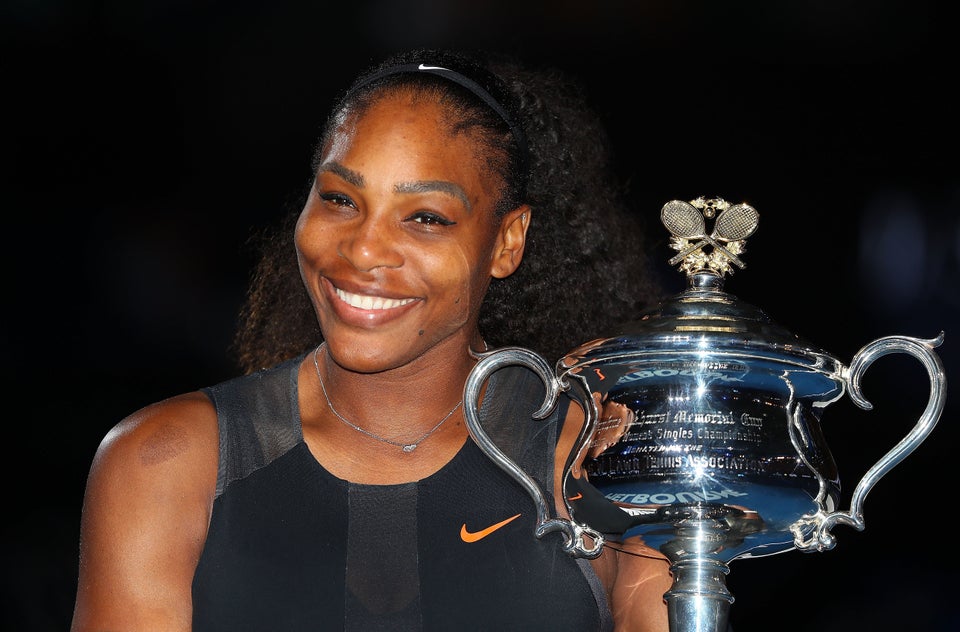 Black Figures Who Have Made History In Sports And Entertainment
Popular in the Community