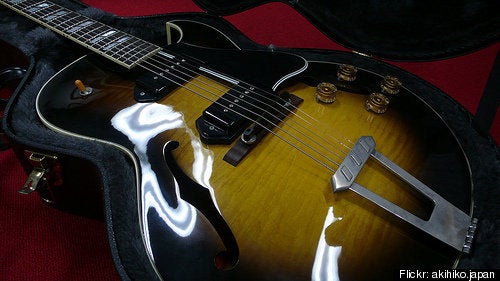 I was scanning the San Francisco skyline through a chain-link fence and swigging wine from a plastic cup when I realized I was at one of the cooler shows I'd ever been to.
It was the Railroad Revival Tour, and it wasn't just the lineup that made it pleasant; it was the creative spirit behind the trek: Three bands cutting up the American Southwest (From Oakland to New Orleans) for one week, traveling exclusively in vintage railcars:
The Railroad Revival train is 1,500-feet long and consists of 15 vintage railcars from the 1950s and '60s, pulled by two locomotives. The bands will eat, sleep, and record on the train as they travel ... The bands will have equal billing and equal time on stage, in an environment that encourages creativity and cross-pollination. The entire tour will be the focus of a documentary that captures the spirit of the journey and gives intimate insights into the creative process.
I Google-mapped the Oakland event before the show, and what I discovered was an empty plot of land pinned between a wasteland of rail lines and massive metal docks that serve the barges that drop off their loads in the East Bay. It was gritty and industrial in every way; nothing polished about it.
It wasn't until I actually showed up at the venue that I realized the waterfront locale was back-dropped by the San Francisco skyline, which became steadily more beautiful as the daylight slipped away.
The Bands
Old Crow Medicine show was everything you want out of a bluegrass band. If you've only heard Wagon Wheel, do yourself a worthwhile favor and listen to this one before bed tonight.
I had some personal reservations about Edward Sharpe and the Magnetic Zeroes, even though I quite enjoy the chorus in "Home." The truth is that I prefer the YouTube version by the little girl and her dad, mostly because they come off as cute and playful, rather than phony and indie-Jesus-esque, longing to be worshiped. Here's the thing though: they were incredible; pleasant in every way. It was a perfect wine-sipping set that washed my preconceived judgments.
A quick side-note about wine: They served Berryessa Gap Zinfandel, which comes from my hometown of Winters, California. I was blown away and filled with small-town pride by this realization, and am led to believe they served similarly local wine throughout the tour, although I'm not so sure about the grape quality in Marfa, Texas.
After annihilating two cups of Zinfandel, I walked around the premises, scoping out the old-fashioned steam-engine trains that were on display.
The chugging and honking of operational Amtrak trains could be heard beyond the fenced-off expanse of West Oakland grass. Willie Nelson and Merle Haggard songs hummed lightly in the background.
By this point I could have rolled home on my BART train fully content with my evening, but then it came time for Mumford & Sons to take the stage.
They opened with "Sigh No More," which is the first track on their only full album. While it's technically just one song, it actually feels like two separate pieces, the ladder half of which snapped me (and everybody else) into a beautiful hypnosis that lasted the entire set: "Love it will not betray, dismay or enslave you, it will set you free. Be more like the man you were meant to be."
They plowed forward with a blend of familiar songs and unfinished new ones. Dynamically, they contrasted the most delicate of low moments with the thrashiest of highs. The soft bits managed to feel raw, while the heavy moments managed to maintain a cleanliness. It's a quality few bands manage, but this band does, and the subsequent feel has the ability to firmly grip a crowd. It was entirely appropriate for this tour.
Railroad Revival, to me, is a marriage of old-time grit and modern artistry. These three bands have taken the time to plan a logistically difficult tour that aims to reflect the cross-country troubadouring of old-timers like Woody Guthrie while also fostering an environment of collaboration and creativity; the tangible end result being a musical documentary to be shared with fans.
I can only speculate on whether or not the rail-line tour benefited the environment. I plan on looking into it, partly because of a recent conversation I had with bluegrass band The Devil Makes Three, who told me they have increasingly contemplated rail travel as gas prices inch higher.
The Railroad Revival Tour was not only a perfect concoction of musical talent; it was a beautifully thought-out idea all around; nothing status quo about it.
The bands didn't even sell personal merch. They only sold Railroad Revival gear with all bands listed as footnotes. It was a team effort in all respects. More of an old-style road trip than a business-like tour. It was a beautiful thing and I feel lucky to have been in attendance.
I can only hope something similarly artistic and memorable was produced inside those railcars during the tour. I'll wait excitedly for the documentary. In the meantime, here's a new one that Mumford & Sons is working on:
Calling all HuffPost superfans!
Sign up for membership to become a founding member and help shape HuffPost's next chapter