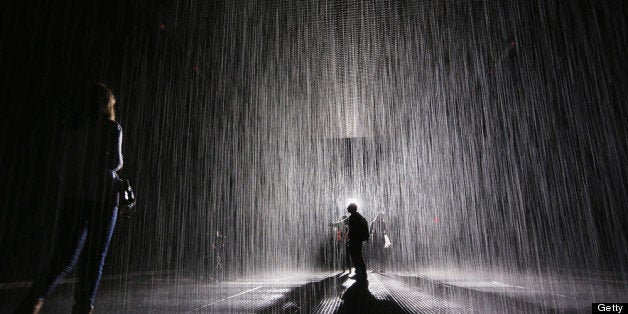 My family once visited the foothills of the Himalayas during monsoon season, for mysterious reasons. We stayed in a guest house with an open stairwell where the rain dropped to the ground as if it were a solid thing. Some afternoons I sat in the chair by my room's window pretending to read. I couldn't stop watching the rain instead -- sweeping in like a dust storm, and soon enough, plunging just beyond the glass in sheets.
It was beautiful, but inconvenient. To tour anything in the surrounding town, we typically jumped out of the car, held shawls aloft as we scanned the view, jumped back in and headed home.
My dad divulged a detail at the time, not in defense of his itinerary design, but parallel to it: apparently, tourists from the Saudi Arabian desert do what we did, time their trips to India to coincide with the rains. They rent hotel rooms with big windows and never leave, according to my dad. "Rain is so new for them," he'd said, as if describing a life of extreme deprivation. "All they need to do is stare."
The magic is done through a series of body-mapping cameras, nine controllable spouts, and 2500 litres of water falling at 1000 litres per minute, filtered and cycled back to the spouts from whence the water came. The result is as unnatural a version of a natural phenomenon as one can imagine. You'll feel like Moses parting the Red Sea, promised the Guardian.
This weekend marks the last to visit the installation in its current state, housed in a warehouse in a parking lot round the corner from the Museum of Modern Art, its host. Consequently, writers are rising with the sun. They want to report back, on whether, as the phrase goes, the goods are "worth the wait." London papers reported visitors queuing up to 12 hours at a time when it debuted in that city. In New York, the rumors are comparable. A Gothamist staffer stood for eight hours and let his mind wander; not worth that wait, he declared, though he couldn't presume to judge for others since he got to see the end.
I too woke at dawn to make the decision for myself. By seven AM, I was established in line, between a golden-skinned mother, there with her two toddler girls, and a chatty finance guy whose boss gave him the morning off. "No one at my office does this sort of stuff, but they understand I like it," the analyst, name of Matt, explained to us. "Cultural stuff."
A grandmotherly naturopath from Boulder, Colorado joined the discussion. Farida Sharan, as her students know her, loves rain. "The other day, I left the Guggenheim, and it was showering," she told us, smiling broadly. "It was so lovely. I walked all the way back."
The rest of us weren't quite on board. Mid-summer in New York tends to be wet, but this year has been particularly soggy. The mother of two explained that she brought a family sized umbrella just in case. She wondered if she'd made a good parental decision, bringing her kids to an adult party. Beyond the initial choice, there were tricky calculations: whether to wake them up earlier in hopes of a shorter wait, or let them sleep and suffer the consequences. "The only other thing they've done like this was Disney World," she said. "And that was a shorter line."
We inched forward. Matt told us about showing up the weekend before, naively thinking he might get in. It was nine AM on a Saturday when he eyed the line and was told by a guard to expect to wait all day, though he's a member. Apparently, where we were standing, by a metal sculpture of an egg, represents four hours to go. The mother became alarmed. I volunteered to suss out the numbers ahead.
In the promise land up front, I discovered a white guy from Virginia who explained he was a rapper. His management suggested he film a stealth music video in the Rain Room, which is why he was there, complete with a camera man, and stiff-billed hat. He was staying in Long Island; he'd woken up at three AM. When I told him the 10-minute viewing time was just a suggestion, that rAndom International actually flew to New York to impress upon the MoMa that visitors should linger as long as they like (10 visitors at a time), he broke into relieved grins. "This video gon' happen," he told me. "Check out my YouTube page. I got two million views."
I decided not to tell my mom friend back in line that I'd just upped our wait time.
Further back, two teachers on summer vacation told me they'd been offered triple the price of their member guest passes from people hoping to skip the general admission line. I pointed out the booth up front where anyone could spring for a membership on the spot. At $85 for a single person, that was a stiff fee just to see the Rain Room, but could be worth it if you'd buy the membership anyway. Plus you'd join the shorter line. The revelation angered one of the teachers, an athletic looking Texan who felt the integrity of the member line was compromised. Soon, she was saying the word "scam" a lot.
Clearly my fun facts were not diffusing any latent tension. I tried to discreetly melt away. The rapper made that hard. "Thanks for the tip!" he shouted.
Back home, anxiety was being relieved. "You're a great mother," Farida reassured the mom. "They'll thank you some day when they know what it is they saw." Eventually the line opened up, and we moved in view of the warehouse. "Good for the kids to see something different," Matt whispered to me.
We wound through the final stretch, a maze outlined by those stretchy bands used in airports. Farida reminisced about the years she roomed with Jim Morrison's lover, Pamela Courson, in the sixties. "Pam," she called her. "Jim Morrison's Pam." Soon, Farida was designing long white sheaths for Pam to wear. The conversation took an obvious turn. All of us agreed that yoga is great.
By the time we got to the guard whose job it was to determine how many should be let into the room to wait their turn inside, there was no question. "Six," Matt said firmly, when the guard asked how many were in his group. He had entered a single man. Now he was a patriarch.
Inside, the grid shone with refracted light. We entered together. Farida stretched into a standing yoga pose and the rain opened like a curtain around her. I reached out to touch a line of water -- it was there and gone. The menacing sweep in the lower Himalayas was thousands of miles away. There was no danger here. An expensive Nikon camera could safely be held up and clicked -- as Matt was demonstrating just then.
One of the little girls started to cry. "I hate it," she said, pointing to the drops. We smiled ruefully above her head as if we knew something she didn't. Outside, the line was six hours long.
This story appears in Issue 60 of our weekly iPad magazine, Huffington, in the iTunes App store, available Friday, August 2.
Calling all HuffPost superfans!
Sign up for membership to become a founding member and help shape HuffPost's next chapter