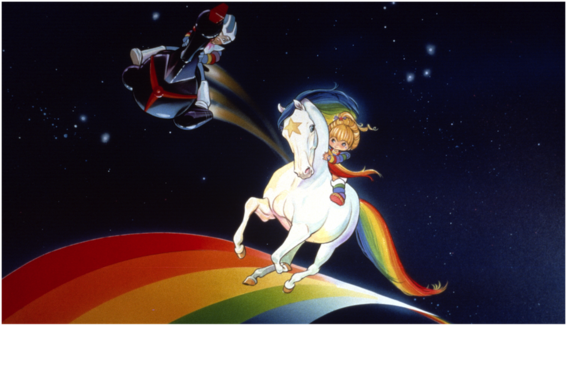 On November 15th, 1985 Hallmark Card's beloved character, Rainbow Brite, lit up the big-screen in her first feature-length film; Rainbow Brite and the Star Stealer. Produced by DIC Entertainment the film was distributed by Warner Brothers and followed three very successful television specials that also helped promote a line of dolls by Mattel. At the time of the film's release Rainbow Brite was not only a billion dollar commodity for Hallmark it was also the highest selling toy for girls.
Written by Howard R. Cohen, who had previously written the final special (and origin story) "The Beginning of Rainbow Land", Star Stealer took Rainbow Brite and her magical flying horse, Starlite, deep into space in attempt to save the diamond planet, Spectra, and return color and light to the universe. The film introduced several new characters to the already vast world of Rainbow Land including Stormy, a rogue color kid who was in charge of the winter rain and snow and Krys, a heroic space boy who just wants to be brave (and who was originally developed as Rainbow Brite's cousin). Though Rainbow's normal foes Murky and Lurky are involved in the film the main antagonist was introduced as new villain, The Dark Princess, who was the most spoiled brat in the entire universe. She wanted to add Spectra to her collection of jewels, using it to fuel her own powers, not caring that doing so could destroy everything in the whole universe.
Based on papers discovered at the Margaret Herrick Library, when Cohen was developing the story, he went through several different incarnations. One of the stories introduced a villain known as The Collector who was not only draining the color from the universe, but also manipulating time so the past, present, and future all existed together in one plane. Another had a strange force sending the entire universe into an ice age with Rainbow and Krys leading the inhabitants of all the effected planets into battle. Another, Cohen wrote, had a Raiders-style adventure that took Rainbow and Krys through planets of deserts, mountains, and various other natural obstacles as well as through outer space in an effort to find a villain who was consuming all the light in the universe. Eventually, the story was set and after the final draft of the script was approved it took a record setting three months to produce the rest of the film.
"I have many happy memories of recording Rainbow Brite and the Star Stealer," says Bettina Bush, who was still a child when she began voicing life to the colorful cutie. "I had such fun on set with my child co-stars, Scott Menville, and David and Marisa Mendenhall. What a talented group of kids, and all really grounded and fun. Our director, Marsha Goodman was like a second mom to me, and working with her was always a good time - it still is. She's got a wicked sense of humor and a gift for bringing out the best in actors. I remember the writer of the script smoked a pipe and I can still remember how it smelled - that makes me smile. I think my favorite memory is seeing all of our hard work come to life on the night of the premiere. I had been imagining how it would look based on the storyboards, and seeing all the elements come together as a child was magical."
Though the film was not the financial success that it was hoped to be, it did allow for 8 more episodes to be produced, bringing the series to a full 13. Though the series has never officially been released on DVD in the United States, the film was in 2005. However, the singled disc version has long since been out of print.
After Rainbow Brite's initial run ended, there were several attempts to reinvent her, however none of them seemed to shine quite as brightly as the original. Then, in 2014, Hallmark's online network Feeln.com began streaming the film along with a brand new 3 episode mini-webseries. Written by Rachel Vine, the series stared Emily Osment as Rainbow Brite and Eighties Teen Queen, Molly Ringwald (who also recently appeared in the live-action Jem and the holograms film), as the Dark Princess. The series was successful enough that it appears Feeln is developing an ongoing series.
In comparison to characters like My Little Pony and the ever popular Barbie, Rainbow Brite's initial popularity may have been short-lived, but her colors are just as bright today as they were in 1985 and so is her fan-base. Two of them, Renee Stowe and Katy Cartee Haile are considered two of most avid and active fans. Each of them operate their own Rainbow Brite website and together have a podcast devoted to all things Rainbow Brite, BriteCast.
With all her incarnations and that fact that Rainbow Brite has never really left public consciousness is a true testament to how special and beloved this character is. "I believe Rainbow Brite has such a long-lasting legacy because she's an inspiration. She represents hope, strength of spirit, and the power of believing in your purpose," Bettina says the character. "Rainbows themselves feel like you've glimpsed a momentary miracle whenever you see one, they make everyone smile! Rainbow Brite embodies that, so people will always love her. I'm blessed to have had the opportunity to give her a voice."
REAL LIFE. REAL NEWS. REAL VOICES.
Help us tell more of the stories that matter from voices that too often remain unheard.