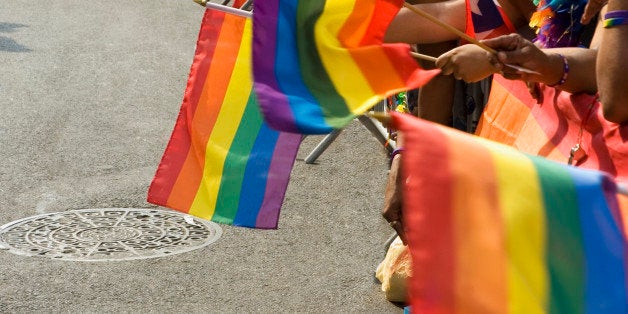 I've been a part of the LGBTQ community, first in the US and now in the UK for a very long time.
First, having a lesbian mom, a trans stepfather, coming out as bisexual and non-binary myself and growing up with a positive gay male role model, I've been through the entire alphabet soup.
My mother and I's first Prides in the great state of Virginia, North Carolina's neighbor which is my maternal family's place of origin, my first Prides were hardly celebrations. They were small gatherings of like-minded people, an oasis in a desert, where we feared attack and rebuke.
But that was a decade ago. And I saw Pride grow. I penned angry responses to journalists who described Pride and sex fests where lewd gays invited their children to witness orgies, simply because our cardboard bins had ID Lube brand's logo on them. Lube and alcohol, those were the only companies willing to come out and say they had no problem with LGBTQ folks.
This is of course, acknowledging that the first Pride, the Christopher Street Day Parade kept out trans and gender non-conforming people who would shock the straights too much, specifically Sylvia Rivera and an instigator of the Stonewall Riots, Marsha P Johnson. In fairness, Pride has a long history about what kind of representation certain kinds of LGBTQ folk want to portray.
But regardless, back in the day there was no Google, IBM or any major company other than lube and alcohol willing to come out and support Pride. Not visibly and certainly not monetarily.
Fast forward to 2016 and here I am in London with Pride coming up this month. It's a huge event. Tons of corporate sponsors. Boucoup de coupons and this year we've got rainbow coloured sneakers thanks to Adidas and last year we had rainbow themed ATMs. I mean wow. Rainbow ATMs. What else could mean progress?

"Rainbow ATMs. What else could mean progress?"

I've worked in large and small companies. And I've done marketing and PR. I know a good opportunity when I see it. But the clashing reality of these two moments in time hits me with the brute force of it's utter irony.
In the past 5 years, I have volunteered or been paid for my time mentoring LGBTQ youth and I have witnessed the utter struggle that is funding youth services specifically for LGBTQ people. I have witnessed LGBTQ youth saved by what little services we've been able to offer, kept from forced marriage, potential homelessness and exposure to HIV thanks to predatory people and the vulnerability that STILL is being LGBTQ in this society.
At the same time, I've also seen huge amounts of money spent on Pride floats and parties, the "pink pound" and all it's glory funded right back into the same communities and businesses who not a decade previous probably would never have stooped so low as to fund anything even partially related to LGBTQ people.
And while I understand maybe rainbow trainers might be a step in one direction, I can't pretend like the frustration I feel isn't real.
From what I've seen, LGBTQ people don't need rainbow coated PR opportunities. We don't need more flags hanging in national offices or over city halls. We don't need companies willing to pay for parties and charity fundraisers but not for hostel rooms. We don't need more PR. And we don't need more "support" in the form that makes companies look open and funnels the "pink pound" away from our community.

"LGBTQ people don't need rainbow coated PR opportunities."

What we need is a stable source of funding for things like Broken Rainbow. We need funding for LGBTQ youth spaces provided by charities like METRO to give youth who have no ability to come out of the closet to be themselves for a few hours a week and get support when things take a turn for the worst. We need funding for charities like Stonewall Housing who try and help homeless LGBTQ youth get off the street and into a stable home so they're not forced into drug addiction and crime.
We need companies to come out, and rather than just getting a shiny "LGBTQ friendly" medal, to spell out how they can protect gender non-conforming and trans people and why they are willing to hire them. We need companies to take legitimate financial steps at not just selling rainbow versions of their products back to us -- but to make money and GIVE IT TO US so that we can live in this society effectively.
That is what we need. Pride may now be a corporate sponsored event worth a lot of money, but the kids that I mentor are seeing absolutely none of that. The homeless queers I know are seeing none of that. And even wealthier LGBTQ people are just kidding themselves if they think that funneling this wealth into their pocket is making them any better than the people who would deny them their right to marry.
Rainbow coated crap is still crap. And it's time we stop sniffing it and demanded more than empty gestures from corporate sponsors.
If you want to support us, FUND US. Stop telling us it will get better and make it better.
This post is part of HuffPost's Journey Beyond the Binary blog series, an editorial effort to bring diverse trans and gender non-conforming voices to the HuffPost Blog during and after Pride month. As the LGBTQIA community celebrates great strides forward this June, it's important to acknowledge the struggles still pertinent to trans and gender variant members of the community. Please email any pitches to beyondbinary@huffingtonpost.com
REAL LIFE. REAL NEWS. REAL VOICES.
Help us tell more of the stories that matter from voices that too often remain unheard.