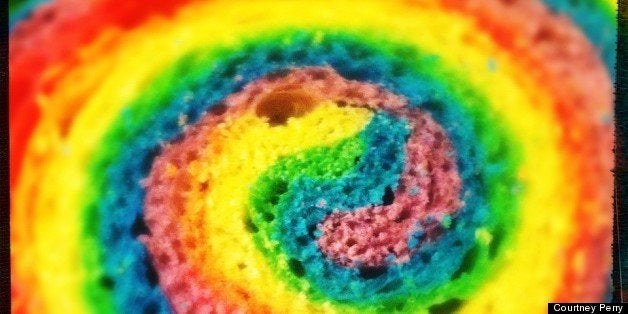 Two days before, the Rev. Jay Bakker presided over the opening of Revolution Church in Minneapolis , which meets at Bryant Lake Bowl. Bakker had recently relocated with his wife to Minneapolis from New York City, where he started Revolution Church NYC, which continues to meet in a bar in Brooklyn.
To celebrate the first day of the church and in honor of the pending pro-LGBT legislation, a friend of Bakker's, the theologian and Patheos blogger Tony Jones, along with his photographer wife Courtney Perry and daughter Lilly, baked a special rainbow-colored communion bread to be shared at the church service.
Bakker explained to The Huffington Post how Perry had contacted him about making the rainbow bread for communion to show support for the pending pro-LGBT legislation. Bakker agreed that it was a "neat idea" but did not think too much about it.
The gesture took on increased importance, however, when Bakker saw an interview with a gay man talking about how his first partner killed himself and how he had been put through shock therapy to convert him from being gay.
"Then the rainbow communion bread became a really beautiful thing," explains Bakker. "It was special to honor Chirst as well as to honor those LGBT people who didn't make it this far and hope for a better future. It became a real source of redemption."
The next day, Bakker went to the Minnesota Statehouse, where the senate was about to vote on the marriage equality bill. There, standing next to him, was the man whom he had seen interviewed on television. "I told him 'I talked about you in church yesterday, and we took communion in memory of your suffering and the suffering of others.'"
Bakker reports that the rainbow communion has gotten people questioning his orthodoxy. He responds that "I don't think Jesus is insecure about sharing communion with others, including gay folks who suffered. So many lives have beeen lost because of what Christians say and preach. Heterosexisim and homophobia are deadly."
Bakker commented that it was especially important to him that the first day of his new church was Mother's Day, saying "it was like there was a big eyelash in the sky winking at me."
Special thanks to Perry for the photographs. For more information on her work go here.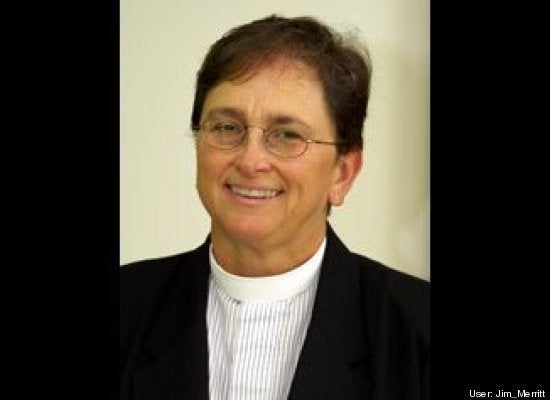 Most Inspiring LGBT Religious Leaders
Related
Popular in the Community