Rainbow Fashion Week (RFW) recently returned to New York City for the second consecutive year, kicking off Manhattan's Pride events with eight days of queer style. RFW founder, E. Jaguar Beckford (aka Jag), was intentional about producing a style event that was inclusive and representative of the LGBTQ community's values. Each event delivered a social responsibility message because the aim of RFW was not only to support the business of queer style, but also to foster anti-bullying, anti-domestic violence, body positivity, marriage equality, and trans-justice, among other larger issues facing the LGBTQ community.
LGBTQ themed fashion shows have become increasingly popular across the country, with brands like Rainbow Fashion Week, Queer Fashion Week, What Is Butch? Movement, Let Fancy Style You, and dapperQ producing diverse, full-scale, multi-brand shows with a unique twist. Some of these events feature talented stylists, who pull pieces from various retail brands and vintage boutiques to curate a show. Others are providing a platform for independent designers to reveal brand new, never before seen seasonal collections. Still others, like RFW, are a combination of both.
Regardless of the platform or presentation, the question remains: What exactly is queer style? Last spring, dapperQ provided a definition on Huffington Post Live, and Queer Fashion Week shared their definition with me in an interview for Huffington Post Gay Voices. To get yet another perspective, I sat down with Jag of RFW to discuss her take on this style enigma that is both a staple in the LGBTQ community and a popular trend in mainstream fashion.

What is queer style?
Jag: It is the notion of daring to be different while just being yourself.
How are queer runway shows, fashion weeks, and style blogs leveraging queer visibility to foster conversations about gender identity and expression within greater society?
Jag: Queer runway shows, fashion weeks and style blogs are making a statement and claiming what is already theirs. It is their decisions to be different that are causing mainstream to take notice. It is their belief that fashion should represent all and not just those who starve themselves for an opportunity to walk a runway. It is the producers and writers of queer fashion mediums that determine what the "new standard" of fashion should be and their dedication to bringing that to the masses.
Conversations around queer style and gender-neutral often lean towards masculine and "tomboy" aesthetics. How is Rainbow Fashion Week changing this narrative by showcasing femme style?
Jag: I believe that inclusiveness should be the focus for all shows. I often cast femmes and then dress them in a tailored look. Everyone loves it and I still remain true to my market.
What is femme style and how is it subversive?
Jag: Femme style is the ability to present whatever that femme is feeling, whether masculine or feminine energy. It's all about the walk, strut or final pose - the strike.

Who are the designers, blogs, and models to watch?
Jag: Queer designers are on the rise. That is something we are encouraging at Rainbow Fashion Week, offering the up and coming designers a platform to carve their niche in this market. A few on the rise [are] Sinister Apple, Qwear, Haute Butch, Lorenzo Walker, PrettyBoiCouture. Queer blogs [to watch are] Effin Dykes, Lesbian Guide, dapperQ, and AfterEllen. Models to watch are Marcia Alverado, DomoThe Model, Model Millz, Patricia Roybal, Hokulani Rich, Bella Soulz, and Vicky Miner.
What's on the horizon in queer fashion?
Jag: Unity for RFW 2016: The gathering of the LGBTQ community and maintaining relevance in society. The creation of retail portals to facilitate our growth and sustenance.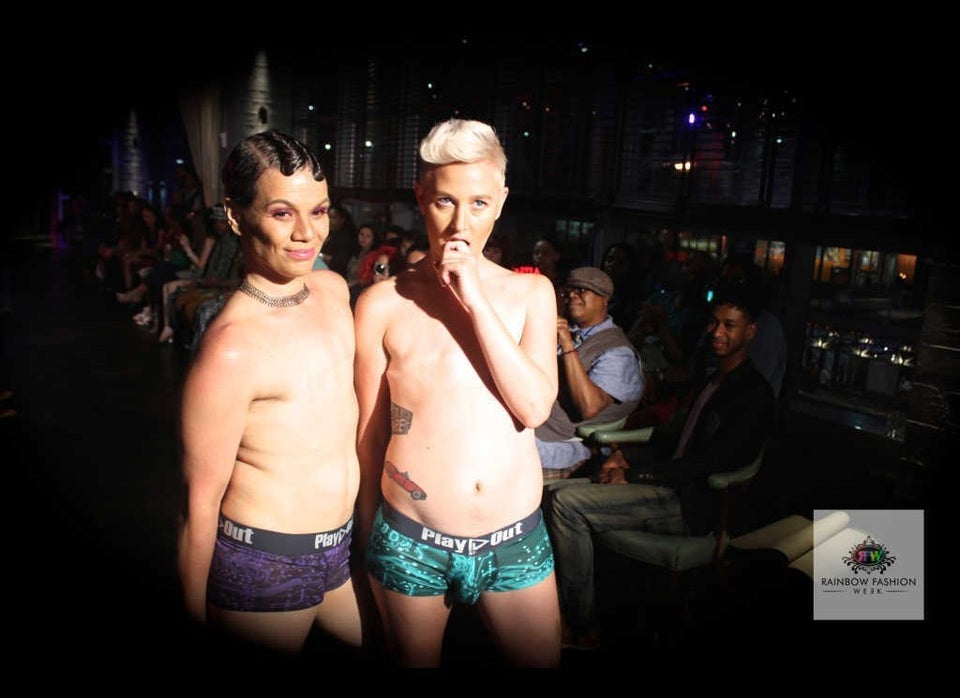 Select Images from Rainbow Fashion Week
Popular in the Community