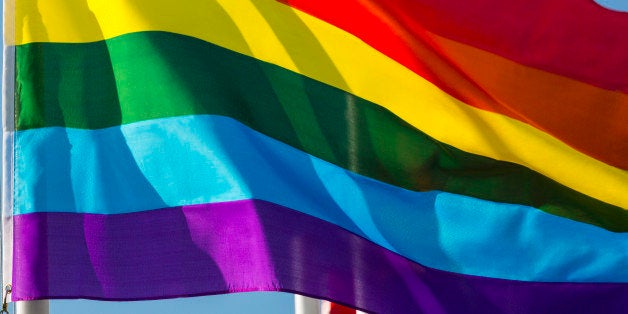 In a report by the Democrat and Chronicle, Monroe County Executive Maggie Brooks argued that it was "not county practice to "fly 'issue-based' or 'advocacy' flags" at the county building," but a number of county legislators decided to display the rainbow flag from the building anyway.
He went downstairs to see how it looked, and when he came back, Sheriff's Office personnel assigned to the building had arrived to take it down. There was brief talk of an arrest, but when Rittler put his hands behind his back, he said security walked past him and removed the flag.
Ritler immediately went out and bought another flag, and like the first, hung it outside his office window. He awaited security, but no one ever came, and the flag was allowed to remain. Carrie Andrews (D), Legislature minority leader, who awaited security with Ritler once the second flag was hung, released a statement:
"Although they were able to remove the flags using the sheriff's department, the LGBT community can rest assured that we will not be bullied. A new Rainbow Pride Flag is now proudly flying outside our office."
Though Brooks did not allow for the rainbow flag to be flown at first, she did proclaim July 19 "Gay Alliance of the Genesee Valley Day" in Monroe County, to show appreciation for all they have done for the local community.
It isn't the first time the rainbow flag has been the source of controversy in recent months. In 2012, a similar controversy erupted in Seattle, when officials nixed a rainbow flag from being flown atop the city's Space Needle even though it had been raised in the same location for at least two years during LGBT Pride weekend.
Earlier this year, Florida resident Dave Armstrong was asked by local officials to display his rainbow flag in the back of his property after it was removed.
Armstrong, who lives in Boynton Beach, is quoted as saying, "'Listen, everybody else has an American flag on the front of their property, so why can't I have my pride flag right out here?'"
REAL LIFE. REAL NEWS. REAL VOICES.
Help us tell more of the stories that matter from voices that too often remain unheard.
BEFORE YOU GO
PHOTO GALLERY
18 LGBT Pride Facts