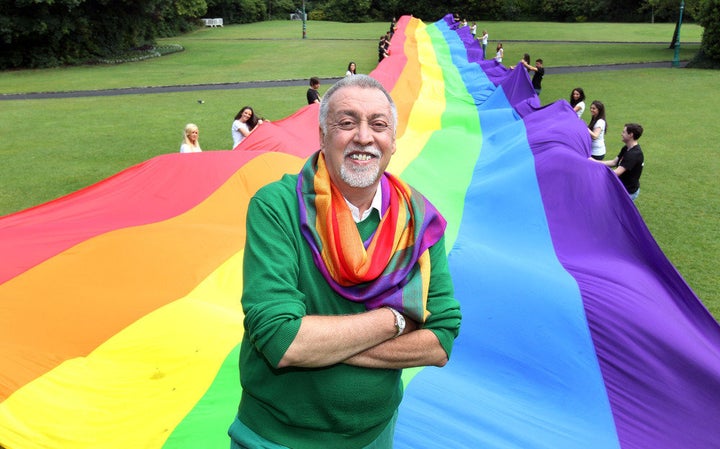 Chicago Review Press has announced plans to publish Rainbow Warrior in June 2019. The book will explore Baker's childhood in Parsons, Kansas, his development as an artist and LGBTQ rights advocate in San Francisco in the 1970s, and his later years speaking out in the fight against HIV/AIDS.
Baker died March 31, 2017 at age 65.
"Millions know about the rainbow flag, yet they do not know about the amazing man who created it," said Charley Beal, head of projects for the Gilbert Baker Estate, in a statement. "Happily, the publication of Rainbow Warrior will correct that oversight, and Gilbert Baker will gain his rightful role as a legend in LGBTQ+ history. We are eager to work with Chicago Review Press to bring this inspiring story to the world."
A self-described "geeky kid from Kansas," Baker arrived in San Francisco as an Army draftee in 1970 and, following an honorable discharge from the military, decided to remain in the city to pursue a design career. Four years later, he was introduced to rising queer activist Harvey Milk, who owned a camera shop in San Francisco's Castro District at the time.
It was through Milk's encouragement that Baker began work on his best-known creation, the rainbow flag, intended to replace the pink triangle ― which had been introduced in Nazi Germany as a way to identify queer men in concentration camps ― as an international symbol for the LGBTQ community.
"As a community, both local and international, gay people were in the midst of an upheaval, a battle for equal rights, a shift in status where we were now demanding power, taking it," Baker wrote in an excerpt from the memoir called "Stitching a Rainbow," which appears on his estate's official website. "This was our new revolution: a tribal, individualistic, and collective vision. It deserved a new symbol."
Milk would go on to win a seat as a San Francisco city supervisor in 1977, becoming the first openly gay man elected to public office in California in the process. He rode under Baker's original, eight-color flag in San Francisco's Gay Freedom Day Parade on June 25, 1978, just months before he was assassinated.
The release of Rainbow Warrior will coincide with the 50th anniversary of the Stonewall riots. Considered the symbolic start of the modern LGBTQ rights movement, the uprising took place in New York's Greenwich Village neighborhood on the early morning of June 28, 1969.
Baker had written various incarnations of his memoir between 1996 and 2010. In 2017, editor Jay Blotcher was brought on board by Baker's mother, Patricia Baker, and sister, Ardonna Baker Cook, to pare down the artist's original manuscript, which was more than 400 pages in length.