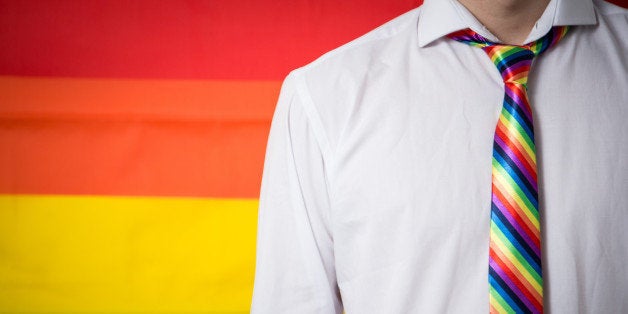 On June 5, 2016, a group of Mormons who are allies of their LGBT+ brothers and sisters will be launching an initiative to show their support and love by wearing rainbow ribbons to church (or wearing them on Sundays if they do not attend) and posting photos of themselves online. The Rainbow Mormon Initiative also encourages those who wish to participate to knit or crochet scarves, hats, or blankets to donate to Ogden Youth Futures, a shelter for homeless LGBT+ teens in northern Utah.
Kristy Money, founder of the initiative, says she was inspired to begin the Rainbow Mormons Initiative after she did her dissertation on suicide prevention in Utah. She saw others who were trying to help with suicide prevention of LGBT+ Mormons and thought "hey, let's organize." But she acknowledges that thousands of other "uncorrelated Mormons" have been fighting the good fight already.
June 5, 2016 was chosen as a date because it is exactly 7 months from the date of the leaked policy change which labels same-sex married Mormons "apostates" and will be threatened with excommunication. Their children have been denied baptism, a saving ordinance, and inclusion in full church participation from priesthood ordination to mission calls. The children have been told that if they wish to be baptized, they must wait until age eighteen, and then must reject their parents' lifestyle. Even children who were born to opposite-sex parents but whose parents have since divorced after one has come out as LGBT+ are affected by this if they live primarily with a parent who has since contracted a same-sex marriage.
June 5 is the day of Pride Parade in Salt Lake City, and is a "Fast Sunday," which is a special Sunday where Mormons go for twenty-four hours without food to experience spiritual closeness to God and to understand the struggles of the poor and needy. It's also a day when instead of a typical, organized sermon, people are asked to stand and speak contemporaneously, as the spirit moves them.
The Rainbow Mormon Initiative is an attempt to gain visibility for LGBT+ Mormon issues within wards where discussions about the policy have yet to begin. It is an attempt to show love to the most neglected and mistreated members of our church, as Christ showed love to the most reviled of sinners, ate with publicans and prostitutes, because he knew that all of us are sinners and all of us need the Atonement. Rainbow Mormons are those who love LGBT+ people in our own lives and want to show that we are allies and can be called on for support by those who are afraid to come out within the Mormon church and to those who have been rejected by family, and have fled or been forced out of their homes as a result of their sexual orientation.
When asked about why LGBT+ teens are being kicked out of their homes by loving, Mormon parents, Money says that "they're trying to do the right thing and the church is giving mixed messages." The church teaches that homosexual behavior is wrong and that excommunicating is a loving gesture to stop sin. Money says, "so parents believe it too, and do the same thing (rejection from home) hoping it will have the same effect the church hopes for (repentance, obedience)." But in the end, Money warns that psychologists have found the opposite happens, rejected teens feel "alone and shunned and don't tend to come back."
Money refers to Phil Zombardo, famous for the Stanford prison experiment, who also studied how people elicit change. She says "it takes one person to stand up for what's right, and more who agree and have been silently watching stand up with them, too." The simple act of wearing a rainbow ribbon does make a change for the better. It signals to others that we are safe spaces for those who are in crisis. And although it may seem like all the LGBT+ Mormons have already left, Money says we must think about those who are younger and haven't come out. Money says, "these kids are looking around at what's going on right now in our Mormon community, they are watching us, looking for hope, and we are in a position to help them, by something as simple as a ribbon, a sign just like Noah's that there is indeed hope, and that they have a friend and ally in you. I truly believe it can save lives."
I have joined with Money in the Rainbow Mormon Initiative. We want all members of the Mormon church to feel loved and welcomes in our buildings. We want them all to think of Noah's rainbow as a symbol of hope for the future, even if the past has been painful and difficult. And we want to offer ourselves as safe spaces to speak openly about difficulty with the policy change, about family members who are struggling, and about changing the Mormon church from within.
Popular in the Community