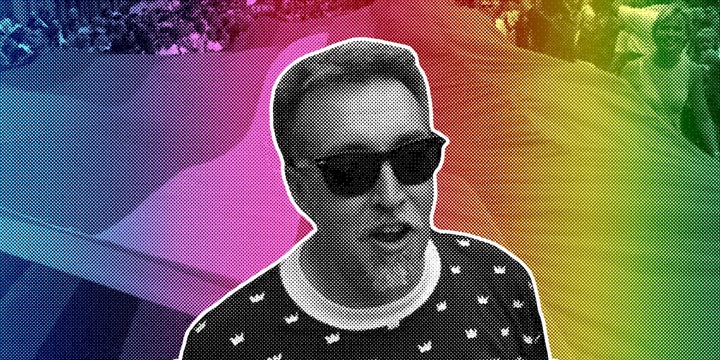 Stroll across any number of cities throughout June, and you'll find the near-ubiquitous presence of the rainbow pride flag, which has come to represent the LGBTQ community worldwide. This year alone, the iconic, six-stripe pattern has been seen in children's books, at theme parks and on a seemingly endless series of clothing lines; a revamped version of the design was worn by "Master of None" writer and star Lena Waithe as a "queer superhero" cape at the Met Gala last month in New York.
The original rainbow pride flag dates back to 1978, when it was created by San Francisco-based queer artist Gilbert Baker for a mere $1,000. A self-described "geeky kid from Kansas," Baker relocated to San Francisco as an Army draftee in 1970. After an honorable discharge from the military, he decided to remain in the City by the Bay to pursue a design career.
In 1974, Baker's life changed forever when he was introduced to rising queer activist Harvey Milk, who owned a camera shop in San Francisco's Castro district. Milk, of course, would go on to win a seat as a San Francisco city supervisor in 1977, becoming the first openly gay man elected to public office in California in the process. Along with writer Cleve Jones and filmmaker Artie Bressan, Milk pressed Baker to create a recognizable emblem of empowerment for the queer community. The artist looked back to America's bicentennial celebrations over the previous year for inspiration.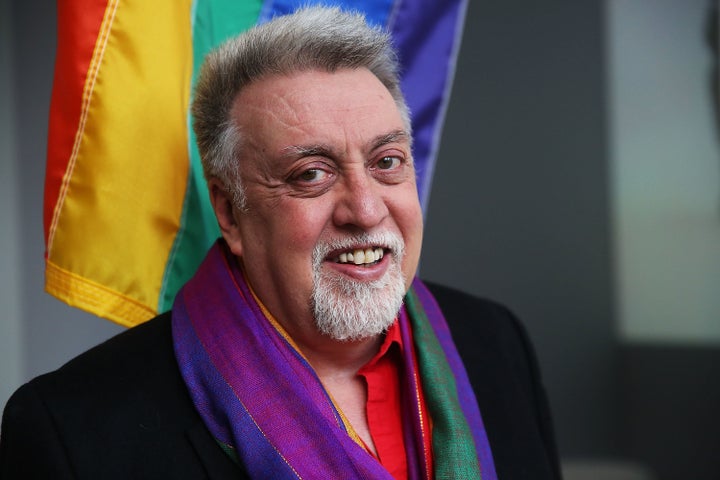 "As a community, both local and international, gay people were in the midst of an upheaval, a battle for equal rights, a shift in status where we were now demanding power, taking it. This was our new revolution: a tribal, individualistic, and collective vision. It deserved a new symbol," Baker wrote in his as-yet-unpublished memoir, excerpts of which have appear on the Gilbert Baker Estate's website.
"I thought of the American flag with its thirteen stripes and thirteen stars, the colonies breaking away from England to form the United States," he wrote. "I thought of the vertical red, white, and blue tricolor from the French Revolution and how both flags owed their beginnings to a riot, a rebellion, or revolution. I thought a gay nation should have a flag too, to proclaim its own idea of power."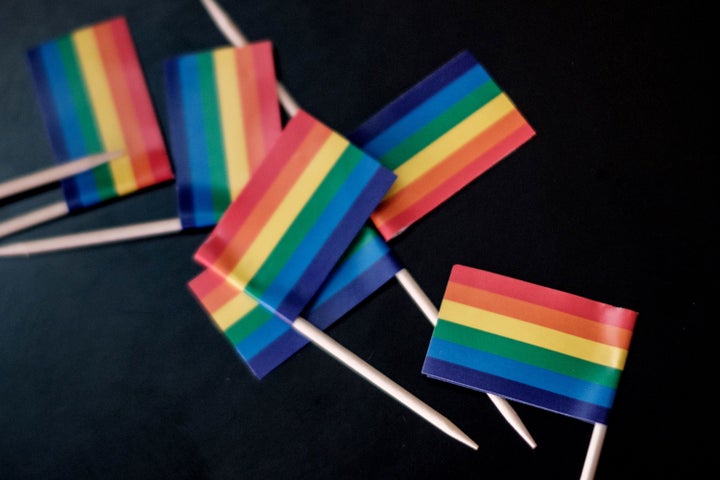 Milk went on to ride under the original, eight-striped rainbow pride flag at the San Francisco Gay Freedom Day Parade in June 1978, just months before he was assassinated. Over the next two years, the design was altered to its current, six-stripe version, but the flag's all-inclusive message remained intact.
Baker, who died in 2017, never became rich from his design, but it has since been used to symbolize solidarity with LGBTQ movements not just in the U.S. but around the world.
In the years since its creation, the flag has generated a mythology of its own, which Baker "understood was something beyond his control," according to close friend Charles Beal, who is also manager of creative projects at the Gilbert Baker Estate. "He purposely never copyrighted the flag because he wanted it to be owned by everyone."
In honor of LGBTQ Pride month, Beal spoke with HuffPost to discuss the history of his friend's flag.
The original rainbow pride flag had eight colors.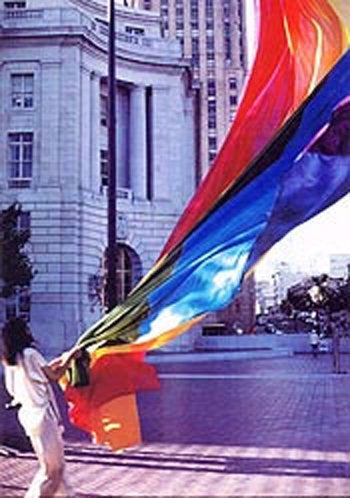 James McNamera/Gilbert Baker Estate
Each color had a different meaning.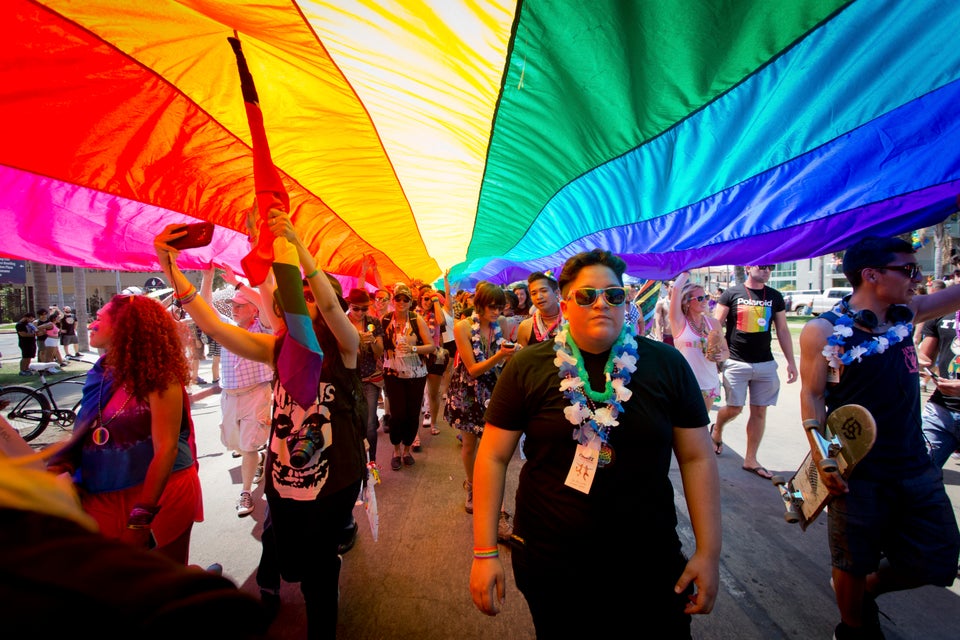 ullstein bild via Getty Images
The current, six-stripe flag still assigns a meaning to each color.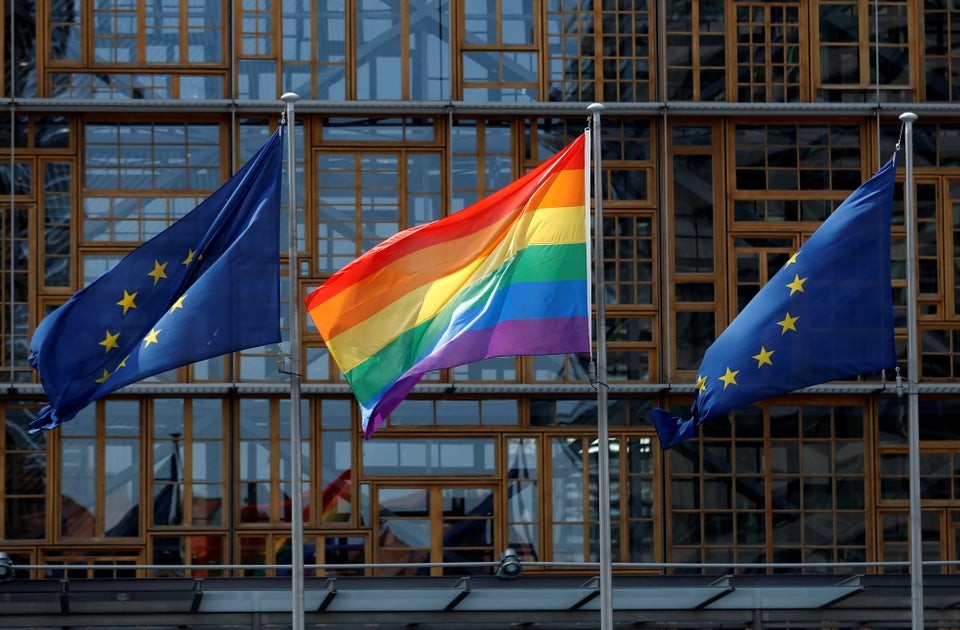 Francois Lenoir / Reuters
The flag was partly intended to replace the pink triangle, which some viewed as homophobic.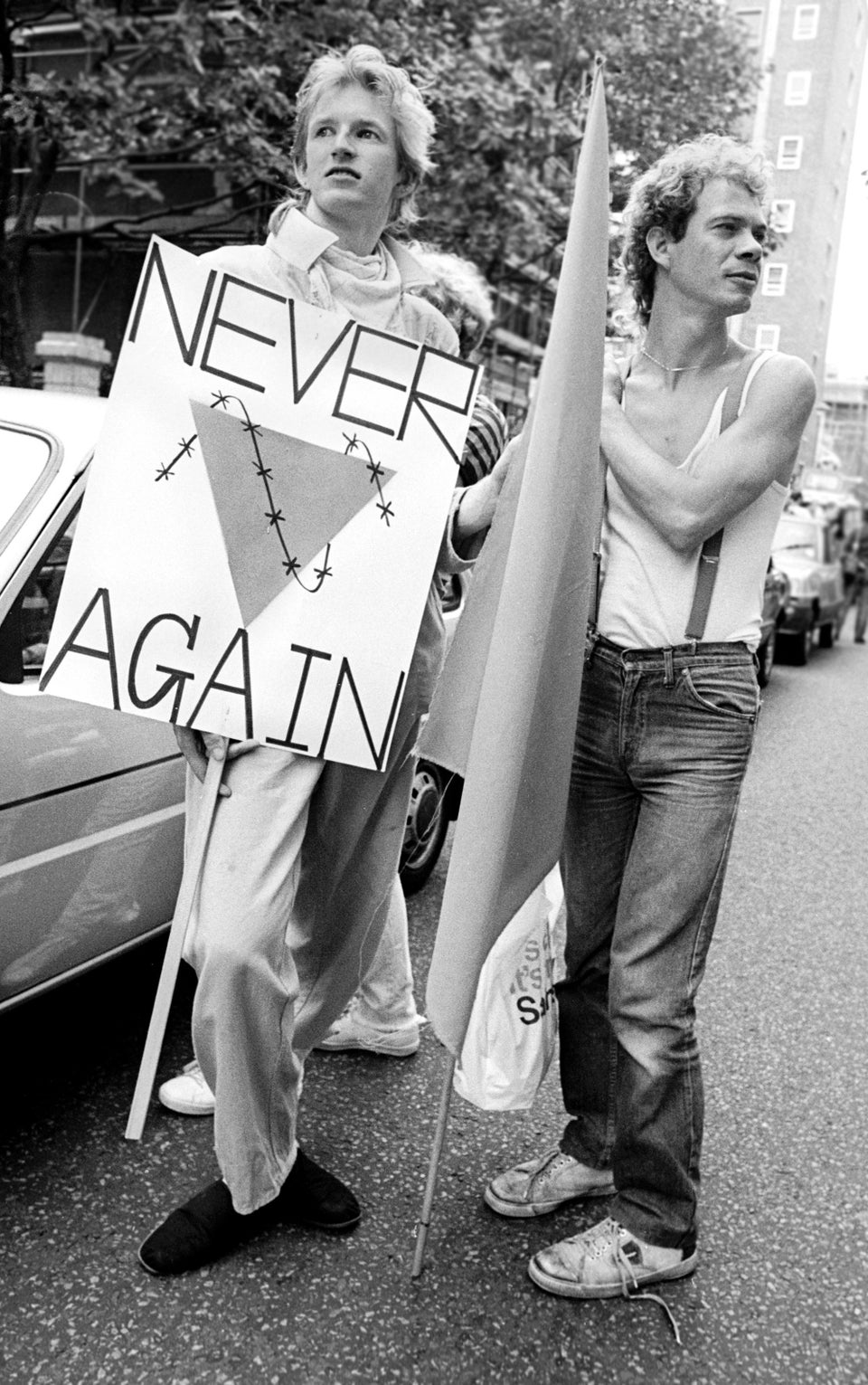 Photofusion via Getty Images
The flag isn't a reference to "Over the Rainbow."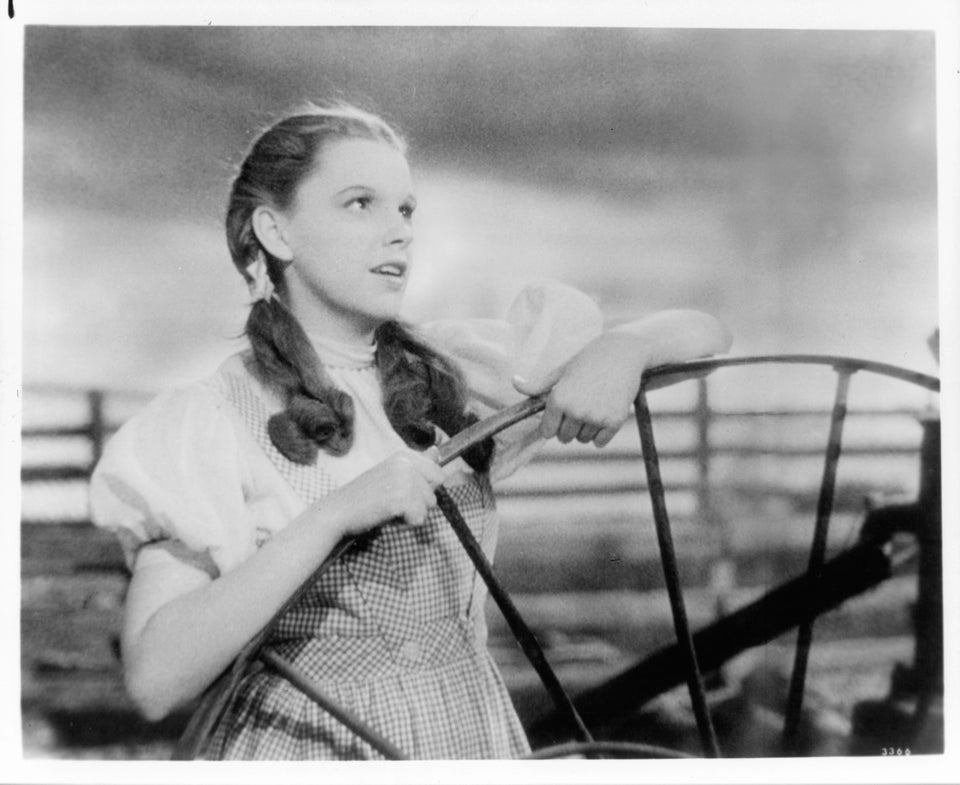 MGM Studios via Getty Images
Baker was an accomplished artist who designed other flags, too.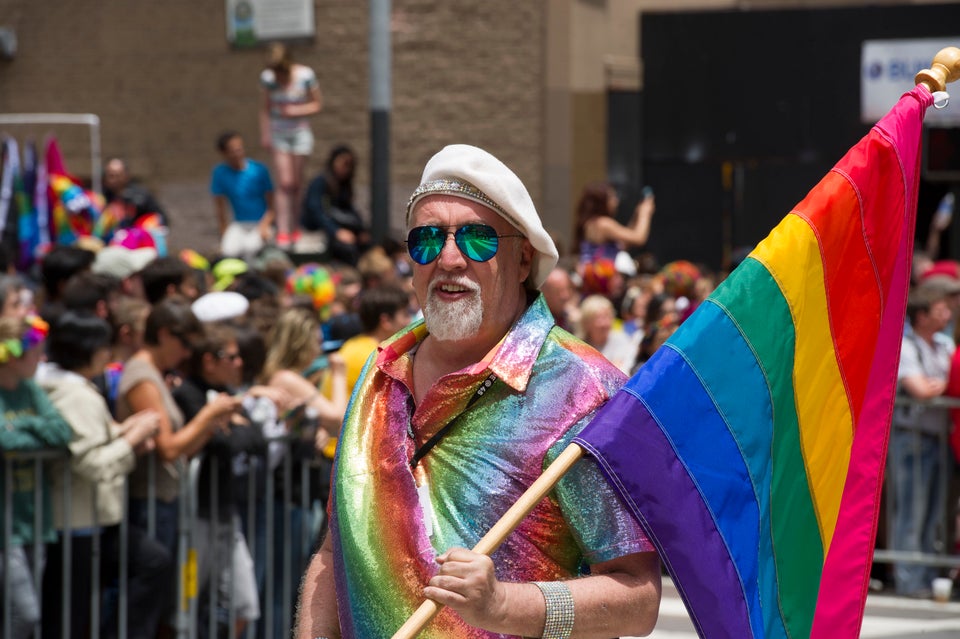 Arun Nevader via Getty Images
The world's largest rainbow pride flag was unveiled in 2003.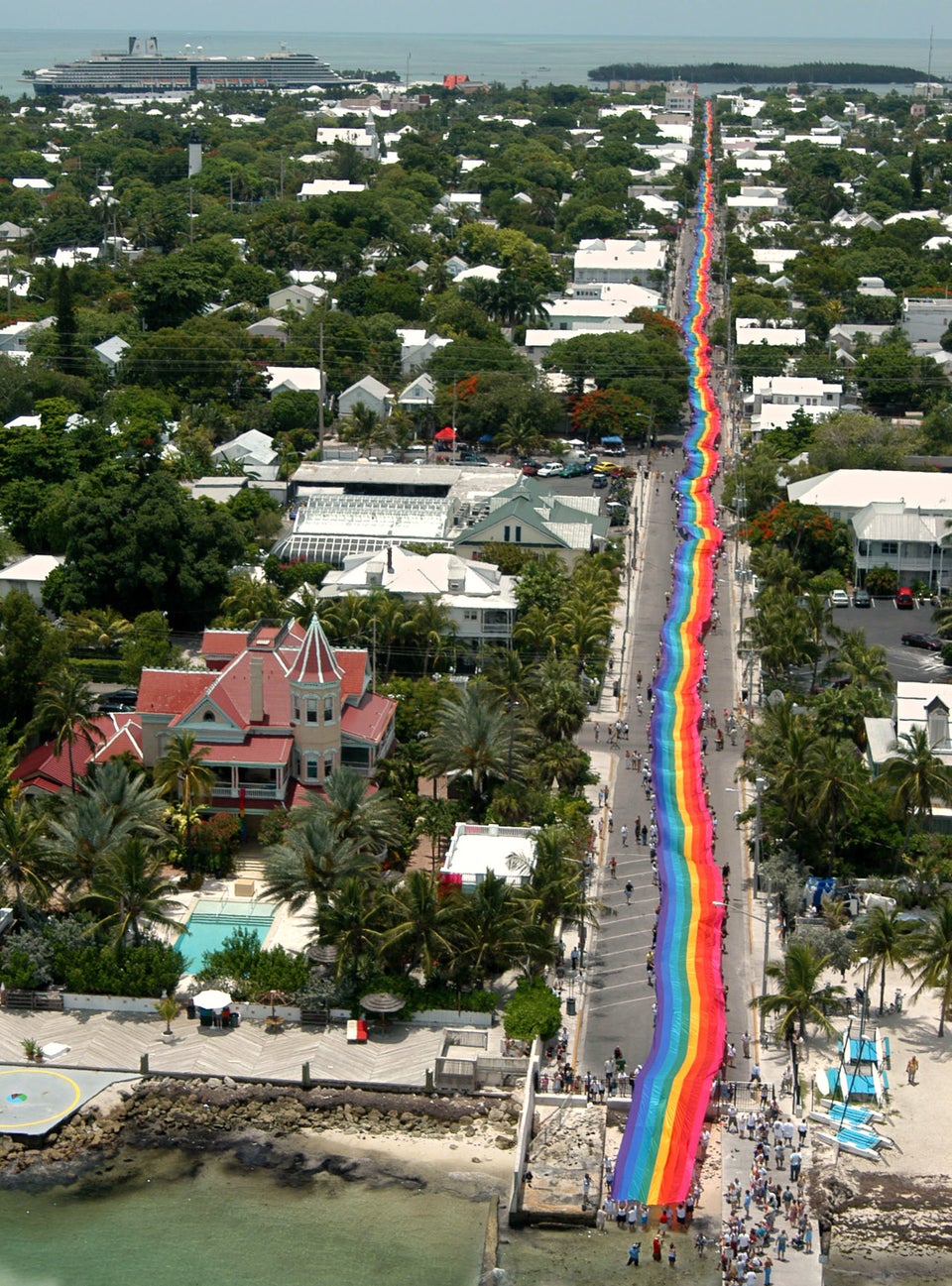 Getty Images via Getty Images
Baker was "overwhelmed with joy" seeing the White House and other global landmarks lit up in rainbow colors.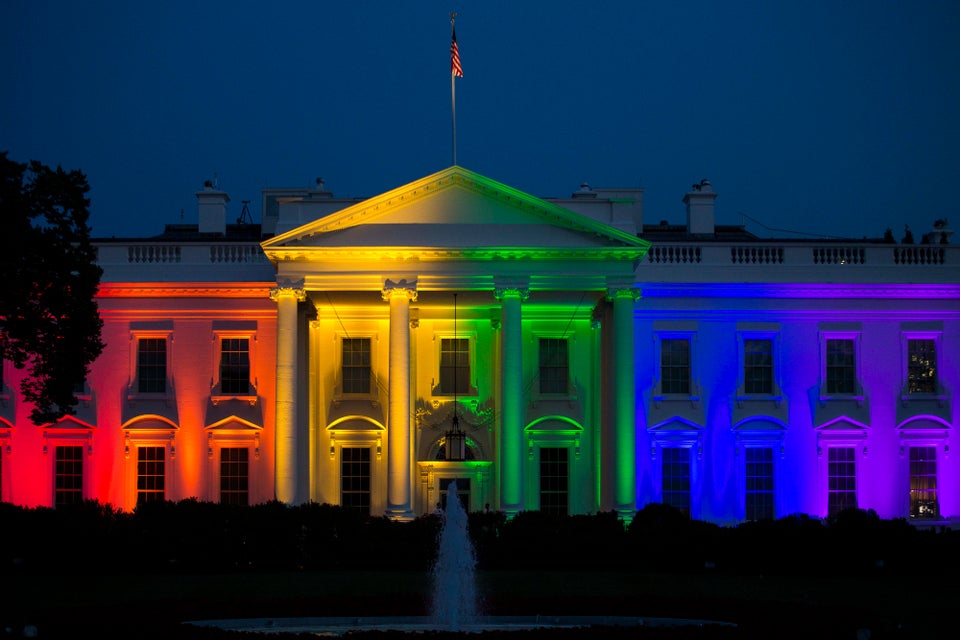 Bloomberg via Getty Images
Seeing Donald Trump hold the flag on the campaign trail, however, was a different story.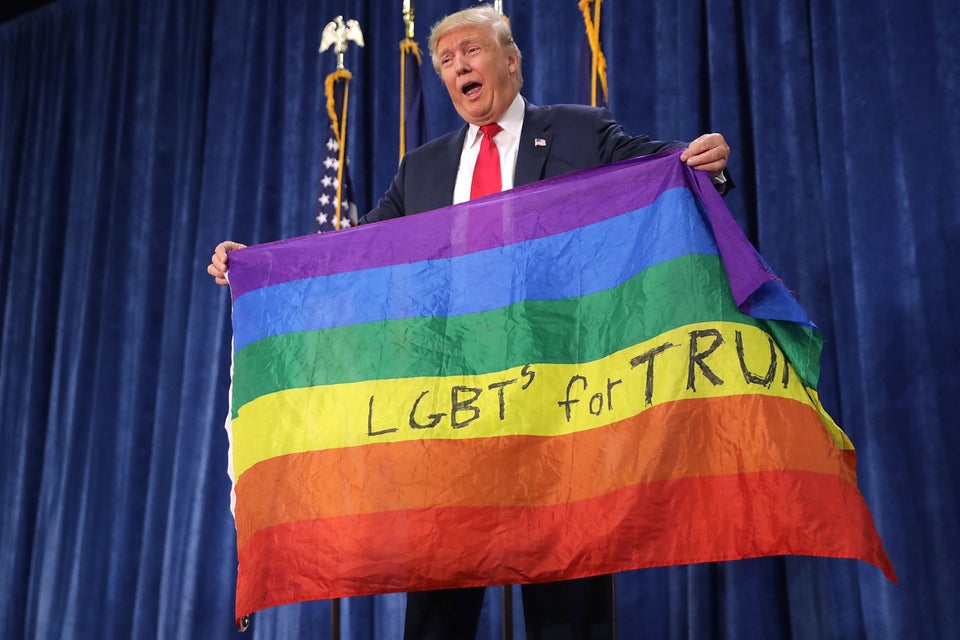 Chip Somodevilla via Getty Images
The flag has been reinterpreted over the years by adding or modifying colors.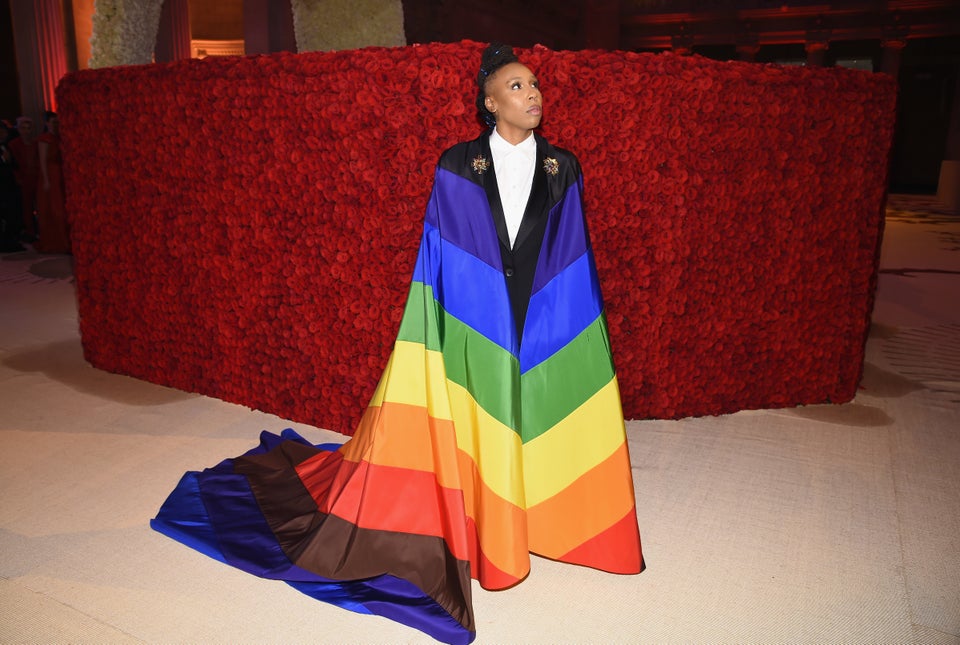 Dimitrios Kambouris/MG18 via Getty Images
#TheFutureIsQueer is HuffPost's monthlong celebration of queerness, not just as an identity but as action in the world. Find all of our Pride Month coverage here.