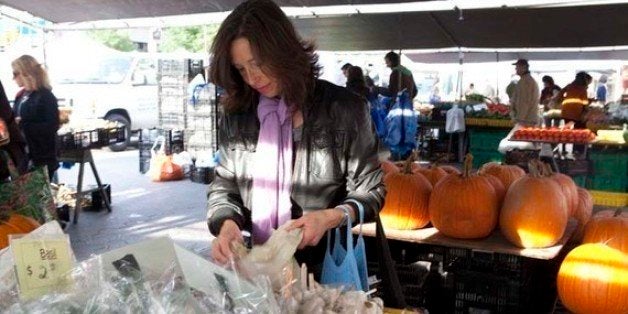 Rainbow trout is a farmed fish you can eat year-round and with impunity, ecologically speaking. It's a true trout raised in clean, cold-water pools by many farmers in my region. I can't resist these delicate pink fish, which I associate with spring alliums, young beets, greens of all kinds, and a shaving of ginger.
I call for fresh (uncured) garlic because I like to enjoy it during its short season. In July, farmers pull mature garlic and let it dry. Once dry (cured), the garlic stores well, and you can buy it at the markets all winter. So the moment to find fresh garlic, which is moist and mild, is in June.
New potatoes or any spring green would make a nice side dish here. I also love a smoked rainbow trout with a spoonful of crème fraîche laced with fresh horseradish. Take the same trio of smoked fish, crème fraîche, and horseradish, mash it up with a fork, and spread it on oat crackers. Brook trout, another tasty freshwater fish, is actually a cousin of arctic char.
Rainbow Trout with Spring Alliums
8 young scallion bulbs
4 young leeks
3−4 cloves garlic
1/4 c olive oil
1 knob of fresh ginger
1 whole fresh rainbow trout, gutted
salt and pepper
Clean and split the scallions and leeks. Cut the leeks in thin strips. Chop the garlic.
Heat the olive oil in an iron skillet and sauté the scallions and leeks until they are colored on all sides.
Add the garlic, toss it all together, and cook another minute.
Give it a quick grating of fresh ginger.
Rinse the trout, pat it dry, and season all over.
Put the vegetables in a piece of parchment paper or foil. Stuff a few greens in the trout and bury it on all sides. Fold or staple up the packet.
Bake for about 10 minutes and serve at once.