Rainbows
I was reminded today that rainbows do come after a rain. In fact, I saw a double rainbow in the brief break of sunshine today here in Los Angeles, CA after a full day and night of downpour. And I remembered back to 1995 when I saw my only other double rainbow on the Playa of Burning Man.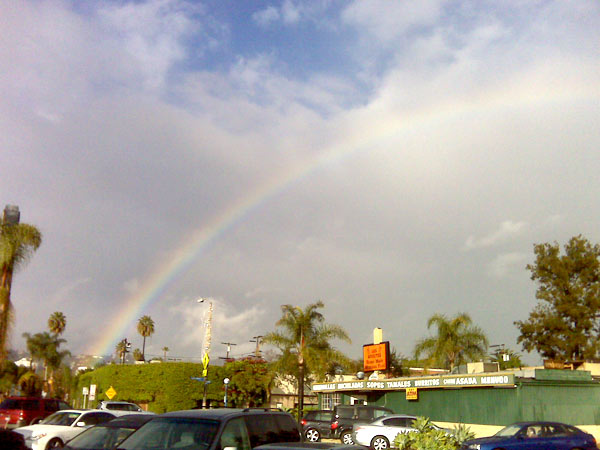 Gratitude
As we enter into our holiday season, I maintain an attitude of gratitude. How fortunate I am to have been born on this continent, to wake each day in this country, where I have clean running hot water, flushing toilets, and abundant organic produce available to me.
Perspective
As a raw food author, I'm asked many times about 100% raw vegan diets. I remind everyone to count our blessings. We are lucky to be able to decline food because it's not organic, raw, or vegan while people on the planet are starving to death and would graciously accept what we don't consider real food. Let's stay mindful of this, give thanks, and help those around us who maybe less fortunate than us.
Focus on Good Things
No matter how bad things may seem, remember there is someone on the planet in an even worse place. Give thanks and be grateful for all you do have. And, stop wasting time thinking about what you don't have.
An attitude of gratitude is what will keep you happy, youthful, and living life well.